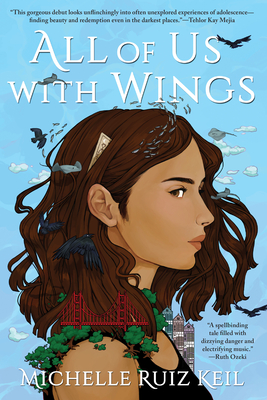 All of Us with Wings
Hardcover

* Individual store prices may vary.
Other Editions of This Title:
Digital Audiobook (6/17/2019)
Paperback (7/7/2020)
Description
Michelle Ruiz Keil's YA fantasy debut about love, found family, and healing is an ode to post-punk San Francisco through the eyes of a Mexican-American girl.

Seventeen-year-old Xochi is alone in San Francisco, running from her painful past: the mother who abandoned her, the man who betrayed her. Then one day, she meets Pallas, a precocious twelve-year-old who lives with her rockstar family in one of the city's storybook Victorians. Xochi accepts a position as Pallas's live-in governess and quickly finds her place in the girl's tight-knit household, which operates on a free-love philosophy and easy warmth despite the band's growing fame.

But on the night of the Vernal Equinox, as a concert afterparty rages in the house below, Xochi and Pallas perform a riot-grrrl ritual in good fun, accidentally summoning a pair of ancient beings bound to avenge the wrongs of Xochi's past. She would do anything to preserve her new life, but with the creatures determined to exact vengeance on those who've hurt her, no one is safe—not the family Xochi's chosen, nor the one she left behind.
Praise For All of Us with Wings…
A Barnes & Noble Most Anticipated #OwnVoices YA Book of 2019
A Paste Best Young Adult Book of June 2019
A Book Riot Most Anticipated LGBTQ Read of 2019
A Book Riot Must-Read Debut Book of 2019
A She Reads Best YA Book of 2019 
A Hip Latina Best YA Book of 2019
A Powell's Top 5 Pick for 2019

Praise for All of Us With Wings

"Keil's ambitious debut is jam-packed with twists and depth and froth and function . . . [this is] a book about embracing everything—people, lifestyles, beliefs, experiences—and, in so doing, finding your own distinct power."
—The New York Times Book Review

"In the vein of many poignant teen fictions these days, Ruiz Keil has chosen to focus with compassion on a difficult reality for young people: that sometimes their parents will make incredibly damaging choices; and that, in the wake of those damaging choices, everyone will be left to decide if and how they move on . . . And what better literary backdrop exists, for themes of family rent so theatrically and disastrously asunder, than Shakespeare itself?"
—Strange Horizons

"Michelle Ruiz Keil's strange but original premise gives fresh perspective to the ways pain and rage can manifest themselves as toxic elements that threaten a person's well-being and endanger those around them."
—NBC News

"In her debut novel, Michelle Ruiz Keil crafts a fantastical ode to the Golden City's postpunk era."
—Entertainment Weekly

"A spellbinding tale about finding magic in the mundane and hope in the unknown. Filled with dizzying danger and electrifying music, All of Us with Wings left me breathless."
—Ruth Ozeki, Los Angeles Times Book Prize-winning author of A Tale for the Time Being

"Michelle Ruiz Keil creates a vivid and original novel full of music, rage, and characters that sing with purpose. Keil is a new voice to keep an eye on." 
—Zoraida Córdova, award-winning author of Labyrinth Lost 

"All of Us with Wings is a decadent slice of post-punk rockstardom that will have you begging to stay at the party till sunrise. This gorgeous debut looks unflinchingly into often unexplored experiences of adolescence—abuse and addiction, lust and desire, found families and chosen homes—finding beauty and redemption even in the darkest places."
—Tehlor Kay Mejia, author of We Set the Dark on Fire

"I'm convinced that Michelle Ruiz Keil has woven a magic spell into these pages. All of Us with Wings is gorgeous, gritty, and utterly transfixing."  
—Sara Holland, New York Times bestselling author of Everless

"Michelle Ruiz Keil puts exquisite language and wild imagination to the fierce onslaught of sensation and doubt that is adolescence. This is a story for young adults, but perhaps it is also a deeply poetic tale of what is lost in the transition to adulthood." 
—Joanna Rose, author of Little Miss Strange

"If Umbrella Academy has you in the mood for more fantastical schooling adventures, Keil's YA-debut may be a good continuation . . . When Pallas and Xochi accidentally summon ancient powers on the Vernal Equinox, their homeschooling takes a dive into the mythical, with both characters learning about the powers (and consequences) of vengeance." 
—Electric Lit

"An irresistible punk rock spirit . . . sets it apart from standard fantasy fare."
—Popsugar

"A sort of goth Weetzie Bat, but even that doesn't quite capture [its] beauty . . . The prose is gorgeous and lyrical and positively glitters, and the characters are vivid and lush. I loved this book."
—Book Riot

"All of Us with Wings is the coming-of-age story for those of us whose adolescence didn't fit the script . . . Told in luminous prose, this novel achieves an intoxicating blend of fairytale and realism that quickly proves addictive."
—Lit Reactor

"Put me under a happy spell."
—OPB's State of Wonder

"Bursting with magic." 
—Audio File

"Michelle Ruiz Keil has crafted something of astonishing radiance with All of Us with Wings; it's not always easy or pretty, but it's a novel with real staying power that will reward all who succumb to its magic."
—Locus Magazine

"The writing soars . . . This tale of found family and recovery weaves an unforgettable punk rock-infused spell."  
—Kirkus Reviews, Starred Review

"[An] atmospheric debut . . . Keil plays with prose and imagery, interweaving the dreamlike language of Francesca Lia Block with a Latin-American sensibility. The frank inclusion of sexual exploration and drug use adds an extra level of maturity to this thoughtful story about trauma and vengeance, adult decision making, and recovery." 
—Publishers Weekly

"This intricately constructed urban fantasy is complex and beautiful, blending folklore, San Franciscan history, the music scene, vampires, magic, and the intertwined lives of characters, including a cat named Peasblossom who sees and understands more than the humans . . . Fantasy fans will find this book appealing, fun, and hard to put down."
—School Library Journal

"Punk-rock and music fans in general will especially love the flow of this book . . . A delicious debut filled with prose that reads like poetry."
—Booklist

"Michelle Ruiz Keil's debut is sure to leave readers thinking about trauma, forgiveness, and growth."
—Bookish

"Intriguing and well-crafted." 
—YA Books Central  

"Keil is at her best playing with the magical realism element . . . using lush, imagistic prose to cast a dreamy (sometimes nightmarish) pall over the scenes." 
—Bulletin for the Center of Children's Books

"All of Us with Wings is unapologetically queer, sexy and colorful. It doesn't pull its punches, but it also examines narratives of rape recovery in an as ethical a manner as possible. There is hope, it says. There is family. There is life beyond the trauma." 
—Young Adulting

"Magical realism that hits hard."
—Cultura Colectiva

"All of Us with Wings is a book about trauma in all its forms and the price others pay for us accepting, rejecting, or ignoring our pain. But it's also about found families and not letting your past define your future. Every library with a young adult section should buy this book—you never know which of your teens will need it as much as I did."
—Alex Brown, Punk-Ass Book Jockey blog

"A fascinating story about growing up."
—Rich in Color blog

"A remarkable, refreshing, dangerous book filled with beautiful language. Michelle Ruiz Keil brings the supernatural, the world of art and music, themes of abuse and agency, and characters so real, my heart broke for more than one of them."
—Doug C., Powell's Books (Portland, OR)

"A stunning re-imagining of Jane Eyre, set in San Francisco and exploring themes of found family, processing trauma, and growing up . . . With her magical setting, lush prose, and unforgettable characters, Michelle Ruiz Keil has created a world that you won't want to leave."
—Cecilia Cackley, East City Bookshop (Washington, DC)

Soho Teen, 9781641290340, 360pp.
Publication Date: June 18, 2019
About the Author
Michelle Ruiz Keil is a writer and tarot reader with an eye for the enchanted and a way with animals. She is a 2020 Literary Lions Honoree and the recipient of a 2020 Hedgebrook residency. Her short fiction can be found in the anthologies Color outside the Lines and Dispatches from Anarres. A Bay Area native, Michelle has lived in Portland, Oregon, for many years. She curates the fairytale reading series All Kinds of Fur and lives with her family in a cottage where the forest meets the city.