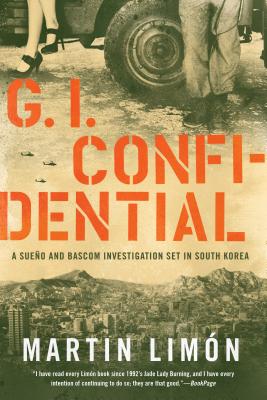 GI Confidential (A Sergeants Sueño and Bascom Novel #14)
Hardcover

* Individual store prices may vary.
Other Editions of This Title:
Digital Audiobook (10/14/2019)
Paperback (10/19/2021)
Description
US Army CID Agents George Sueño and Ernie Bascom become entangled with a pushy tabloid reporter as they investigate a series of violent bank robberies throughout South Korea.
 
South Korea, 1970s: A rash of armed robberies at local Korean banks doesn't concern the American military—until a fatality occurs, and proof surfaces that US soldiers are behind the crimes. The case has been assigned to CID Agents Jake Burrows and Felix Slabem, but they certainly won't do anything that might make 8th United States Army look bad. So Sergeants George Sueño and Ernie Bascom have decided to step in and investigate the robberies—and murder—themselves.
 
George and Ernie have their own problems to worry about, namely Katie Byrd Worthington, a pesky reporter for the Overseas Observer—an unsanctioned English-language tabloid that has found strong roots in South Korea. Katie has published a story that implicates Army higher-ups in both sex trafficking and treason, and the pressure is on for the CID to disprove her claims. But what if they aren't false? As George and Ernie dig deeper into the case, they find themselves the targets of a very unflattering publicity campaign, but perhaps also something much more dangerous.
Praise For GI Confidential (A Sergeants Sueño and Bascom Novel #14)…
Praise for GI Confidential

"Robust, socially alert, and perceptive."
—The Seattle Times

"Limon's stories of U.S. Forces Korea (USFK) criminal investigators George Sueno and Ernie Bascom provide a vivid look at the Korea of the past."
—Korea Times

"Stellar . . . Limón does his usual outstanding job of combining clever plotting and period detail with sympathetic, flawed leads. This series shows no sign of losing momentum."
—Publishers Weekly, Starred Review

"GI Confidential is one of Limón's best to date in a series that never fails to entertain . . . Limón's writing style is casual and humorous, and his military experience, which included a decade in Korea, lends an unmistakable realism to the atmosphere of his novels that brings readers back for more each time."
—New York Journal of Books

"Sueño and Bascom's lively 14th investigation is long on action, gritty dialogue, and period authenticity."
—Kirkus Reviews

"GI Confidential is one of the best in a series that gets better and better. You feel close to our two heroes, the themes are bigger and more complex, and even with all that, Limón brings it all in with a tight, well paced tale. I'm already looking forward to the next one."
—Mystery People (Austin, TX)

Praise for the Sueño and Bascom Investigations
 
"Limón is one of the best military writers ever. His stories are addictive entertainment today—and valuable slices of history tomorrow."
—Lee Child
 
"An enduring and freshly relevant series . . . Limón, himself a former US Army man who served 10 years in Korea, writes with knowledge of the travails and rewards of military life."
—The Wall Street Journal
 
 "Limón is an expert guide to Korea and the US army whose passionate commitment to his subject is expressed in direct, searing prose."
—John Burdett, international bestselling author of Bangkok 8
 
"As always, the author vividly contrasts adventures in the seamy side of Seoul's nightlife with a sensitive appreciation for Korea's ancient culture."
—The Seattle Times
 
"Altogether engaging."
—The Washington Post Book World

"A fast-paced, action-packed yarn that will keep you glued to your seat from the first page to the last."
—San Antonio Express-News

"Limón's fiction comes from personal experience, with some obvious parallels between his own life and main protagonist Sueño's. As well as sharing a Hispanic heritage, Limón also served in Korea, first arriving in 1968 . . . Rare foreign fiction set in Korea."
—The Korea Times

"Superb . . . Limón has never been better at incorporating a logical mystery plot into the politics of his chosen time and place."
—Publishers Weekly, Starred Review
Soho Crime, 9781641290388, 384pp.
Publication Date: October 15, 2019
About the Author
Martin Limón retired from military service after twenty years in the US Army, including ten years in Korea. He is the author of twelve previous Sueño and Bascom investigations: Jade Lady Burning, Slicky Boys, Buddha's Money, The Door to Bitterness, The Wandering Ghost, GI Bones, Mr. Kill, The Joy Brigade, The Iron Sickle, The Ville Rat, Ping-Pong Heart, The Nine-Tailed Fox, and The Line as well as the short story collection Nightmare Range. He lives near Seattle.
or
Not Currently Available for Direct Purchase