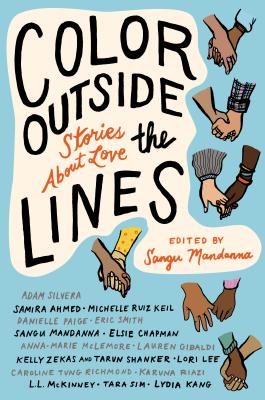 Color outside the Lines
Stories about Love
Hardcover

* Individual store prices may vary.
Other Editions of This Title:
Digital Audiobook (11/11/2019)
Paperback (10/13/2020)
Description
This modern, groundbreaking YA anthology explores the complexity and beauty of interracial and LGBTQ+ relationships where differences are front and center.

When people ask me what this anthology is about, I'm often tempted to give them the complicated answer: it's about race, and about how being different from the person you love can matter but how it can also not matter, and it's about Chinese pirate ghosts, black girl vigilantes, colonial India, a flower festival, a garden of poisons, and so, so much else. Honestly, though? I think the answer's much simpler than that. Color outside the Lines is a collection of stories about young, fierce, brilliantly hopeful people in love.—Sangu Mandanna, editor of Color outside the Lines


With stories by:
Samira Ahmed | Elsie Chapman | Lauren Gibaldi | Lydia Kang | Michelle Ruiz Keil | Lori M. Lee | Sangu Mandanna | L.L. McKinney | Anna-Marie McLemore | Danielle Paige | Karuna Riazi | Caroline Tung Richmond | Adam Silvera | Tara Sim | Eric Smith | Kelly Zekas & Tarun Shanker
Praise For Color outside the Lines: Stories about Love…
A Nerd Daily Best YA Book of 2019

Praise for Color outside the Lines

"You know that feeling of maybe seeing yourself represented every now and again, but never quite seeing it done right? Imagine feeling that all the time . . . and then bam, you get a whole book of joyful and romantic stories by people who actually know what they're talking about." 
—B&N Teen Blog

"A missing piece in the puzzle of YA lit." 
—Ms. Magazine 

"A brilliantly compiled YA anthology about teens 'of all colors' in multicultural and LGBTQ+ relationships, standing up for their beliefs, for each other, and for themselves . . . These gloriously steadfast teens refuse to be voiceless, and their astounding ambition commands us to listen."
—Shelf Awareness, Starred Review

"Each story is uniquely written and features characters from different ethnicities, religions, and sexual orientations . . . The diversity among the stories will ensure that every reader will be able to find something to enjoy."
—Bungalower

"Filled to the brim with romantic, transcendent short fiction . . . Not only are the characters diverse, but the narratives they inhabit are, too, as the collection celebrates stories that fall within the sf and fantasy world as well as the contemporary fiction genre. These writers bring their rich talents to this book as they make it clear just how beautiful love is, regardless and because of race. By curating a collection filled with authentic characters of color and diverse storylines, Mandanna encourages writers and readers alike to take chances and truly color outside the lines in YA."
—Booklist, Starred Review

"In her editing debut, Mandanna produces a stunning collection of refreshing stories about love and identity among diverse young people . . . Each well-crafted story feels like a pearl, and strung together, they create something beautiful and unique. Featuring couples who are queer, interracial, or both, this an anthology that beautifully reflects the multifaceted reality of our world."
—Publishers Weekly, Starred Review

"A YA anthology with a fabulous roster of contributors that will transport you out of your life for a little bit and also give you hope."
—Book Riot

"Color Outside the Lines has my whole heart . . . It's a kaleidoscope of voices that illuminate how much we need more diverse literature and just how important these voices are. These authors put so much soul into these stories and it transpires beautifully onto the page."
—The Nerd Daily

"Multi-genre short stories filled with romance and diverse characters who cross boundaries. Representing interracial and cross-cultural relationships, this anthology takes readers to new worlds . . . The discussions of identity, and messages of cultural acceptance and recognition of inequality are well executed. Readers who enjoy romance and exploring questions of community and belonging will find much to savor in this collection."
—Kirkus Reviews

"This anthology of short stories about love will attract readers from all walks of life . . . Different genres are explored, including historical, supernatural, fantasy, magical realism, and realistic fiction, which keeps the stories unique and the book easy to read. A first purchase for libraries supporting or in need of diverse books."
—School Library Journal

"A beautifully diverse, inclusive, empowering collection of stories . . . Color outside the Lines has such an incredible, tremendously talented list of contributors."
—Pop Goes the Reader

"There's a dearth of young adult stories that explore the complexities of interracial relationships, and I am so thankful to have read this anthology and to feel pieces of my personal experiences represented in these stories."
—The Quiet Pond

"Phenomenal . . . to have an anthology that covers a range of different types of interracial relationships—in age, genre, ethnicity, race, religion, gender, and sexuality—was so heartwarming."
—Maple Wind Chimes

"I cannot sing the praises of this anthology enough . . . The concept of this anthology is not only moving, but also so well executed. As Mandanna writes in the introduction, "representation matters" and these stories of relationships that cross borders, families, prejudices, and more are tender and heartfelt. Within this anthology are stories about superheroes, ghosts, resistance, and poisons. They transform in front of your very eyes."
—Utopia State of Mind

"Color outside the Lines discusses the often difficult, immensely rewarding and sometimes hilarious dynamics of interracial relationships . . . Richly telling."
—The YA Sh3lf
Soho Teen, 9781641290463, 312pp.
Publication Date: November 12, 2019
About the Author
Sangu Mandanna, the editor of Color outside the Lines, is the author of The Lost Girl and the forthcoming trilogy A Spark of White Fire. Born and raised in Bangalore, India, she now lives in the UK with her husband and three kids, and she has an alarming Netflix addiction.
or
Not Currently Available for Direct Purchase