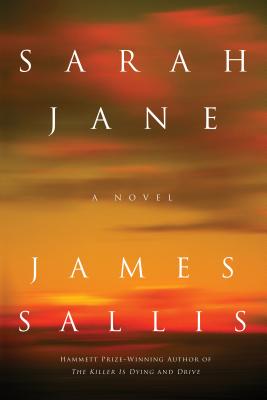 Sarah Jane
Hardcover

* Individual store prices may vary.
Other Editions of This Title:
Digital Audiobook (10/30/2019)
MP3 CD (11/26/2019)
Paperback (9/15/2020)
Compact Disc (12/1/2020)
Description
A spare, sparkling tour de force about one woman's journey to becoming a cop, by master of noir James Sallis, author of Drive.

Sarah Jane Pullman is a cop with a complicated past. From her small-town chicken-farming roots through her runaway adolescence, court-ordered Army stint, ill-advised marriage and years slinging scrambled eggs over greasy spoon griddles, Sarah Jane unfolds her life story, a parable about memory, atonement, and finding shape in chaos. Her life takes an unexpected turn when she is named the de facto sheriff of a rural town, investigating the mysterious disappearance of the sheriff whose shoes she's filling—and the even more mysterious realities of the life he was hiding from his own colleagues and closest friends. This kaleidoscopic character study sparkles in every dark and bright detail—a virtuoso work by a master of both and the tender aspects of human nature.
Praise For Sarah Jane…
A New York Times Book Review Editor's Choice
A New York Times Best Crime Novel of 2019
A Financial Times Best Book of 2019
A Publishers Weekly Big Indie Book for Fall 2019
Library Journal Best Crime Fiction of 2019
LitHub's Best Noir Fiction of 2020
Finalist for the 2020 Macavity Award for Best Mystery Novel

Praise for Sarah Jane

"Spellbinding . . . like a piece of stormy poetry."
—Marilyn Stasio, The New York Times Book Review

"Slim and affecting . . . Sallis writes of life's mishaps as well as its consolations in a poetic style well-suited to his introspective yet appreciative main character."
—The Wall Street Journal

"Sallis is a sure hand—characters and prose, of course, dialogue, too, but he is also a subtle weaver of plot, with the perfect level of push. His descriptions evoke a place more real than mere realism could render, and his people speak and sweat and live and die and it's all a great pleasure."
—Daniel Woodrell

"Gorgeously written."
—The Toronto Star

"Remarkable . . . [Sallis's] ability to evoke moments of everyday life ultimately delineates powerfully the experience of a woman who matters to us, in a life that, from her own point of view, she feels 'taking shape around me.' . . . An extraordinary novel about a woman's sometimes violent and ultimately insightful encounter with ordinary life."
—Los Angeles Review of Books

"Sarah Jane is a mesmerizing tale, noir-gothic fiction shot through with veins of a fractured cautionary tale. It's lyrical but taut, a meditation on memory, choice, randomness, and death."
—Phoenix New Times

"James Sallis probably couldn't write a boring line if he tried."
—The Irish Times

"A piercing psychological study."
—The Herald (Scotland)

"Sallis has delivered a long list of excellent crime novels, as well as biographies and books of poetry. With its spare but insightful prose and probing exploration of the price of our sins, Sarah Jane fits among his finest . . . This book will leave you marveling about our ability to carve out a life, no matter how different it is from what we expected."
—BookPage

"Engrossing . . . Sallis proves once again that he is an acute chronicler of humanity."
—Mystery Scene

"Utterly wonderful from start to finish . . . Sallis's plotting is a masterclass in sleight of hand, misdirecting the reader with a glance and a nod."
—The Big Issue

"A hypnotic, meticulously crafted crime novel . . . An insightful character study of one woman's reckoning with her own demons, this is also a powerful look at contemporary America. Sallis is writing at the top of his game."
—Publishers Weekly, Starred Review

"This quietly powerful blend of noir and character study finds both despair and great tenderness in the daily lives of ordinary people . . . Sallis' words hold plenty."
—Booklist, Starred Review

"Sallis has a quiet way of narrating a powerful story of accidents and death. The lyrical language and ambiguous ending is reminiscent of the best of Craig Johnson's 'Longmire' stories."
—Library Journal, Starred Review

"With his impeccable pacing, and richly humane story-telling, Sallis brings his heroine to life in a way that is tender and yet as threatening as only the best noir can be."
—Daily Mail

"James Sallis is never to be missed—never. Everything he writes is most worthy and so beautifully written to boot you will marvel. He's a sorcerer with words. Because most of his novels feature a crime and subsequent matching atmosphere they are called mysteries but trust me these are novels first of the highest literary quality that work within the world of bad deeds gone even more wrong. Sarah Jane is no different. What's not to admire in a sentence that reads; 'There's a small revolution going on in that sentence.' Trust me—find this guy—start here—read this book!"
—Sheryl Cotleur, Copperfield's Books (Northern California)

"This powerful short novel is both a crime story and an incisive character study of a young woman forced by circumstances to fight for survival."
—Stop! You're Killing Me

Praise for James Sallis

"A perfect piece of noir fiction . . . focus[ing] on those hollowed-out moments when a man's moral landscape suddenly shifts and he's plunged into darkness."
—The New York Times Book Review

"One stark and stunning tale of murder, treachery, and deceit."
—Boston Globe

"[Sallis] might just be one of our greatest living writers."
—USA Today   

"A taut page-turner . . . [and] a lovely piece of work that makes you wish some other writers would take lessons from [Sallis]."
—Washington Post
 
"One of the most enjoyable and most important writers working today, James Sallis has quietly revolutionized an entire genre of literature."
—Sara Gran

"James Sallis is one of our greatest living crime writers . . . Try to get his words, his stories, his people out of your head. Just try."
—Laura Lippman
 
"Speaking of Jim Sallis in the same tone as Poe and Dostoevsky is not overblowing on my part."
—Harlan Ellison
 
"Sallis is a gifted writer and he doesn't cram his story into this slim volume. Rather he distills it into a superbly potent brew that burns going down and explodes in the belly."
—Alfred Hitchcock Mystery Magazine  

"James Sallis might be the 'purest' writer of crime fiction in America today . . . his books are worth reading solely for what rises from the inspired use of language."
—San Francisco Chronicle

"In addition to his masterly novels, Sallis is known for his work as a poet, and the lyrical beauty of his words shines through his pages. The story unfolds with the cadence of the down-home music that plays such an important part in the characters' lives, weaving stories from the past through the narrative of the present to create a harmonious melody. It's a crime that a writer this good isn't better known."
—Chicago Sun-Times

"Sallis's treatment is minimalist, stylish, and all the more evocative for it. Essential noir existentialism."
—The Guardian

"A story full of heart, imbued with a warmth of human spirit that most longer books could only dream of."
—The Independent

"The power of simplicity and the musical ring of truth as only Sallis can deliver it—as he has done bravely, consistently, for the last few decades."
—The Los Angeles Times


Soho Crime, 9781641290807, 216pp.
Publication Date: October 1, 2019
About the Author
James Sallis has published eighteen novels, including Drive, which was made into a now-iconic film, and the six-volume Lew Griffin series. He is a recipient of the Hammett Prize for literary excellence in crime fiction, the Grand Prix de Littérature Policière, the Deutsche Krimi Preis, and the Brigada 21 in Spain, as well as Bouchercon's Lifetime Achievement Award. His biography of Chester Himes was a New York Times Notable Book of the Year.
or
Not Currently Available for Direct Purchase