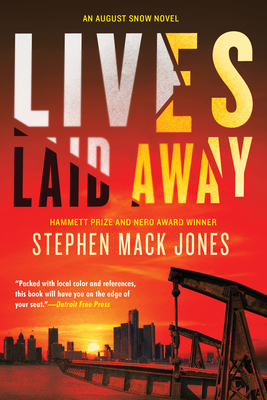 Lives Laid Away (An August Snow Novel #2)
Paperback

* Individual store prices may vary.
Other Editions of This Title:
Digital Audiobook (1/7/2019)
Library Binding, Large Print (4/24/2019)
Description
Detroit ex-cop August Snow takes up vigilante justice when his beloved neighborhood of Mexicantown is caught in the crosshairs of a human trafficking scheme.

When the body of an unidentified young Hispanic woman is dredged from the Detroit River, the Wayne County coroner gives her photo to ex-police detective August Snow, insisting August ask around his native Mexicantown to see if anyone recognizes her. August's good friend Elena, an advocate for undocumented immigrants, immediately pinpoints the girl as local teenager Isadora del Torres. It turns out Izzy isn't the only young woman to have disappeared during an ICE raid only to turn up dead a few weeks later. Preyed upon by the law itself, the people of Mexicantown have no one to turn to but August. In a guns-blazing wild ride across Detroit, he will put his own life on the line to protect the community he loves.
Praise For Lives Laid Away (An August Snow Novel #2)…
Shortlisted for the 2019 CWA Ian Fleming Steel Dagger
A National Bestseller
A Literary Hub Most Anticipated Book of 2019
A CrimeReads Most Anticipated Crime & Mystery Novel of 2019
A BookBub Most Anticipated Mystery Novel of 2019

Praise for Lives Laid Away

"August Octavio Snow is a big Detroit booster . . . Stephen Mack Jones picks up his gung-ho protagonist where the author left him in his first novel, August Snow—cleaning up his beat-up neighborhood in Mexicantown."
—The New York Times Book Review

"Jones's action-packed book has echoes of Raymond Chandler's banter and bursts of Dashiell Hammett's violence, with a tip of the porkpie hat to Walter Mosley. What's more, Lives Laid Away delivers a bracing amount of rough humor and a whole lot of heart."
—Tom Nolan, The Wall Street Journal

"Man, if you haven't read Stephen Mack Jones' Detroit crime novels about an ex-cop named August Snow, you ought to."
—Mike Lupica, The New York Daily News

 "A terrific story . . . The setup allows Jones to deliver some stinging observations about our current immigration policies, leavening his heavy themes with a judicious amount of dry humor." 
—Adam Woog, The Seattle Times

"Packed with local color and references, this book will have you on the edge of your seat. It's an action-packed mystery novel that is both familiar and surprising."
—Detroit Free Press

"Jones proves he's just at home writing crime fiction in Detroit as Loren D. Estleman and the late Elmore "Dutch" Leonard . . . Get ready for a different kind of snowstorm."
—Dearborn Press & Guide

"August Snow brings diversity to the genre and the stories are both gritty and clever. The Detroit setting is beautifully done. He takes a seat right alongside other great Michigan private eye writers like (Estleman) and Steve Hamilton. I'm hoping this is going to be a very long-lived series."
—Robin Agnew, The Oakland Press

"A clever, punchy tale set in one of today's more romantic locales: Detroit. A city climbing back from ruin is a great backdrop for redemptive stories like this one, about a native who is renovating houses on his childhood street to try and rebuild the neighborhood he grew up in. Stephen Mack Jones is also a playwright and a poet, which means he knows how to make every word count . . . Heart and muscle aplenty."
—The Raleigh News & Observer

"August Snow combines strength, vulnerability, and resolve — all necessary to the construction of a hero. Snow's sense of honor is a liability in certain parts of Detroit — as it is most places — but the thought of abandoning it is never on the table. Razor-sharp characterization, an engaging style, and Jones's intimate knowledge of Motor City culture give us hope for an enduring series and many years of entertainment."
—Loren D. Estleman, author of the Amos Walker novels

"Operatically violent and hilariously funny, with dialogue to die for. I'll read whatever Stephen Mack Jones writes."
—Timothy Hallinan 

"An old-fashioned, guns a-blazing ripsnorter—and boy, are its pulp roots showing."
—Mystery Scene Magazine

"This is noir as it was meant to be: incisive, socially conscious, distinctly situated, and told with real style."
—Literary Hub 

"Detective fiction needs a shot in the arm every now and again. That was the feeling of reading Stephen Mack Jones . . . The August Snow series is as promising as any crime fiction to come around in a long while, tapping into the iconoclasm and social justice streaks of midcentury noirs, but taking them in a modern direction, exposing human trafficking rings, abuses of immigrant communities, gentrification, and economic declines and revivals. It's heady, exhilarating stuff."
—CrimeReads

"Some of the most popular detective novels of the last two years (Kristen Lepionka's Once You Go This Far and Stephen Mack Jones's Lives Laid Away, to name only two examples) turn a sharp eye on systemic and institutional injustices. They build on the many fictional detectives, especially those created by women and writers of color, who have been speaking truth to power and focusing on collaboration for decades."
—Zocalo Public Square

"Terrific."
—Seattle Review of Books

"A giddy, heart-stopping read whose distinctive, vibrant characters come at you full throttle, no holds barred . . . A toast to Stephen Mack Jones, one of the coolest crime writers on the current scene."
—Irma Heldman, Open Letters    

"It's hard to believe this is only the second mystery from [Jones]—with a well tangled plot, excellent pacing, and the deft mixture of toughness and generosity in his protagonist, August Snow, this is a terrific new book and a great series."
—Kingdom Books 

"Superior . . . August Snow is an uncompromising crusader with a sense of humor reminiscent of Robert Parker's Spenser. He merits a long literary life."
—Publishers Weekly, Starred Review

"Hard-driving noir, with a strong dose of neighborhood camaraderie; for read-alike comparisons, think Easy Rawlins and his close-knit L.A. neighborhood meet Jack Reacher."
—Booklist

Praise for August Snow

Winner of the 2018 Nero Award
Winner of the Hammett Prize for Crime Fiction
Finalist for the 2018 Shamus Award
Strand Magazine Critics Awards Best First Novel Nominee
A 2018 Michigan Notable Book
A Milwaukee Journal Sentinel Best Book of 2017 
 
"August Snow is one of my favorite books that I've read recently, and I'm not just saying that . . . This book is so good, I actually put it down, and I briefly entertained the notion of moving back to Detroit."
—Nancy Pearl, NPR's Morning Edition

"[A] witty, mayhem-packed first novel . . . Snow's own voice has echoes of Raymond Chandler's. Be assured that when the showdown comes, Snow—an action-hero with the heart of a mensch—and his crew prove up to that task." 
—The Wall Street Journal

"Stephen Mack Jones's rock-solid debut, August Snow, is powered by the outgoing personality of the title hero and his deep affections for his hometown of Detroit. [Jones] proves himself a natural entertainer." 
—Chicago Tribune 

"Jones, a Detroit-area poet and playwright brings the city, its environs, and its eateries to vital life in a mystery coiled around the contemporary crime du jour of cyber-finance meddling. His is that rare tale that, despite its thriller-level violence, maintains a fiercely warm heart at its core—and ends far too quickly." 
—The Boston Globe 

"[A] polished, gripping debut. Poet Stephen Mack Jones' novel bristles with energy, compassion, humor and a page-turning plot." 
—Minneapolis Star Tribune
Soho Crime, 9781641290951, 312pp.
Publication Date: October 22, 2019
About the Author
Stephen Mack Jones is an award-winning playwright, and a recipient of the prestigious Hammett Prize, the Nero Award, and the Kresge Arts in Detroit Literary Fellowship. He was born in Lansing, Michigan, and currently lives in the suburbs of Detroit. He worked in advertising and marketing communications for a number of years before turning to fiction. August Snow was his first novel.