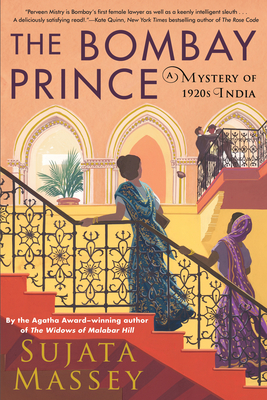 The Bombay Prince (A Perveen Mistry Novel #3)
Hardcover

* Individual store prices may vary.
Description
India's only female lawyer, Perveen Mistry, is compelled to bring justice to the family of a murdered female Parsi student just as Bombay's streets erupt in riots to protest British colonial rule. Sujata Massey is back with this third installment to the Agatha and Mary Higgins Clark Award-winning series set in 1920s Bombay.

November, 1921. Edward VIII, Prince of Wales and future ruler of India, is arriving in Bombay to begin a fourmonth tour. The Indian subcontinent is chafing under British rule, and Bombay solicitor Perveen Mistry isn't surprised when local unrest over the royal arrival spirals into riots. But she's horrified by the death of Freny Cuttingmaster, an eighteen-year-old female Parsi student, who falls from a second-floor gallery just as the prince's grand procession is passing by her college.

Freny had come for a legal consultation just days before her death, and what she confided makes Perveen suspicious that her death was not an accident. Feeling guilty for failing to have helped Freny in life, Perveen steps forward to assist Freny's family in the fraught dealings of the coroner's inquest. When Freny's death is ruled a murder, Perveen knows she can't rest until she sees justice done. But Bombay is erupting: as armed British secret service march the streets, rioters attack anyone with perceived British connections and desperate shopkeepers destroy their own wares so they will not be targets of racial violence. Can Perveen help a suffering family when her own is in danger?
Praise For The Bombay Prince (A Perveen Mistry Novel #3)…
Praise for the Perveen Mistry Novels
 
"Well-researched and convincing."
—The Wall Street Journal
 
"Bright, determined . . . Perveen, whose aim is to help women and children, continues to engage us, thereby ensuring a long-running series."
—The Seattle Times
 
"Marvelously plotted, richly detailed . . . This is a first-rate performance inaugurating a most promising series."  
—The Washington Post 

"Perveen Mistry has all the pluck you want in a sleuthing lawyer, as well as a not-so-surprising—but decidedly welcome—proclivity for poking her nose into the business of others. The pages do indeed fly." 
—The Globe and Mail
 
"Fantastic."
—The Christian Science Monitor
 
"Once again Massey does a superb job of combining a fascinating snapshot into 1920s British-ruled India with a top-notch mystery. She has created a strong, appealing heroine who is forging her own path in a rapidly changing world." 
—Library Journal, Starred Review
Soho Crime, 9781641291057, 360pp.
Publication Date: June 1, 2021
About the Author
Sujata Massey was born in England to parents from India and Germany, grew up in St. Paul, Minnesota, and lives in Baltimore, Maryland. She was a features reporter for the Baltimore Evening Sun before becoming a full-time novelist. The first Perveen Mistry novel, The Widows of Malabar Hill, was an international bestseller and won the Agatha, Macavity, and Mary Higgins Clark Awards. Visit her website at sujatamassey.com.