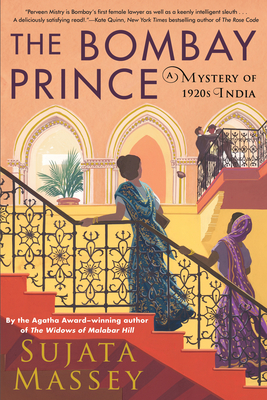 The Bombay Prince (A Perveen Mistry Novel #3)
Hardcover

* Individual store prices may vary.
Other Editions of This Title:
Digital Audiobook (5/31/2021)
Paperback (5/3/2022)
Description
Bombay's first female lawyer, Perveen Mistry, is compelled to bring justice to the family of a murdered female Parsi student just as Bombay's streets erupt in riots to protest British colonial rule. Sujata Massey is back with this third installment to the Agatha and Mary Higgins Clark Award-winning series set in 1920s Bombay.

November 1921. Edward VIII, Prince of Wales and future ruler of India, is arriving in Bombay to begin a fourmonth tour. The Indian subcontinent is chafing under British rule, and Bombay solicitor Perveen Mistry isn't surprised when local unrest over the royal arrival spirals into riots. But she's horrified by the death of Freny Cuttingmaster, an eighteen-year-old female Parsi student, who falls from a second-floor gallery just as the prince's grand procession is passing by her college.

Freny had come for a legal consultation just days before her death, and what she confided makes Perveen suspicious that her death was not an accident. Feeling guilty for failing to have helped Freny in life, Perveen steps forward to assist Freny's family in the fraught dealings of the coroner's inquest. When Freny's death appears suspicious, Perveen knows she can't rest until she sees justice done. But Bombay is erupting: as armed British secret service march the streets, rioters attack anyone with perceived British connections and desperate shopkeepers destroy their own wares so they will not be targets of racial violence. Can Perveen help a suffering family when her own is in danger?
Praise For The Bombay Prince (A Perveen Mistry Novel #3)…
Praise for The Bombay Prince

Featured as a great "summer read" in the Baltimore Sun, Milwaukee Journal-Sentinel, Minneapolis Star-Tribune, Capital Gazette, CrimeReads, and on Bookish.com

"The Bombay Prince is the third delightful installment of Sujata Massey's mystery series set in 1920s India. Heroine Perveen is much more than a sari-clad Miss Marple: she's Bombay's first female lawyer as well as a keenly intelligent sleuth, a trail-blazing woman balancing the weight of family tradition with her own dreams. Perveen's investigation into the mysterious death of a young university student coincides with the imperial visit of the future Edward VIII, and the resulting trail of breadcrumbs through royal receptions, street riots, squalid jails, and lavish hotels makes for a deliciously satisfying read!"
—Kate Quinn, New York Times bestselling author of The Rose Code

"Exceptional . . . Massey has never been better at pairing her redoubtable and impressive lead with a challenging murder to unravel."
—Publishers Weekly, Starred Review

"Graceful prose and mastery of period detail . . . [The Bombay Prince] propels a rich story of female empowerment during a pivotal era."
—Kirkus Reviews

"Mistry charges into both matters with her usual pointed but restrained anger toward India's patriarchy and colonial rule."
—Minneapolis Star-Tribune

"Massey's lush descriptions and rich historical details are thoroughly transporting."
—Carole E. Barrowman, Milwaukee Journal-Sentinel

"Massey is very good at evoking period details, but she really excels at illuminating the deeply ingrained restrictions imposed by racism, sexism and India's caste system. Her historical research is thorough but worn lightly, and her concerns with social injustice are never preachy."
—The Seattle Times

"The series anchor, Perveen Mistry, is one of the most delightful and engaging protagonists you're likely to meet in historical fiction."
—New York Journal of Books

"As she did in "The Widows of Malabar Hill" and "The Satapur Moonstone," Massey continues Perveen's personal and professional stories while fashioning an intricate plot that blends issues of history, culture and religion. A superior whodunit and a rousing affirmation of the universal impulse for freedom."
—Fredericksburg Free Lance Star

"Highly recommended. If you're looking for your thrills via history then this is your book."
—The Morning Blend, WTMJ-TV Milwaukee

"[A series] as much history for the historical fiction reader as it is for mystery."
—Wisconsin Public Radio

"It is Perveen herself that makes this series such delightful reading. She is rendered with great humanness as a caring, generous role model . . . The author provides a rich representation of the world in which Perveen lives and works. Bombay in the 1920s, the Parsi community, and the recurring and familiar lovable characters all combine to give the reader a complete and enduring experience."
—India Currents

"Massey effortlessly weaves together history, politics, romance and mystery in her latest."
—BookReporter.com

"Another fine installment in a well-researched and vividly rendered series. Wherever Perveen Mistry goes next, readers are sure to follow."
—Reviewing the Evidence

"Meticulously researched and entertainingly executed . . . Massey plots an intricate mystery well worth solving; even more impressive, however, are the seamlessly interwoven historical, political and social layers--suffocating colonialism, societal systems more concerned with appearance than equity, racial and gender disparities."
—Shelf Awareness

"If you like historical mysteries, this is a series you should absolutely be reading."
—Book Riot

"Massey brings us another stunning, intricate, and fast-paced historical mystery featuring her series sleuth, Perveen Mistry, the first and only female lawyer in 1920s India."
—CrimeReads

"No need to have read the earlier two books of this series (The Widows of Malabar Hill, The Satapur Moonstone)—just plunge into this new release . . . Massey's skills are strengthening with each book, and this is definitely her best yet."
—Kingdom Books

"[Perveen Mistry] undeniably lives in turbulent, interesting times and she's right in the thick of it."
—Criminal Element

Praise for the Perveen Mistry Novels

"Well-researched and convincing."
—The Wall Street Journal
 
"Bright, determined . . . Perveen, whose aim is to help women and children, continues to engage us, thereby ensuring a long-running series."
—The Seattle Times

"Marvelously plotted, richly detailed . . . This is a first-rate performance inaugurating a most promising series."  
—The Washington Post

"While Massey is illuminating a different struggle, this reflection of what we are living through at the moment makes it all the more powerful . . . This is a series of books no reader should miss."
—Mystery Scene

"Perveen Mistry has all the pluck you want in a sleuthing lawyer, as well as a not-so-surprising—but decidedly welcome—proclivity for poking her nose into the business of others. The pages do indeed fly." 
—The Globe and Mail
 
"Fantastic."
—The Christian Science Monitor
 
"Once again Massey does a superb job of combining a fascinating snapshot into 1920s British-ruled India with a top-notch mystery. She has created a strong, appealing heroine who is forging her own path in a rapidly changing world."
—Library Journal, Starred Review

"Anyone who enjoys historical mysteries, strong female lead characters, and learning about a fascinating period in India's history must read Sujata Massey's excellent Perveen Mistry series."
—Kittling Books

Soho Crime, 9781641291057, 360pp.
Publication Date: June 1, 2021
About the Author
Sujata Massey was born in England to parents from India and Germany, grew up in St. Paul, Minnesota, and lives in Baltimore, Maryland. She was a features reporter for the Baltimore Evening Sun before becoming a full-time novelist. The first Perveen Mistry novel, The Widows of Malabar Hill, was an international bestseller and won the Agatha, Macavity, and Mary Higgins Clark Awards. Visit her website at sujatamassey.com.