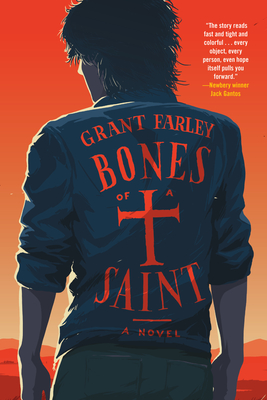 Bones of a Saint
Hardcover

* Individual store prices may vary.
Other Editions of This Title:
Digital Audiobook (3/15/2021)
Paperback (2/1/2022)
Description
Set in Northern California in the late '70s, this timeless coming-of-age story examines the nature of evil, the art of storytelling, and the possibility of redemption.

Fifteen-year-old RJ Armante has never known a life outside his deadend hometown of Arcangel, CA. The Blackjacks rule as they have for generations, luring the poorest kids into their monopoly on petty crime. For years, they've left RJ alone, but now they have a job for him: prey upon an old loner in town.

In spite of the danger, RJ begins to resist. He fights not only for himself, but for his younger brother, Charley, whose disability has always made RJ feel extra protective of him. For Roxanne, the girl he can't reach, and the kids in his crew who have nothing to live for. Even for the old loner, who has secrets of his own. If RJ is to break from the Blackjacks' hold, all of Arcangel must be free of its past.
Praise For Bones of a Saint…
A Booklist Top 10 Historical Fiction Youth Book of 2021

Praise for Bones of a Saint

"Grant Farley's Bones of a Saint is an atmospheric read—a niche world of small gains with tragic consequences. The story reads fast and tight and colorful and your eyes always feel low to the ground. The dusty landscape and every object and every person, and even hope itself, pulls you forward toward an ending that is like the sting of a scorpion."
—Newbery winner Jack Gantos

"Bones of a Saint reads like a dream—I found myself muttering the word 'wow' over and over as I read. My favorite stories are coming-of-age ones that find a new way into the teenage struggle, a new lens through which to view the fight for one's innocence against the adult world's corruption and chaos. Bones of a Saint is exactly that, but there's something else—a grittiness and an honesty that earns the reader's trust from page one. It's like nothing I've read in years."
—John Corey Whaley, National Book Award finalist for Noggin and winner of the Printz Medal for Where Things Come Back

"Surreal but at the same time so real, and intensely meaningful. This is the kind of book no one writes anymore, but that everyone wants—and needs—to read."
—Maggie Thrash, Los Angeles Times Book Prize nominated author of Honor Girl

"Bones of a Saint is one of the best novels in any genre that I've read in years. It frightened me, thrilled me, and delighted me. An indelible setting with unforgettable characters."
—Timothy Hallinan, author of the Poke Rafferty thrillers and Junior Bender mysteries

"[A] unique and fabulous voice."
—The News-Gazette (Champaign–Urbana)

"[T]his deftly crafted coming-of-age story set in Northern California in the '70s is an inherently absorbing and fully entertaining novel."
—Midwest Book Review

"A celebration of the power of story . . . This ambitious debut invites serious contemplation as it examines the role of religion, a connection to The Canterbury Tales, and more . . . A compelling, unforgettable reading experience that is brilliantly executed."
—Booklist, Starred Review

"[RJ's] evocative, unflinching narration keeps the pages turning . . . this suspenseful coming-of-age tale packs a punch."
—Kirkus Reviews

"RJ's candid voice will engage contemporary readers in this atmospheric coming-of-age tale that effectively knits together storytelling, religion, morality, redemption, and heredity."
—Publishers Weekly

"[Bones of a Saint's] literary writing style [sets] it apart from other young adult novels."
—School Library Journal
Soho Teen, 9781641291170, 288pp.
Publication Date: March 16, 2021
About the Author
Grant Farley worked as an English teacher for over twenty-five years and has taught at a Santa Monica alternative school, a barrio junior high, and a Marine Science magnet in San Pedro. All the while, he worked on Bones of a Saint, and excerpts of the book have appeared in various literary magazines and been showcased at a number of writers conferences. Then one day his awesome wife insisted that he retire, which is when RJ's story really took off. Now he writes full-time and volunteers at a lighthouse.