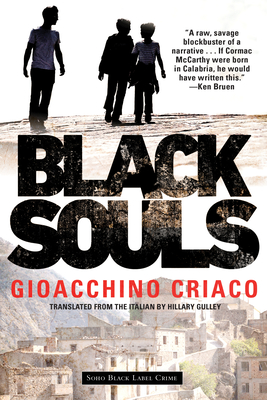 Black Souls
Paperback

* Individual store prices may vary.
Other Editions of This Title:
Hardcover (3/5/2019)
Description
 The modern Italian classic about Calabrian organized crime—now an award-winning motion picture—makes its English-language debut.
 
In the remote Aspromonte Mountains in southern Calabria, Italy, three best friends embark on a life of crime in order to raise themselves up out of the poverty of their childhoods. Brainy Luciano, the behind-the-scenes schemer, was orphaned as a little boy when the local mob boss had his postman father executed. Lazy, jovial Luigi has learned that there's no point in following the rules. And completing the triumvirate is the nameless narrator, from whose black soul comes the inspiration and energy for each new criminal project, from kidnapping to armed robbery to heroin dealing to contract killing.
 
Set in the birthplace of the 'Ndrangheta, Calabria's ruthless and ubiquitous mafia, Black Souls draws on centuries of brigand lore, peasant rebellion history, mountain mythology, and colonial suffering to offer a gripping morality tale about how violence begets violence.
Praise For Black Souls…
An NPR Favorite Book of 2019
A Sunday Times Crime Club Starred Selection
Apple Books' Best Books of March

Praise for Black Souls

"Rarely have I been so stunned—shocked—delighted by a novel. Black Souls is a raw, savage blockbuster of a narrative, as compelling in its uncompromising brutality as in its mysterious hypnotic beauty. Calabria, home of the 'Ndrangheta, is as treacherous, lethal and ferocious as any scene from Gomorrah or indeed Suburra. This is a whole other country, answering only to its own fierce code, so different to any other part of Italy. Even as you nigh weep as the inevitable fate of the children of the 'Ndrangheta, you marvel at the strange bonds of loyalty that infuse their intertwined destinies. Treachery is rife among the three central characters as they progress on the dark road that is the only route out of the appalling poverty of the region. If Cormac McCarthy were born in Calabria, he would have written this novel. Black Souls is as dark and desperate a book as you'll ever read but the sheer noir alchemy is not to be missed, and what resonates after is the spell woven in beautiful true artistry."
—Ken Bruen

"I was struck by Gioacchino Criaco's novel, by the emotional and visceral nature of its writing, of its ability to deal with boys entering the crime world without exalting violence. He delimits good and evil, but he puts himself in the shoes of the guys he's talking about, in their wrong, cruel, defeated destinies."
—Francesco Munzi, director of Anime Nere, the film adaptation of Black Souls 

"Like many other Mafia novels, this one is packed with violence and crime. But Gioacchino Criaco has a great understanding of the psychogeography of crime and treats his characters—who aren't far removed from his own experiences—with humanity. The novel is also deeply immersed in Calabrian culture, showing readers a ruthless world in which people with good hearts know that crime is the only path to a better life."
—NPR

"Powerful, haunting and lyrical, with an insider's true and tender understanding of the world he escaped." 
—Sunday Times Crime Club, Starred Selection 

"A noir crime novel that describes a lethal world . . . Gripping." 
—Shots Magazine

"Criaco's debut novel is equally successful as gritty gangland chronicle, tribute to the bonds of brotherhood, and full-sensory ode to his beloved Calabrian mountains. Criaco's incisive social commentary and unflinching realism will appeal to fans of Scandinavian and American crime fiction, but his confidential, folkloric voice sets this story apart."
—Booklist, Starred Review

"Deep and slow, [Black Souls] ranges over the youth, coming of age, and violent criminality of a nearly nameless narrator. His love for the landscape and the men in his family is a warm and restless ocean in which the crimes of the book roll, surge, and multiply." 
—New York Journal of Books

"Criaco's novel is an epic crime saga told with incredible intimacy, a moving and personal story that also relays the criminal history of a region—Calabria, Italy, long an outlaw territory and more recently the home of the clans and cliques that make up the 'Ndrangheta mafia." 
—Crime Reads

"In Black Souls, crime is a tragedy, not a cliché. Criaco tells a forgotten part of Italy."
—La Stampa 

"The black hole of Calabria, land of the 'Ndrangheta, seen from an insider's perspective."
—La Repubblica
 
"A harsh and poignant novel, a lucid photograph of a world ruled by violence."
—The North-Pas-De-Calais Gazette
 
"Criaco succeeds in bringing the reader into the dark universe of the black souls of Calabria."
—Metropolis
 
"Black Souls is less like a novel than an epic, delineating the history of a crime family in central Italy in the voice of their leader, as he rises from shepherd to crime boss and then crashes in an epic sacrifice that fades out in a cloud of mythic proportions .  . . Fascinating."
—International Noir Fiction

"There are few comparable crime novels today. Stuart Neville's haunted fiction set in the Troubles of Ireland may come close."
—Kingdom Books

Soho Crime, 9781641291286
Publication Date: February 4, 2020
About the Author
Gioacchino Criaco was born in Africo, a small town on the Ionian coast of Calabria. The son of shepherds, he graduated from the University of Bologna with a degree in law and practiced as a lawyer in Milan until 2008, when his debut novel, Anime Nere (Black Souls), was published to great international acclaim.
or
Not Currently Available for Direct Purchase