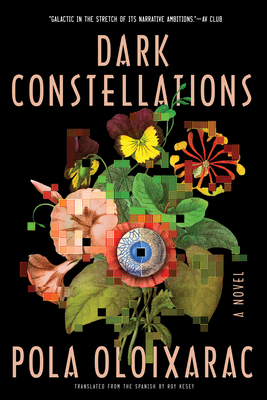 Dark Constellations
Paperback

* Individual store prices may vary.
Other Editions of This Title:
Digital Audiobook (4/15/2019)
Hardcover (4/16/2019)
Description
Argentinian literary star Pola Oloixarac's visionary new novel races from the world of 19th-century science to an ultra-surveilled near future, exploring humanity's quest for knowledge and control, and leaping forward to the next steps in human evolution.
 
Canary Islands, 1882: Caught in the 19th-century mania for scientific classification, explorer and plant biologist Niklas Bruun researches Crissia pallida, a species alleged to have hallucinogenic qualities capable of eliminating the psychic limits between one human mind and another.
 
Buenos Aires, 1983: Born to a white Argentinian anthropologist and a black Brazilian engineer, Cassio comes of age with the Internet and becomes a prominent hacker, riding the wave of transformations brought about by distributed networks, mass surveillance, and new flows of globalized capital.
 
The southern Argentinian techno-hub of Bariloche, 2024: A research group works on a project that will allow the Ministry of Genetics to track every movement of the country's citizens without their knowledge or consent, using sensors that identify DNA at a distance. But the new technology contains within it the seeds of a far more radical transformation of human life and civilization. In a novel of towering ambition, Oloixarac's complexly intertwining stories reveal the power that resides in the world's most deeply shadowed spaces.
Praise For Dark Constellations…
A Remezcla Best Book by Latino and Latin American Authors of 2019

Praise for Dark Constellations

"A slim allegory written with a chat forum's acrid wit . . . [A] spot-on depiction of tech-industry misogyny."
—The Atlantic

"Oloixarac toggles between severity and satire with Borgesian ease, yet her bleak visions of a society so easily conquered by a small number of amoral innovators is eerily plausible, and captured with an evocative lyricism."
—AV Club

"An ambitiously expansive novel."
—Vulture

"Oloixarac uses her hypnotic prose and wildly original ideas to eviscerate the deep misogyny that makes up the scientific and technological worlds, sending us on a wild ride through a world where everything is transmutable." 
—Tor.com

"Rendered in beautiful English by Roy Kesey, whose translation reveals the complex layers of scientific, mystical, and technological vocabulary that Oloixarac so fearlessly wields. . . A wonderfully bizarre mix of scientific treatise, hallucinogenic history, and cyberpunk thriller."
—World Literature Today

"Combining esoteric sciences, arts, technologies, cultures, philosophies and even lexicons with heightened, poetic and dreamlike scenes and descriptions, [Oloixarac] transports readers into a reality at once entirely extraordinary and all too familiar."
—Spine Magazine

"Dark Constellations delivers exactly what you want in high-end science fiction—a deep thinker of a novel with a wide-eyed gusto for getting weird."
—Southwest Review 

"Despite following characters whose actions are essential to the species-wide transformations the novel depicts, the narrative often has a sense of inevitability, as if Niklas, Cassio, and Piera were merely performing foreordained parts in a dance they are only dimly aware of . . . this is not a traditional story, in which character drives event, but rather one in which characters are driven to action by forces they don't quite understand, and are helpless to resist."
—Strange Horizons

"An enjoyable and enlightening read . . . readers are bound to close the book with an appreciation for Oloixarac's erudition and skill."
—Asymptote Journal

"Asks questions about exploration and colonization, about big data and the curve of an individual life, all while being weird and ambitious." 
—Remezcla 

"Dark Constellations is a grand saga of the anthropocene fever dream, spanning numerous continents, centuries, and species. With the technophilic, psychedelic flair of Thomas Pynchon and William Gibson, Pola Oloixarac tacks up miles of red yarn between 19th-century explorers, Argentinian cryptographers, secluded island tribes, computational biologists, and more. A novel of high style and heavyweight ideas, Dark Constellations charts a sublime order through the ritualistic carnage of science. Also, sex." 
—Tony Tulathimutte, author of Private Citizens
 
"With Dark Constellations, Pola Oloixarac exceeds the high expectations she set with Savage Theories, her deliciously wicked debut. Whip-smart and gleefully irreverent, Oloixarac's new novel establishes her as Argentina's  most ferocious literary export. Fusing sci-fi and slapstick, Dark Constellations goes where no American writer would dare to tread. If you thought satire was dead, you haven't been reading Pola Oloixarac."
—Adam Morris, author of American Messiahs: False Prophets of a Damned Nation

"Dark Constellations has a daring and turbulent erudition. It's a cyberpunk with the bright colors of Latin America."
—Carol Bensimon, author of We All Loved Cowboys

"Intriguing and terrifying . . . [the] 19th century interludes that thread through the novel, a fever dream of sex and hallucinogenics and weird experiments, contrast beautifully against the straightlaced prose of Cassio and Piera's story." 
—Locus Magazine

"This genre-defying novel blends science fiction with cyberpunk with naturalism to end up with something utterly original . . . Oloixarac is a massive, mysterious talent."
—Kirkus Reviews, Starred Review 

"This wild anthropological ride blends political satire, psychedelic sexuality, and cyberpunk themes." 
—Publisher's Weekly

"Bracingly inventive . . . This esoteric, centuries-spanning approach brings to mind David Mitchell's Cloud Atlas and Darren Aronofsky's 2006 film The Fountain, though Oloixarac's novel is far stranger and more challenging than both." 
—Full Stop

"An imagination that stands apart."
—Three Percent (University of Rochester)

"This novel skillfully marries cyberpunk themes and classic magical realist style . . . a must read for speculative fans who love variation in form as well as character."
—The Game of Nerds

"One of the first classics of Spanish literature in the 21st century."
—El Mundo

"A fascinating and bewildering dystopian and fantastic novel. The language couldn't be more bold, brimming over with erotic metaphors and philosophical references."
—Der Spiegel

"Pola Oloixarac seems to be one epistemological step ahead . . . An ingenious coming-of-age novel of the internet and a philosophical trip."
—Tagesspiegel    

"An imagination that stands apart."
—Three Percent (University of Rochester)
 
"Undeniably addictive . . . this exhilarating translation by Roy Kesey is out of this world."
—Prairie Lights Books (Iowa City, Iowa)

Praise for Pola Oloixarac

"A stunning vibrant maximalist whirlwind of a novel. Oloixarac's wit and ambition are evident on every page."
—Hari Kunzru, author of White Tears
 
"[An] exuberant blend of political satire and sexual picaresque. This book rewards total immersion: Come for the inevitable Borges allusions, stay for the wild ride." 
—The New York Times Book Review

"Pola Oloixarac is one of the great writers of the Internet, the only country larger than Argentina."
—Joshua Cohen, author of Book of Numbers

​"​This debut novel announces a huge, rambunctious talent, with its hilarious and ribald glimpse of intellectual and sexual politics in a post-post revolutionary Argentina."

—The Boston Globe​

"What constitutes the originality of Oloixarac's work is her representation of daily life, with a richness and color only hinted at by either Borges or Baudrillard. Her novels do more than allegorize the pursuit of knowledge or theorize the ontological status of the real in an age of unreality. Her multifaceted characters show something of what it's like to inhabit a fleshy body in a world awash in representations—which is to say, our own world."
—Public Books
Soho Press, 9781641291309, 216pp.
Publication Date: March 17, 2020
About the Author
Pola Oloixarac is a fiction writer and essayist. Her novels, Savage Theories and Dark Constellations, have been translated into eight languages. She wrote the libretto for the opera Hercules in Mato Grosso, which was staged in Buenos Aires's Teatro Colón and New York City, and her fiction has appeared in Granta, n+1, and The White Review, among others. Her pieces on politics and culture have appeared in The New York Times and on the BBC. She currently writes a weekly column in Perfil. She splits her time between Miami and Buenos Aires.