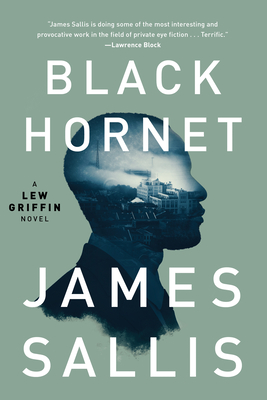 Black Hornet (A Lew Griffin Novel #3) (Paperback)
Soho Crime, 9781641291477, 256pp.
Publication Date: November 12, 2019
Other Editions of This Title:
Digital Audiobook (11/30/2008)
Paperback (9/1/2003)
Compact Disc (12/1/2008)
Paperback (5/1/2012)
Pre-Recorded Audio Player (5/1/2009)
MP3 CD (12/1/2008)
Compact Disc (1/1/2013)
* Individual store prices may vary.
Description
With this flashback novel to Lew Griffin's past, James Sallis takes readers to 1960s New Orleans, a sun-baked city of Black Panthers and other separatists.
 
A sniper has fatally shot five people. When the sixth victim is killed, Lew Griffin is standing beside her. Though they are virtual strangers, it is left to Griffin to avenge her death, or at least to try and make some sense of it. His unlikely allies include a crusading journalist, a longtime supplier of mercenary arms and troops, and a bail bondsman.
About the Author
James Sallis has published eighteen novels, including Drive, which was made into a now-iconic film; Sarah Jane; and the six-volume Lew Griffin series. He is a recipient of the Hammett Prize for literary excellence in crime fiction, the Grand Prix de Littérature Policière, the Deutsche Krimipreis, and the Brigada 21 in Spain, as well as Bouchercon's Lifetime Achievement Award. His biography of Chester Himes was a New York Times Notable Book of the Year, and he has been shortlisted for the Anthony, Nebula, Edgar, Shamus, and Gold Dagger Awards.
Praise For Black Hornet (A Lew Griffin Novel #3)…
Praise for Black Hornet

"What Chester Himes did for Harlem when he began publishing in the late 1950s with Masque Noir, the famous detective imprint of the French publisher Gallimard, and Walter Mosley now does for Los Angeles, James Sallis is doing for New Orleans: appropriating the genre of the American detective novel and casting it with black characters in an authentic voice and setting . . . James Sallis writes in the tradition of Raymond Chandler, albeit via Albert Camus: a little plot and a lot of atmosphere and attitude . . . A good, wry, borderline cynical and yet deeply moral voice that carries the book with style . . . [A] rich tapestry of social unrest and vividly evoked characters and settings."
—The New York Times Book Review

"James Sallis is doing some of the most interesting and provocative work in the field of private eye fiction. His New Orleans is richly atmospheric and darker than noir. Black Hornet is terrific."
—Lawrence Block

"Haunting . . . Black Hornet is fast-moving, elliptical, and like a jazz trumpet solo, has a plaintive note of melancholy woven through it."
—Washington Post Book World

"With two fine crime works in the tales of black operative Lew Griffin, Sallis here delivers another: a prequel and a grim, utterly absorbing novel set in 1960s New Orleans . . . Sallis's New Orleans sparkles."
—Publishers Weekly, Starred Review

Praise for the Lew Griffin Novels

"Sallis is a sure hand—characters and prose, of course, dialogue, too, but he is also a subtle weaver of plot, with the perfect level of push. His descriptions evoke a place that seems to fully exist just around the corner, and his people speak and sweat and live and die and it's all a great pleasure." 
—Daniel Woodrell, author of Winter's Bone

"Richly atmospheric, haunting, utterly compelling, the Lew Griffin novels are really cool. James Sallis is an outstanding crime writer—an outstanding writer period."
—Frances McDormand
 
"One of the most intriguing, disturbing, literate, intelligent novels I've read in years, and Lew Griffin is one of the most flat-out human detectives since Marlowe. There's enough story here for three good novels, but Sallis crafts them into one truly fine one."
—David Bradley, author of the PEN/Faulkner Award–winning book The Chaneysville Incident
 
"One of the most enjoyable and most important writers working today, James Sallis has quietly revolutionized an entire genre of literature. If you don't ordinarily read crime fiction, you will love these books. if you do read crime fiction, you will never look at it the same after meeting Lew Griffin."
—Sara Gran, author of the Claire DeWitt novels
 
"James Sallis's Lew Griffin series has distinguished itself by the moodiness of its New Orleans atmosphere, the jagged elegance of its narrative style and the expansiveness of its anti-hero's literary citations . . . Dead men don't tell tales, or so the saying goes. But the tale told by this one is extraordinary."
—The Washington Post

"Poetic, complex, and multidimensional, James Sallis insect-titled crime novels about New Orleans detective Lew Griffin . . . are unlike any other you're likely to crack open."
—Los Angeles Times
 
"Allusive and stylish, this stark metaphysical landscape will leave a resounding impression."
—The Guardian
 
"James Sallis breathes new life into the wheezing detective genre with Lew Griffin, a black resident of the seamier side of New Orleans . . . Griffin is an original creation, a loner who, in the classic private eye tradition, does things his own way, in his own time."
—San Francisco Chronicle & Examiner 
 
"Sallis is a masterful stylist in the contemporary crime-writing scene who clearly knows that in real life, the truth doesn't always appear neatly gift-wrapped in a pretty package."
—Lansing State Journal
 
"Skillfully weaving Mr. Griffin's past into the tapestry of the novel, Mr. Sallis has put together a mystery that is more than a mystery: it is the definition of a man's life."
—The Dallas Morning News