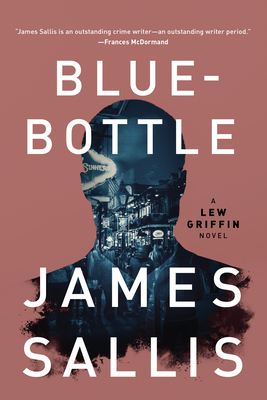 Bluebottle (A Lew Griffin Novel #5) (Paperback)
Soho Crime, 9781641291514, 216pp.
Publication Date: December 3, 2019
Other Editions of This Title:
Digital Audiobook (4/15/2009)
Compact Disc (5/1/2009)
Paperback (5/1/2012)
Pre-Recorded Audio Player (6/1/2009)
MP3 CD (5/1/2009)
Compact Disc (7/1/2012)
* Individual store prices may vary.
Description
Weaving Griffin's search for identity-one of the recurring themes in this magnificent series of novels-with a sensuous portrait of the people and places the define New Orleans, James Sallis continues not only to unravel Griffin's past but to map his future . . . and our own.

As Lew Griffin leaves a New Orleans music club with an older white woman he has just met, someone fires a shot and Lew goes down. When he comes to, he discovers that most of a year has gone by since that night. Who was the woman? Which of them was the target? Who was the shooter? Somewhere in the Crescent City—and in the white supremacist movement crawling through it—there's an answer. But to get to it, he is going to have to work with the only people offering help, people he knows he should avoid.
About the Author
James Sallis has published eighteen novels, including Drive, which was made into a now-iconic film; Sarah Jane; and the six-volume Lew Griffin series. He is a recipient of the Hammett Prize for literary excellence in crime fiction, the Grand Prix de Littérature Policière, the Deutsche Krimipreis, and the Brigada 21 in Spain, as well as Bouchercon's Lifetime Achievement Award. His biography of Chester Himes was a New York Times Notable Book of the Year, and he has been shortlisted for the Anthony, Nebula, Edgar, Shamus, and Gold Dagger Awards.
Praise For Bluebottle (A Lew Griffin Novel #5)…
Praise for Bluebottle

"Poetic, complex, and multidimensional, James Sallis insect-titled crime novels about New Orleans detective Lew Griffin . . . are unlike any other you're likely to crack open."
—Los Angeles Times

"Richly atmospheric, haunting, utterly compelling, the Lew Griffin novels are really cool. James Sallis is an outstanding crime writer—an outstanding writer period."
—Academy Award–winning actress Frances McDormand 

"Sallis's allusive, haunting prose sometimes has the surreal quality of Anaïs Nin's novels, and Bluebottle offers dark truths about racism and the search for identity."
—Detroit Free Press
 
"Sallis is a masterful stylist in the contemporary crime-writing scene who clearly knows that in real life, the truth doesn't always appear neatly gift-wrapped in a pretty package."
—Lansing State Journal
 
"Skillfully weaving Mr. Griffin's past into the tapestry of the novel, Mr. Sallis has put together a mystery that is more than a mystery: it is the definition of a man's life."
—The Dallas Morning News
 

Praise for the Lew Griffin Novels

"Sallis is a sure hand—characters and prose, of course, dialogue, too, but he is also a subtle weaver of plot, with the perfect level of push. His descriptions evoke a place that seems to fully exist just around the corner, and his people speak and sweat and live and die and it's all a great pleasure." 
—Daniel Woodrell, author of Winter's Bone
 
"James Sallis is doing some of the most interesting and provocative work in the field of private eye fiction. His New Orleans is richly atmospheric and darker than noir."
—Lawrence Block

"One of the most intriguing, disturbing, literate, intelligent novels I've read in years, and Lew Griffin is one of the most flat-out human detectives since Marlowe. There's enough story here for three good novels, but Sallis crafts them into one truly fine one."
—David Bradley, author of the PEN/Faulkner Award–winning book The Chaneysville Incident
 
"One of the most enjoyable and most important writers working today, James Sallis has quietly revolutionized an entire genre of literature. If you don't ordinarily read crime fiction, you will love these books. if you do read crime fiction, you will never look at it the same after meeting Lew Griffin."
—Sara Gran, author of the Claire DeWitt novels
 
"James Sallis's Lew Griffin series has distinguished itself by the moodiness of its New Orleans atmosphere, the jagged elegance of its narrative style and the expansiveness of its anti-hero's literary citations . . . Dead men don't tell tales, or so the saying goes. But the tale told by this one is extraordinary."
—The Washington Post

"Allusive and stylish, this stark metaphysical landscape will leave a resounding impression."
—The Guardian
 
"James Sallis breathes new life into the wheezing detective genre with Lew Griffin, a black resident of the seamier side of New Orleans . . . Griffin is an original creation, a loner who, in the classic private eye tradition, does things his own way, in his own time."
—San Francisco Chronicle & Examiner