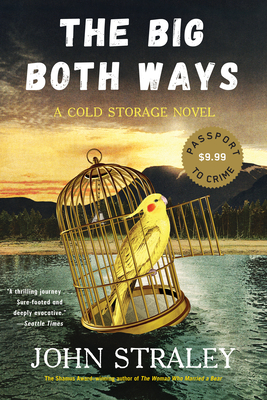 The Big Both Ways (A Cold Storage Novel #1)
Paperback

* Individual store prices may vary.
Other Editions of This Title:
Digital Audiobook (2/3/2014)
Paperback (2/4/2014)
Compact Disc (2/4/2014)
MP3 CD (2/4/2014)
Compact Disc (2/4/2014)
Description
Alaska, 1935: Slippery Wilson is on his way out of town when he runs into a woman, her neice, and a crashed car. His life is about to get a lot more complicated.
 
It's 1935 and jobs are scarce, but Slippery Wilson walks off his job at a logging camp after a gruesome accident kills a coworker. He's headed for Seattle with all his savings; he plans to buy a piece of farmland and be his own boss.
 
When he stops to help a woman get her car out of a ditch, his life takes a serious detour. The woman is Ellie Hobbs, an anarchist from the docks of Seattle who watches out for her young niece and dreams of flying planes. But right now, she's got one busted nose and has just stuffed a dead man's body into the trunk of her car. So begins the action that will take Slip, Ellie, her niece, and her noisy yellow bird on a heart-stopping adventure up the Inside Passage from Puget Sound to Alaska
Praise For The Big Both Ways (A Cold Storage Novel #1)…
Praise for The Big Both Ways

"A thrilling journey . . . sure-footed and deeply evocative."
—Seattle Times

"Moving . . . and utterly absorbing."
—Denver Post

"[A] gripping tale of survival, betrayal and murder set in the Pacific Northwest in 1935 . . . Straley's beautifully understated narrative, vivid sense of place and unapologetic, unadorned characters make this a riveting, unpredictable ride."
—Publishers Weekly, Starred Reviews

"Straley hits all the right notes here: vividly detailed scenes evoking the clash between emerging trade unions and more radical advocates of revolution, as well as almost Dickensian vignettes of the working conditions in the canneries and on the waterfronts of the Northwest, meld perfectly with a Jack London–like, man-versus-nature story in which two adults, one child, and one bird, huddled together in a very small boat, attempt to stay afloat and move ever northward."
—Booklist, Starred Review

"A rousing good read."
—Fairbanks Daily News-Miner


Praise for John Straley

"Lesser writers look to their characters' poor choices and attempts to rectify them, John Straley loves his characters for just those choices. Hölderlin wrote: 'Poetically man dwells on the earth.' Some of us wind up in limericks, some in heroic couplets. But damned near every one of us, sooner or later, ends up in one of Straley's wise, wayward, wonderfully unhinged novels."
—James Sallis, author of Drive and the Lew Griffin mysteries

"Like the Coen brothers on literary speed, John Straley is among the very best stylists of his generation."
—Ken Bruen, Shamus Award winning author of The Guard

"Chandler, Ross Macdonald, James Crumley . . . Straley proves once again that he is up there with the great ones . . . His prose is as smooth as a well-tuned cello. He has tremendous feeling for the setting: not only the open waters and frosted countryside outside of Sitka and Juneau, but also the somewhat seedy streets of these cities."
—Chicago Tribune

"Superior thriller writing, once again by Straley—an excellent plot against Alaska's gigantic and bizarre backdrop."
—Janwillem van de Wetering

"Now and then a writer dares to flout the rules and in so doing, carves out a niche that belongs to him alone. John Straley's novels are like no others."
—San Diego Tribune

"Like James Lee Burke, Straley transcends the genre . . . Marvelous."
—The Tampa Tribune and Times

"Straley's beautifully understated narrative, vivid sense of place and unapologetic, unadorned characters make this a riveting, unpredictable ride."
—Publishers Weekly, Starred Review

"Outstanding . . . satisfies on all levels."
—The Kansas City Star

"Strong and sobering . . . with his storyteller's sense of dramatic action [Straley's] in his glory."
—The New York Times Book Review

"Straley hits all the right notes"
—Booklist, Starred Review
Soho Crime, 9781641291576, 368pp.
Publication Date: December 3, 2019
About the Author
The youngest of five children, John Straley was born in Redwood City, California, in 1953. He received a BA in English from the University of Washington and, at the urging of his parents, a certificate of completion in horse shoeing. John never saw himself living in Alaska (where there are no horses left to shoe), but when his wife, Jan, a prominent whale biologist, announced she was taking a job in Sitka, the two headed north and never left. John worked for thirty years as a criminal defense investigator in Sitka, and many of the characters that fill his books were inspired by his work. Now retired, he lives with his wife in a bright green house on the beach and writes in his weather-tight office overlooking Old Sitka Rocks. The former Writer Laureate of Alaska, he is the author of ten novels.
or
Not Currently Available for Direct Purchase