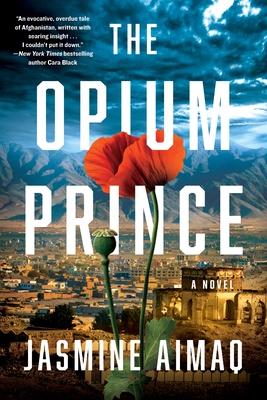 The Opium Prince
Hardcover

* Individual store prices may vary.
Other Editions of This Title:
Digital Audiobook (11/30/2020)
Paperback (1/4/2022)
Description
Jasmine Aimaq's stunning debut explores Afghanistan on the eve of a violent revolution and the far-reaching consequences of a young Kochi girl's tragic death.

Afghanistan, 1970s. Born to an American mother and a late Afghan war hero, Daniel Sajadi has spent his life navigating a complex identity. After years in Los Angeles, he is returning home to Kabul at the helm of a US foreign aid agency dedicated to eradicating the poppy fields that feed the world's opiate addiction.
   
But on the drive out of Kabul for an anniversary trip with his wife, Daniel accidentally hits and kills a young Kochi girl named Telaya. He is let off with a nominal fine, in part because nomad tribes are ignored in the eyes of the law, but also because a mysterious witness named Taj Maleki intercedes on his behalf. Wracked with guilt and visions of Telaya, Daniel begins to unravel, running from his crumbling marriage and escalating threats from Taj, who turns out to be a powerful opium khan willing to go to extremes to save his poppies.
 
This groundbreaking literary thriller reveals the invisible lines between criminal enterprises and political regimes—and one man's search for meaning at the heart of a violent revolution.
Praise For The Opium Prince…
A Crime Reads Best Espionage Novel of 2020
A Finalist for the 2021 International Thriller Writers Award for Best First Novel
A Booklist Top 10 Crime Fiction Debut of 2021

Praise for The Opium Prince

"The story begins in 1970, when an American diplomat, posted to Afghanistan, accidentally hits a young girl with his car. The girl's death becomes blackmail leverage for a local kingpin, and as the drug lord and diplomat tangle, Aimaq—who, like her protagonist, grew up in Afghanistan—shows that country's complicated history in a pulse-pounding thriller."
—The Washington Post

"A captivating work of fiction that examines how its two protagonists move from guilt and despair to redemption . . . The main substance of the story centers around Taj's attempts to manipulate and profit from Daniel's deep guilt over the accident. Add to this a troubled marriage, jealousy over real or imagined past affairs, and an unflinching look at all the strata of Afghan society and you have a story that holds the reader's attention . . . Readers will come away with a deeper understanding of the land and its inhabitants, and will also have reason to anticipate her next literary effort."
—The Christian Science Monitor

"A smart, moody tale of political intrigue and personal upheaval set in 1970s Afghanistan . . . The Opium Prince is the sort of fiction that plunges readers deep inside its world. Full of rich, brisk descriptions, memorable characters, historical references and more than a little melodrama, the book involves and intrigues."
—Pittsburgh Post-Gazette

"A pulse-pounding thriller."
—San Diego Union Tribune

"[An] ambitious, complex and multifaceted—what every novel about a nation should aspire to be."
—Chicago Review of Books

"A gripping story that delves into the 'real Afghanistan' that lies behind the headlines. Jasmine Aimaq brings deep personal and family knowledge of Afghanistan to bear on the full panoply of actors in the tragedy of Afghanistan: US shortsightedness, determined Islamists, family bonds, and Afghan moderates trying to find an in-between. Deeply informed, beautifully written, vivid characters, with a real feel for this complex culture and geopolitical agony from competing perspectives. A stunning debut literary novel."
—Graham Fuller, former CIA Station Chief in Kabul and author of A World Without Islam

"The Opium Prince is an evocative, overdue tale of Afghanistan, written with searing insight by Jasmine Aimaq. Against the backdrop of 1970s Kabul, Aimaq sets an edgy cat-and-mouse game between a half-Afghan US government official and an opium khan, threaded together by the hard beauty of the country's land and people. I couldn't put it down."
—Cara Black, New York Times bestselling author of the Aimée Leduc series and Three Hours in Paris

"Aimaq's brilliant debut novel achieves the nifty trick of being both an exciting espionage tale and an evocative portrayal of 1970s Afghanistan, when the Americans, Soviets and Islamists were sizing each other up for the coming conflict."
—Metro UK

"[A] stellar debut . . . Aimaq, a former arms control analyst for a non-profit, draws heavily on her childhood experiences in Afghanistan to provide glimpses into the complicated political and cultural dynamics of a country that has seen nearly half a century of constant war. Though she has altered some historical details to fit the narrative, her observations provide astonishing context to contemporary global issues such as Islamic extremism and the international heroin trade. Fans of Lauren Wilkinson's Cold War thriller American Spy won't want to miss this one."
—Publishers Weekly, Starred Review

"Offering a piercing look at the Afghan view of foreign aid and patriarchal foreigners, Aimaq, who is half-Afghan and spent part of her life in the country, is a writer to watch. Every carefully described detail here will stay with readers as they examine what they thought they knew about America's exporting of democracy and its war on drugs. For its worlds-within-worlds quality, give this to David Mitchell fans; it's also a great choice for bookclubs."
—Booklist, Starred Review

"In her extraordinary fiction debut, The Opium Prince, Afghan Swedish academic and communications expert Jasmine Aimaq, who lives in Canada, combines elements of literary thriller, sociopolitical exposé and historical witnessing . . . Aimaq deftly confronts foreign aid, global drugs, foreign privilege, cultural entitlement, family loyalty and legacy, against the backdrop of two strangers whose future becomes inextricably, horrifically entangled. Who triumphs—or even just survives—is never guaranteed."
—Shelf Awareness

"[A] stunning debut."
—PopSugar

 "A young American diplomat comes face to face with the turmoil of Afghan society and the anguish of its people . . . An ambitious debut that defies easy categorization."
—Kirkus Reviews

"I love this book. Daniel Sajadi is a complicated protagonist: an idealist, a loving husband, and the burdened son of a hero, so driven by his goals that he's blind to the consequences of his actions, yet we never stop rooting for him. Jasmine Aimaq's writing is gorgeous, creating a fully immersive universe—the sights, sounds and smells of city versus desert; the fields of poppies; and the Russian tanks and cigarette smoke of an Afghanistan unlike the one most Americans know. A cinematic yet introspective page-turner."
—Chaya Deitsch, author of Here and There: Leaving Hasidism and Keeping My Family

"[A] novel of soft power and shadowy machinations . . . Jasmine Aimaq has crafted a powerful critique of criminal empires, large and small."
—CrimeReads

"Aimaq has written a brilliant thriller filled with twists and turns and tragic miscalculations, a breathtaking story of a man pushed to the brink, and a nation on the verge of violent revolution."
—BookTrib 

Soho Crime, 9781641291583, 384pp.
Publication Date: December 1, 2020
About the Author
Jasmine Aimaq is half-Afghan, half-Swedish and grew up in several countries, including Germany, Afghanistan, England and the United States. She obtained her BA in History from UCLA and her PhD in History from Lund University Sweden. She has taught History and International Relations and also had a career in nonprofit. She was director of Press and Corporate Relations at the Pacific Council on International Policy, and Deputy Executive Director at Global Green USA, Mikhail Gorbachev's environmental and arms control movement. She is now the director of communications at Quest University Canada.