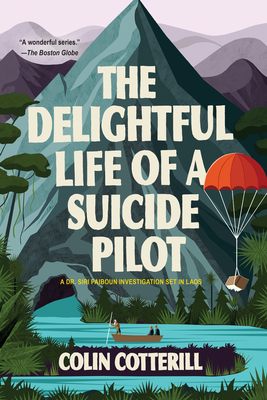 The Delightful Life of a Suicide Pilot (A Dr. Siri Paiboun Mystery #15)
Hardcover

* Individual store prices may vary.
Other Editions of This Title:
Digital Audiobook (6/1/2020)
Paperback (5/25/2021)
Description
After 15 cunning, mischievous, heartbreaking, hilarious, eye-opening, and atmospheric installments, Colin Cotterill's award-winning Dr. Siri Paiboun series comes to a close. Make sure you don't miss this last chapter, a deliciously clever puzzle that illuminates the history of World War II in Southeast Asia.

Laos, 1981: When an unofficial mailman drops off a strange bilingual diary, Dr. Siri is intrigued. Half is in Lao, but the other half is in Japanese, which no one Siri knows can read; it appears to have been written during the Second World War. Most mysterious of all, it comes with a note stapled to it: Dr. Siri, we need your help most urgently. But who is "we," and why have they left no return address?
 
To the chagrin of his wife and friends, who have to hear him read the diary out loud, Siri embarks on an investigation by examining the text. Though the journal was apparently written by a kamikaze pilot, it is surprisingly dull. Twenty pages in, no one has died, and the pilot never mentions any combat at all. Despite these shortcomings, Siri begins to obsess over the diary's abrupt ending . . . and the riddle of why it found its way into his hands. Did the kamikaze pilot ever manage to get off the ground? To find out, he and Madame Daeng will have to hitch a ride south and uncover some of the darkest secrets of the Second World War.
Praise For The Delightful Life of a Suicide Pilot (A Dr. Siri Paiboun Mystery #15)…
Praise for The Delightful Life of a Suicide Pilot

"Wry, culturally incisive and utterly captivating."
—The Washington Post

"A quirky, fiendishly clever series that has long been one of my absolute favorites."
—Bruce Tierney, BookPage, Starred Review

Praise for the Dr. Siri Paiboun investigations
 
"This wonderful series has consistently managed to convey the beauty and sadness of this damaged country through the wisdom and humor of its protagonist."
—The Boston Globe

"Cotterill has a gift for tempering bad stuff—specifically, the baffling and chaotic political climate of communism circa 1980—with gently ironic humor and frequent doses of slightly kooky occultism. His books are thus a welcome balm for our own current baffling and chaotic political climate." 
—The Seattle Times
 
"Tragically funny and magically sublime."
—Entertainment Weekly
 
"[Dr. Siri] has rarely been funnier or more astute. Cotterill is writing at the top of his game."
—Publishers Weekly, Starred Review

"A weird and wonderful series."
—Booklist, Starred Review
 
Soho Crime, 9781641291774, 288pp.
Publication Date: June 2, 2020
About the Author
Colin Cotterill is the author of fourteen other books in the Dr. Siri Paiboun series: The Coroner's Lunch, Thirty-Three Teeth, Disco for the Departed, Anarchy and Old Dogs, Curse of the Pogo Stick, The Merry Misogynist, Love Songs from a Shallow Grave, Slash and Burn, The Woman Who Wouldn't Die, Six and a Half Deadly Sins, I Shot the Buddha, The Rat Catchers' Olympics, Don't Eat Me, and The Second Biggest Nothing. His fiction has won a Dilys Award and a CWA Dagger in the Library. He lives in Chumphon, Thailand, with his wife and a number of deranged dogs.
or
Not Currently Available for Direct Purchase