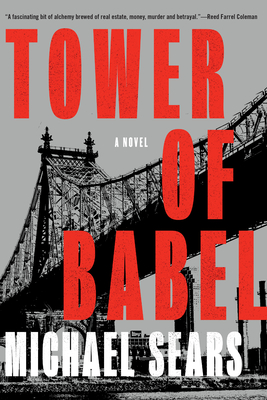 Tower of Babel
Hardcover

* Individual store prices may vary.
Other Editions of This Title:
Digital Audiobook (4/5/2021)
Paperback (3/1/2022)
Description
Shamus Award–winning author Michael Sears brings Queens, New York, to literary life in this crime series debut featuring a somewhat seedy lawyer with a heart of gold (or at least gold plate).

Queens, New York—the most diverse place on earth. Native son Ted Molloy knows these streets like the back of his hand. Ted was once a high-powered Manhattan lawyer, but after a spectacular fall from grace, he has found himself back on his home turf, scraping by as a foreclosure profiteer. It's a grubby business, but a safe one—until Ted's case sourcer, a mostly reformed small-time conman named Richie Rubiano, turns up murdered shortly after tipping Ted off to an improbably lucrative lead.

With Richie's widow on his back and shadows of the past popping up at every turn, Ted realizes he's gotten himself embroiled in a murder investigation. His quest for the truth will take him all over Queens, plunging him into the machinations of greedy developers, mobsters, enraged activists, old litigator foes and old-school New York City operators.
Praise For Tower of Babel…
An Amazon Best of the Month Pick for April 2021

Praise for Tower of Babel

"Sears's Tower of Babel is a fascinating bit of alchemy brewed of real estate, money, murder and betrayal."
—Reed Farrel Coleman, New York Times bestselling author

"Tower of Babel is so full of New York characters and locations that you'd swear it was written on asphalt. It has no potholes, though, just a fast-moving and, because it involves corrupt politicians and shady real estate developers, completely believable plot. If you live here, you'll love it. If you don't, read it to see what makes us the way we are."
—SJ Rozan, bestselling author of Paper Son

"A contemporary Philip Marlowe comes to Queens in this wonderfully engaging caper . . . Sears absolutely nails the voice of his endearingly vulnerable tarnished-lawyer turned sleuth—Tower of Babel is a terrific book."
—Hank Phillippi Ryan, bestselling and award-winning author of The Murder List

"Michael Sears launches a bold action-packed series that delves into ambition, redemption, morality and the changing landscape of Queens . . . [An] action-packed financial thriller."
—Oline Cogdill, Shelf Awareness

"[I]f one word can be used to describe a trait predominant in Sears's world, it is hunger. His characters, full of energy and street smarts, pulse with appetite, a sense of want, and he wastes no time using food and eating as a motif to exemplify this want . . . Queens comes alive in this book in all its diversity."
—Criminal Element

"Ted Molloy is an interesting and addictive character whom fans of author Timothy Hallinan will find particularly appealing. Return visits from Ted and those characters who make it to the conclusion of Tower of Babel in one piece will be most welcome."
—BookReporter.com

"Tower of Babel is a gripping mystery comprised of personal failures and redemptions, risks and temptations in the realm of corrupt power and humorous cynicism that Sears's existing fans and new readers alike will relish . . . Impossible to put down—or forget."
—Anton Media Group

"[A] vivid portrait . . . of Queens, in its gritty multiethnic glory . . . Sardonic wit, quaint café; high-stakes conspiracy, neighborhood loyalties; Tower of Babel speaks all those dialects, one after another, against an urban setting well worth the visit."
—Kingdom Books

"As in Sears's earlier books, the characters and neighborhoods add much to the suspenseful unfolding of the plot. Whether it be a Mets game at Citi Field with Malloy's socialite ex-wife, a cheeseburger lunch at Gallagher's Bar, or a chance encounter with a corrupt billionaire real estate developer, Sears presents it all in exquisite detail. Highly recommended!"
—The Great Book Guru, Herald Community Newspapers

"Tower of Babel begins with a community protest against a huge development project in Queens (reminiscent of the Brooklyn fight against the Brooklyn Arena decades ago). It soon becomes the story of fraud and the greed that leads to the destruction of personal honor."
—Gumshoe Review

"The characters and the plot of [Tower of Babel] are more than engaging . . . Ted is at heart a decent man, if far from saint or super-hero. All he really wants is to survive while doing at least a little good in the world."
—Reviewing the Evidence

"Michael Sears is a born storyteller, whose sardonic wit, documentarian's eye for detail, and unflagging sense of empathy I've long admired. Tower of Babel is another crackerjack entry into his catalogue, an intricate, original, and more-than-a-little-seedy underdog story that kept me up long past my bedtime, my palms sweaty and my every nerve on edge as I raced through the pages toward the climactic—and wholly satisfying—throwdown. Sears is a master at creating tension; once this book sinks its hooks into you, it won't let you go." 
—Owen Laukkanen, bestselling author of Deception Cove

"Razor-edged prose, sharply defined characters, and a fast-paced plot boost this noir-wrought drama. Fans of Raymond Chandler and classic gangster films will be rewarded."
—Publishers Weekly

"Sears introduces a new hero to his world of high-finance thrillers: a soiled, likable Queens ex-lawyer whose highly questionable business practices are radically challenged by the murder of his partner . . . Even if you're not already sold on Queens, Sears makes real estate law as sexy and dangerous as international intrigue."
—Kirkus Reviews

"The first in a new series by Shamus Award–winner Sears is full of terrific writing and richly developed characters . . . [Sears's] Jason Stafford financial thrillers have made quite an impression with critics and readers, and this new series promises to be just as strong."
—Booklist

"[C]aptures the uniqueness of Queens through a wonderfully drawn cast of characters . . . Tower of Babel is full of perfect dialog and unforgettable settings. The action is non-stop and careens to a satisfying conclusion."
—Sue Wilder, Murder on the Beach

Praise for Michael Sears  

Winner of the Shamus Award

"An exciting and fascinating tale of big money and even bigger crime, an insider's glimpse into a world where fortunes can be made or lost at the click of a button and the stakes can be life and death . . . moving, deeply human story."
—Joseph Finder
 
"Extraordinary! Michael Sears has a knack for completely complicated, thoroughly likable characters, caught up in a deadly web of lies, greed, and financial corruption."
—Lisa Gardner
 
"Superb writing, a riveting plot, and a hero I'm still thinking about days afterward. A must-read!"
—Tess Gerritsen

"Exciting and compelling."
—The Wall Street Journal
 
"Black Fridays is definitely worth the investment."
—The Associated Press
Soho Crime, 9781641291958, 408pp.
Publication Date: April 6, 2021
About the Author
Michael Sears spent over twenty years on Wall Street, rising to become a managing director for Paine Webber and Jefferies Financial before leaving the business in 2005 to pursue writing full-time. His books, a number of which are national bestsellers, have been nominated for—and received—numerous awards, including the Edgar. An avid sailor, he lives in Sea Cliff, New York, with his wife, poet and artist Barbara Segal, and the cat Penelope.