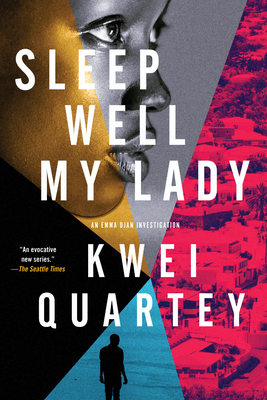 Sleep Well, My Lady (An Emma Djan Investigation #2) (Hardcover)
Soho Crime, 9781641292078, 336pp.
Publication Date: January 12, 2021
* Individual store prices may vary.
Description
In the follow-up to the acclaimed series debut The Missing American, PI Emma Djan investigates the death of a Ghanaian fashion icon and social media celebrity, Lady Araba.

Hard-hitting talk show host Augustus Seeza has become a household name in Ghana, though plagued by rumors of lavish overspending, alcoholism, and womanizing. He's dating the imposing, beautiful Lady Araba, who leads a self-made fashion empire. Araba's religious family believes Augustus is after her money and intervenes to break them up. A few days later, just before a major runway show, Araba is found murdered in her bed. Her driver is arrested after a hasty investigation, but Araba's favorite aunt, Dele, has always thought Augustus Seeza was the real killer.

Almost a year later, Dele approaches Emma Djan, who has finally started to settle in as the only female PI at her agency. To solve Lady Araba's murder, Emma must not only go on an undercover mission that dredges up trauma from her past, but navigate a long list of suspects with solid alibis. Emma quickly discovers that they are all willing to lie for each other—and that one may still be willing to kill.
About the Author
Kwei Quartey is a crime fiction writer and retired physician based in Pasadena, California. Quartey was born in Ghana, West Africa, to a Ghanaian father and a black American mother, both of whom were lecturers at the University of Ghana. His novel Wife of the Gods made the Los Angeles Times bestseller list in 2009. The following year, the National Book Club voted him Best Male Author. He has two mystery series set in Ghana: the Detective Inspector Darko Dawson investigations  and the Emma Djan investigations. Follow him on Instagram @crimefictionwithkweiquartey or connect with him at kweiquartey.com.
Praise For Sleep Well, My Lady (An Emma Djan Investigation #2)…
Praise for Sleep Well, My Lady

"Intimate . . . The law may believe that fashion mogul Lady Araba Tagoe was murdered by her chauffeur, Kweku-Sam, but her aunt, Dele Tetteyfio, isn't having any of it . . . But the case turns out to be more complex than Auntie Dele imagines, and there's no guarantee that she'll be pleased with the results Emma and her colleagues dig up by assuming false identities and going undercover at every waking moment. A gripping setup, some workaday sleuthing, and a neatly turned solution." 
—Kirkus Reviews

Praise for The Missing American

"Remarkably rare . . . A gem of a [series] debut." 
—The Washington Post

"The adventures of a tenacious African female sleuth will likely ring bells for fans of Alexander McCall Smith's best-selling Mma. Precious Ramotswe mysteries. The Missing American's unflinching portrayal of Ghanaian criminals, their fetish priest handlers and corruption at the highest levels makes this intriguing debut a more bracing antidote to its cozier cousin."
—Los Angeles Times

"An evocative new series." 
—The Seattle Times