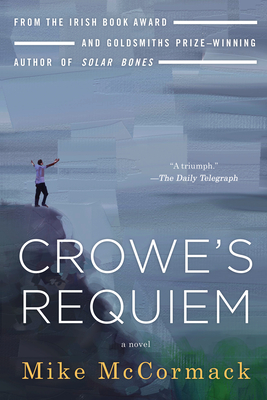 Crowe's Requiem
Paperback

* Individual store prices may vary.
Description
The first novel from the author of Booker-listed Solar Bones, Crowe's Requiem is a dark fable that cemented Mike McCormack's position as a stunning new voice in world literature.

McCormack's myth-tinged debut novel gives us the unforgettable Crowe and his endlessly curious and self-mythologizing stories. Crowe is born in the remote village of Furnace in the West of Ireland and raised by his grandfather, a man of "madness and bullying love," who teaches him grim lessons about existence. Entirely silent until his third birthday, Crowe becomes an observant and isolated teenager, eventually leaving Furnace for a large and bewildering city. There he meets a woman who will change his life and outlook, and also finds himself diagnosed with a rare and fatal aging disease. A profound, philosophical, and darkly funny meditation on childhood and the nature of life and death, Crowe's Requiem challenges us with the power of stories to capture the pains, wonders, and mysteries of being a person in a "wrong world."
Praise For Crowe's Requiem…
Praise for Crowe's Requiem
 
"The novel's heart is a beautiful love story, the kind that takes place in a room—two people whose love and desire become their transportation to all kinds of understanding. But for all its magical realism, Crowe's Requiem contains a very realistic magic: It makes you want to ask questions of ordinary people you meet, questions about living and dying, in case they are your guardian angels in disguise."
—Los Angeles Times
 
 "A well-imagined first novel . . . Crowe's Requiem—through its marvelous portrait of the hero's grandfather, and scenes of student life, including romance—is rooted firmly in the heart."
—The Irish Times
 
"A fantastical mashup of young love and doomy student alienation."
—The Guardian

"McCormack contrives a balance, brilliantly, between fantasy and realism. If Crowe's childhood is a grimly funny folktale, as well as a fantasy about a fallen angel, it is also a convincing account of how an eccentric, lonely boy schemes to survive."
—The Times Literary Supplement
 
"McCormack, who first came to critical notice with a hard-hitting collection of stories, continues to surprise in this dream-like novel, which encourages the reader to find wider allegorical meanings in his everyday subject matter. The book is a triumph of economical, deeply charged language."
—The Daily Telegraph
 
"Irish writer McCormack's first novel makes good use of his finely honed sense of the macabre."
—Kirkus Reviews

 
Praise for Mike McCormack

"Wonderful writing has been a leading Irish export since Jonathan Swift unleashed his vicious wit at the start of the eighteenth century. The latest example is Mike McCormack. Swift couldn't ask for a better successor."
—USA Today
 
"With stylistic gusto, and in rare, spare, precise and poetic prose, Mike McCormack gets to the music of what is happening all around us. One of the best novels of the year." 
—Colum McCann, author of Let the Great World Spin and TransAtlantic 
 
"Pure enchantment from an otherworldly talent. I admired the hell out of this book."
—Eleanor Catton, Man Booker Prize–winning author of The Luminaries

"Mike McCormack has created a narrative of such power and precision . . . The book, ​contemporary and tragic and funny,​ is ​a delight."
​​ —​NPR.org​
 
"A new fairy tale, rich and strange. McCormack's language is lovely . . . His humor is dark, macabre, adding to the gothic atmosphere. The words glimmer like a spell."
—Time Out (London)
Soho Press, 9781641292276, 264pp.
Publication Date: April 6, 2021
About the Author
Mike McCormack is an award-winning novelist and short story writer from the West of Ireland. His work includes Getting It in the Head, a New York Times Notable Book of the Year; Notes from a Coma, which was shortlisted for the Irish Book of the Year Award; Forensic Songs; and Solar Bones, which won the Goldsmiths Prize, the BGE Irish Book of the Year Award, and was nominated for the Man Booker Prize. He was also awarded the Rooney Prize for Irish Literature and a Civitella Ranieri Fellowship. He lives in Galway.