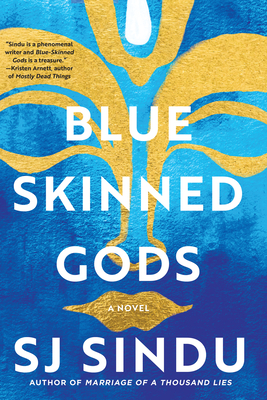 Blue-Skinned Gods
Hardcover

* Individual store prices may vary.
Description
Traveling from the ashrams of India to the underground rock scene of New York City, Blue-Skinned Gods explores ethnic, gender, and sexual identities, and examines the need for belief in a fractured world

In Tamil Nadu, India, a boy is born with blue skin. His father sets up an ashram, and the family makes a living off of the pilgrims who seek the child's blessings and miracles, believing young Kalki to be the tenth human incarnation of the Hindu god Vishnu. In Kalki's tenth year, he is confronted with three trials that will test his power and prove his divine status and, his father tells him, spread his fame worldwide. While he seems to pass them, the answer isn't clear.

Over the next decade, as Kalki begins to doubt his divinity, his family unravels, and every relationship he relied on—father, mother, aunt, uncle, cousin—is at risk. Traveling from India to the underground rock scene of New York City, Blue-Skinned Gods explores ethnic, gender, and sexual identities, and spans continents and faiths, in an expansive and heartfelt look at the need for belief in our globally interconnected world.
Praise For Blue-Skinned Gods…
Praise for Marriage of a Thousand Lies
 
"A gorgeous, heartbreaking novel . . . An incredibly compelling tale."
—New York Times bestselling author Roxane Gay

"A remarkable novel rich with interlocking issues both timeless and timely. SJ Sindu's debut is more than impressive; it's important."
—Robert Olen Butler, Pulitzer Prize–winning author of A Good Scent from a Strange Mountain

"I love Lucky, the unforgettable narrator of Marriage of a Thousand Lies . . . I'm especially captivated by the novel's honesty and tenderness—. . . SJ Sindu is an intuitive writer with great insights into the complications of love and friendship."
—Timothy Schaffert, author of The Swan Gondola

"SJ Sindu has written an important novel about Sri Lankan immigrant culture. Here, the intersections of migration, sexuality and culture are explored in loving and heartbreaking detail. A book that reveals the secrets of a community caught between East and West."
—Nayomi Munaweera, author of Island of a Thousand Mirrors

"E​ntertaining​."
​​ —The Toronto Star​ 

"Enthralling . . . Sindu is a skilled writer, and this is a remarkable first novel."
—Los Angeles Review of Books ​ 

"Sindu's heart-wrenching debut novel . . . incorporates love, loss, family, rebirth and growth to tell a captivating story you won't be able to put down."
—Ms. Magazine
Soho Press, 9781641292429, 336pp.
Publication Date: June 1, 2021
About the Author
SJ Sindu is the author of the novel Marriage of a Thousand Lies, which won the Publishing Triangle Edmund White Debut Fiction Award, was a finalist for the Lambda Literary Award, and was an ALA Stonewall Honor Book; as well as the hybrid fiction and nonfiction chapbook I Once Met You But You Were Dead. She holds an MA in English from the University of Nebraska-Lincoln and a PhD in English and Creative Writing from Florida State University. Sindu teaches at the University of Toronto Scarborough.