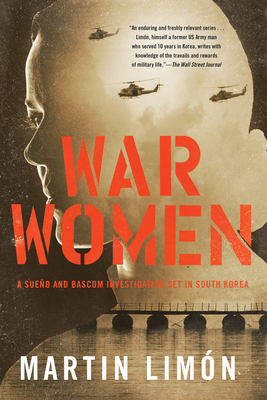 War Women (A Sergeants Sueño and Bascom Novel #15)
Hardcover

* Individual store prices may vary.
Description
Tasked with covering up a tabloid report about high-ranking officers, US Army CID Agents George Sueño and Ernie Bascom discover a dark web of systemic issues that have potentially fatal consequences.

South Korea, 1970s: Sergeant First Class Cecil B. Harvey, a senior NCO in charge of 8th Army's classified documents, has long been a friend (willing or unwilling) to Sergeants George Sueño and Ernie Bascom. So when he goes missing with a top-secret document that even a glance at could get an officer court-martialed, Sueño and Bascom take it upon themselves to find him.

Meanwhile, Overseas Observer reporter Katie Byrd Worthington is back to make life difficult for top Army brass. When she lands in a Korean jail cell, Sueño and Bascom are sent to get her out—and negotiate against the publication of an incriminating story about the mistreatment of women in the military that could land important officials in hot water. But what they learn will make it hard for them to stay silent.
Praise For War Women (A Sergeants Sueño and Bascom Novel #15)…
Praise for War Women

"Excellent . . . In War Women, Limón does his usual superior job at melding the culture of the area into a tension-filled thriller that concentrates on his characters."
—Oline H. Cogdill, South Florida Sun Sentinel

"Even though the story is set in the mid-1970s . . . many of the key plot points brought up still feel fresh today, particularly the addressing of military sex crimes."
—The Korea Times

"[Limón tell[s] his story with his trademark comic tone. His prose is loose and relaxed, and the action reels across the page like a barrel full of monkeys rolling down a hill . . . Despite his light-hearted approach, Limón treats the story of the beleaguered war women with the seriousness it deserves. Their harassment is unrelenting and disgusting, and Limón presents it with an urgency that not only casts a shadow on the values of the day but also has relevance today . . . War Women is another fine addition to a series that continues to entertain."
—New York Journal of Books

"Limón lays out an atmospheric picture of life in the Army and in the country of South Korea."
—Deadly Pleasures Mystery Magazine

"War Women is a quick and absorbing read featuring complex characters you really believe in and a resolution that is satisfying. Sueño and Bascom are sort of like Pierce and Hunnicutt from "M*A*S*H," but with the ability to actually see that justice is done"
—BookReporter.com

"War Women is the most sobering of the series to date, while still being a book readers will want to devour in one sitting."
—Bruce Tierney, BookPage, Starred Review

"Through 15 episodes, Limón continues to balance old-school, Chandlerian action with crisp historical detail and penetrating insight into military malfeasance."
—Booklist

"This long-running series remains as strong as ever."
—Publishers Weekly, Starred Review

Praise for the Sueño and Bascom Investigations

"Limón is one of the best military writers ever. His stories are addictive entertainment today—and valuable slices of history tomorrow."
—Lee Child
 
"Limón is an expert guide to Korea and the US army whose passionate commitment to his subject is expressed in direct, searing prose."
—John Burdett, international bestselling author of Bangkok 8
 
"As always, the author vividly contrasts adventures in the seamy side of Seoul's nightlife with a sensitive appreciation for Korea's ancient culture."
—The Seattle Times
 
"Limón's fiction comes from personal experience, with some obvious parallels between his own life and main protagonist Sueño's. As well as sharing a Hispanic heritage, Limón also served in Korea, first arriving in 1968 . . . Rare foreign fiction set in Korea."
—The Korea Times
 
"A fascinating inside look at Korean culture as well as the world of overseas Army personnel in the late 1970s."
—Ellery Queen Mystery Magazine
Soho Crime, 9781641292795, 288pp.
Publication Date: November 16, 2021
About the Author
Martin Limón retired from military service after twenty years in the US Army, including ten years in Korea. He is the author of fourteen previous Sueño and Bascom investigations: Jade Lady Burning, Slicky Boys, Buddha's Money, The Door to Bitterness, The Wandering Ghost, GI Bones, Mr. Kill, The Joy Brigade, The Iron Sickle, The Ville Rat, Ping-Pong Heart, The Nine-Tailed Fox, and The Line as well as the short story collection Nightmare Range. He lives near Seattle.