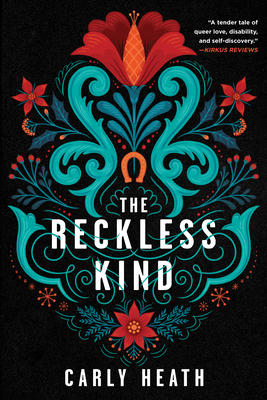 The Reckless Kind
Hardcover

* Individual store prices may vary.
Other Editions of This Title:
Digital Audiobook (11/8/2021)
Paperback (11/1/2022)
MP3 CD (11/20/2021)
Description
A genre-defying debut, this queer historical YA centers a wild and reckless trio who fly in the face of small-town tradition—full of compassion, love, and determination to live the lives of their choosing.

It's 1904 on an island just west of Norway, and Asta Hedstrom doesn't want to marry her odious betrothed, Nils. But her mother believes she should be grateful for the possibility of any domestic future, given her single-sided deafness, unconventional appearance, and even stranger notions. Asta would rather spend her life performing in the village theater with her fellow outcasts: her best friend Gunnar Fuglestad and his secret boyfriend, wealthy Erlend Fournier.

But the situation takes a dire turn when Nils lashes out in jealousy—gravely injuring Gunnar. Shunning marriage for good, Asta moves with Gunnar and Erlend to their secluded cabin above town. With few ties left to their families, they have one shot at gaining enough kroner to secure their way of life: win the village's annual horse race.

Despite Gunnar's increasing misgivings, Asta and Erlend intend to prove this unheard-of arrangement will succeed. Asta trains as a blacksmith; Erlend cares for recovering Gunnar. But as race day approaches, the villagers' hateful ignorance only grows stronger. With this year's competition proving dangerous for the trio, Asta and Erlend soon find they face another equally deadly peril: the possibility of losing Gunnar, and their found family, forever.
Praise For The Reckless Kind…
Praise for The Reckless Kind

Winner of the 2021-2022 Whippoorwill Award for Rural YA Literature

"A beautiful and triumphant debut; this trio of fierce yet loving queer teens boldly making their way in the world has won a place in my heart, just like they will yours!"
—Sarah Glenn Marsh, author of the Reign of the Fallen series

"Three queer disabled teens forge their own path to love, family, and independence in this nuanced, delightful, and beautifully set historical adventure. If you read to be inspired that a better future is out there and in your control, this is the book for you."
—Dahlia Adler, editor of That Way Madness Lies

"Carly Heath's writing jumps off the page to create an immersive world with lovable, queer characters who will steal your heart. A gorgeous tale of love and friendship, The Reckless Kind will utterly transport you."
—Rosiee Thor, author of Tarnished Are the Stars

"Although the setting might be the cold fjords of Scandinavia, The Reckless Kind is a book full of warmth, heart, and grit. Through great tragedies and even greater love, it captures from the first word with its stellar writing and vivid characters a truly beautiful story that will wrap around your heart and never let go."
—Diana Pinguicha, author of A Curse of Roses

"Those who appreciate stories of teens forging their own trails in a society that pushes them on a narrow path will grab The Reckless Kind and not let go. While Asta is being told who she must love, Erlend is told who he cannot love, and their struggles to choose and keep their soulmates will resonate across time and place. Heath's setting is a magical world of twilight and night where intrigues brew and quirky, courageous young people show the way to a more humane world."
—Lyn Miller-Lachmann, author of Gringolandia

"The Reckless Kind is an exquisite debut. Heath has crafted a folktale about found families and the breadth of love that's both immediate and timeless. I didn't want to put it down—it felt like coming home."
—Saundra Mitchell, author of All the Things We Do in the Dark and editor of Out Now

"This novel has a lot of moving parts that work extremely well together, from its equine elements to the deep character studies of its complex cast to its depiction of disability and sexuality. Gunnar is depressed from his chronic pain, often lashing out at Erlend, and Asta is on a quest to keep her friends happy and find direction for her life that doesn't involve marriage. Teens who fantasize about the living with the queer found-family of their dreams get to indulge."
—The Bulletin of the Center for Children's Books, Starred Review

"A beacon of hope to nonconforming teens and young adults." 
—Historical Novel Society

"[An] emotionally grounded queer fairy tale . . . This work will tug the heartstrings of anyone who loved Mackenzi Lee's The Gentleman's Guide to Vice and Virtue and wished Frozen lived up to its queer potential." 
—School Library Journal

"Found family vibes abound in this historical adventure starring three queer, disabled teens who set out to make a home of their own." 
—Buzzfeed

"Alternating between Asta's and Erlend's points of view, The Reckless Kind explores the bravery and brutality required to carve out unconventional paths in a time in which otherness was shunned and people were rejected to the fringes of society because of their sexuality, mental illness, religious beliefs or disabilities. Heath takes great care in conveying Asta and Erlend's optimism in spite of Gunnar's harrowing physical challenges . . . Readers who enjoyed the equestrian culture of Maggie Stiefvater's The Scorpio Races will enjoy the heart-pounding horse race in the final act, but Heath's thoughtful portrayal of headstrong teenagers who successfully defy the expectations of their time has broad appeal." 
—BookPage

"A beautifully told work of queer historical fiction." 
—Pop Sugar

"This YA debut from Carly Heath transports readers."
—Bookish

"Debut author Heath manages to tackle a number of topics in this historical novel, exploring themes of identity, found family, sexuality, and disability. Additionally, asexual Asta has Waardenburg syndrome, Gunnar struggles with depression after a partial arm amputation, and Erlend shows signs of anxiety. The historical details and cast of characters keep the momentum going, and the plot never feels heavy-handed. A great addition for inclusive coming-of-age stories and found family where the characters are not defined by what makes them different."
 —Booklist

"The plot is engaging, but the real magic lies in the characters and their relationships. Each has a condition that they struggle with to varying degrees . . . Their disabilities have a material impact on their lives—and on the story—but, crucially, don't define them. The author explores their experiences with care and reminds readers that no one is "perfect"; the line between able and disabled is socially constructed and movable . . . A tender tale of queer love, disability, and self-discovery."
—Kirkus Reviews


Soho Teen, 9781641292818, 336pp.
Publication Date: November 9, 2021
About the Author
Carly Heath earned her BA from San Francisco State University and her MFA from Chapman University. Originally from the San Francisco Bay Area, Carly teaches design, art, theater, and writing for various colleges and universities. She currently lives on the West Coast and tends a menagerie of rescued farm animals. The Reckless Kind is her first novel.