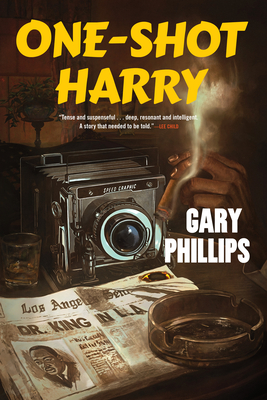 One-Shot Harry
Hardcover

* Individual store prices may vary.
Other Editions of This Title:
Digital Audiobook (4/18/2022)
Library Binding, Large Print (8/10/2022)
Paperback (3/14/2023)
Description
Race and civil rights in 1963 Los Angeles provide a powerful backdrop in Gary Phillips's riveting mystery about an African American crime scene photographer seeking justice for a friend—perfect for fans of Walter Mosley, James Ellroy, and George Pelecanos.

LOS ANGELES, 1963: Korean War veteran Harry Ingram earns a living as a news photographer and occasional process server: chasing police radio calls and dodging baseball bats. With racial tensions running high on the eve of Martin Luther King's Freedom Rally, Ingram risks becoming a victim at every crime scene he photographs.

When Ingram hears about a deadly automobile accident on his police scanner, he recognizes the vehicle described as belonging to his good friend and old army buddy, a white jazz trumpeter. The LAPD declares the car crash an accident, but when Ingram develops his photos, he sees signs of foul play. Ingram feels compelled to play detective, even if it means putting his own life on the line. Armed with his wits, his camera, and occasionally his Colt .45, "One-Shot" Harry plunges headfirst into the seamy underbelly of LA society, tangling with racists, leftists, gangsters, zealots, and lovers as he attempts to solve the mystery.

Master storyteller and crime fiction legend Gary Phillips has filled the pages of One-Shot Harry with fascinating historical cameos, wise-cracks, tenderness, and an edge-of-your-seat thrill ride of a plot with consequences far beyond one dead body.
Praise For One-Shot Harry…
Praise for One-Shot Harry

A Washington Post Best Mystery & Thriller of 2022
A Mystery Finalist for the 2022 Golden Poppy Book Award
Amazon Best of the Year (So Far)
CrimeReads 10 Novels to Read this Month
CrimeReads Most Anticipated Books of 2022
She Reads Most Anticipated Mystery Novels of 2022
A Library Journal Editor's Pick for Spring 2022

"Terrific . . . What makes One-Shot Harry a standout is the cityscape of mid-century L.A it summons up — its music, chromium cars, hateful slurs, "invisible" racial boundaries and cautious hopes."
—NPR's Fresh Air

"Phillips is a storyteller first, and the social chronicling never becomes didactic or overtakes the narrative. The wounds of 1963, and the foreshadowing of both better days and harsher ones, feel unnervingly fresh, and a reminder that progress, much as we wish otherwise, never adheres to a linear timeline."
—Sarah Weinman, The New York Times Book Review

"One-Shot Harry is fast-paced, tough, wry and smart, but what makes this novel a singular sensation is the diverse cityscape of mid-century L.A. that Phillips summons up. More than simply scattering cosmetic references to African American newspapers or notables like Dorothy Dandridge . . . Phillips takes readers deep into another world and time: its jokes, home furnishings, baloney-meatloaf-and-hot-dog-heavy meals; its hateful slurs, "invisible" racial boundaries and cautiously hopeful possibilities."
—Maureen Corrigan, The Washington Post
 
"Propulsive . . . One-Shot Harry crackles with authenticity, and its resilient hero seems resourceful and tough enough to propel any number of sequels."
—Tom Nolan, The Wall Street Journal

"Vividly depicts 1963 L.A . . . Phillips' insight into racism, attitudes toward Black veterans, the Civil Rights movement, Black press and politics of the 1960s elevates One-Shot Harry. Readers will look forward to more camera work from Harry, and Phillips."
—Oline Cogdil, The South Florida Sun-Sentinel

"Phillips's writing has long been infused with big ideas and a scathing analysis of American greed, corruption, and racism . . . Encyclopedic knowledge of the history of Los Angeles's economic development and progressive politics deepens the plot of One-Shot Harry."
—Paula Woods, Alta Magazine

"[Phillips] has always striven to keep Los Angeles' history in the forefront of readers' minds and his most recent mystery novel, One-Shot Harry, which features a Black news photographer in the 1960s, perhaps most encapsulates his passion for the past."
—Los Angeles Daily News

"The Phillips style of plotting fits squarely in the Chandler/Hammett tradition with the addition of intriguing and powerful issues of race."
—Toronto Star

"Race—and racial tension—are the backbone of this novel of the early 1960s . . . Phillips captures the volatility of those times, when civil rights was literally on the march. He also effectively conjures the seamier side of Los Angeles . . . Phillips nails the atmosphere. He also keeps the reader guessing."
—Pittsburgh Post-Gazette

"Gritty, graphic . . . a well-researched procedural tale that delves into the diverse mental attitudes in the jazz scene and Los Angeles neighborhoods in 1962."
—Lansing State Journal

"For thirty years Phillips has been a must-read writer, and One-Shot Harry is probably his best ever—tense and suspenseful, of course, but also deep, resonant and intelligent. It's a story that needed to be told, and therefore a book that needs to be read."
—Lee Child

"Few books are able to capture the essence and vibe of classic hardboiled fiction and still manage to make the prose feel modern and of-the-moment. Gary Phillips does just that with One-Shot Harry and the memorable titular protagonist, Harry Ingram. This book is a swift uppercut of gritty storytelling that will keep you hungrily turning the pages, loaded with moments that will linger in your mind long after you've finished reading."
—Alex Segura, author of Secret Identity, Blackout, and Miami Midnight

"Phillips' vision of Los Angeles in 1963 comes to vivid life in the form of Harry Ingram, a news photographer and part-time process server who's putting himself in the firing line all day long as the city's racial and social divides pull further and further apart. When an old Army friend of his is killed in a car accident, Ingram takes his crime scene photos and his wits on a journey through a deeply corrupt city, looking for the final answers for one man's death."
—CrimeReads

"Los Angeles is as much a character as any of them, and part of the joy of reading One-Shot Harry is immersing oneself in Phillips' grittily detailed rendering of the city, informed by his past experiences as a community activist in South LA . . . The shadows of Raymond Chandler and Dashiell Hammett are discernible throughout Phillips' lively narrative."
—Pasadena Weekly

"With its setting, this novel might remind you of Easy Rawlins or Harry Bosch, but I would strongly recommend reading it as a counterpoint to the LA Quartet by James Ellroy. Gary Phillips authentically tells the other side – those who faced police and institutional racism in Los Angeles. And while, yes, it's about race, the author succeeds in directing us well beyond that theme and towards something much bigger. It's about justice."
—Crime Fiction Lover

"The result of Phillips' sensitive approach to character and situation is a story that is enjoyably complex, each conversation or phone call or snatched sight through a telephoto lens leading us, and Harry, to discover more details of a suspenseful web of intrigue."
—Historical Novel Society

"Fast-paced, noir-flavored, tautly written . . . A cracking good mystery."
—Reading Beauty

"Phillips vividly captures the sights and sounds of the era (jazz and blues on Central Avenue) as well as the ubiquitous racism and police brutality that threatened everyone in the Black community. Ingram emerges as a particularly satisfying, no-nonsense hero."
—Booklist, Starred Review

"Terrific . . . With close attention to period detail and precise prose, Phillips brings the era vividly to life. Crime fiction fans won't want to miss this one."
—Publishers Weekly, Starred Review

"Phillips roots his hero's adventures in a densely woven web of real-life local history that emphasizes both Black Angelenos' historic oppression and the moment for resistance crystallized in the Freedom Rally King plans en route to the demonstration in D.C. whose approach signals the possibility of historic change for both haves and have-nots. Like Walter Mosley in his stories about Easy Rawlins, Phillips presents a powerfully history-driven mystery."
—Kirkus, Starred Review

Praise for Gary Phillips

"Gary Phillips is my kind of crime writer."
—Sara Paretsky, New York Times bestselling author
 
"In the tradition of Dashiell Hammett . . . Makes us feel that the war he's waging is for our own salvation."
—Walter Mosley, author of the Easy Rawlins series
 
"Gary Phillips writes tough and gritty parables about life and death on the mean streets . . . his is a voice that should be heard and celebrated."
—Michael Connelly, author of Void Moon and Angel's Flight

Soho Crime, 9781641292917, 288pp.
Publication Date: April 12, 2022
About the Author
Gary Phillips has published novels, comics, novellas, short stories and edited or co-edited several anthologies, including the Anthony-winning The Obama Inheritance: Fifteen Stories of Conspiracy Noir. Almost 30 years after its publication, his debut, Violent Spring, was named one of the essential crime novels of Los Angeles. He was also a writer and co-producer on Snowfall, a show streaming on Hulu about crack and the CIA in 1980s South Central where he grew up.