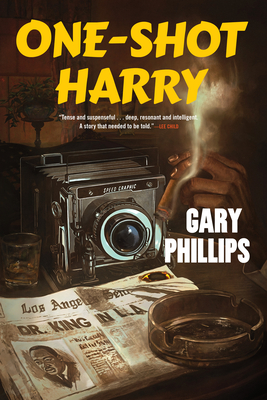 One-Shot Harry
Hardcover

* Individual store prices may vary.
Description
Race and civil rights in 1963 Los Angeles provide a powerful backdrop in Gary Phillips's riveting historical crime novel about an African American forensic photographer seeking justice for a friend—perfect for fans of Walter Mosley, James Ellroy, and George Pelecanos.


LOS ANGELES, 1963: African American Korean War veteran Harry Ingram earns a living as a news photographer and occasional process server: chasing police radio calls and dodging baseball bats. With racial tensions running high on the eve of Martin Luther King's Freedom Rally, Ingram risks becoming a victim at every crime scene he photographs.

When Ingram hears about a deadly automobile accident on his police scanner, he recognizes the vehicle described as belonging to his good friend and old army buddy, a white jazz trumpeter. The LAPD declares the car crash an accident, but when Ingram develops his photos, he sees signs of foul play. Ingram feels compelled to play detective, even if it means putting his own life on the line. Armed with his wits, his camera, and occasionally his Colt .45, "One-Shot" Harry plunges headfirst into the seamy underbelly of LA society, tangling with racists, leftists, gangsters, zealots, and lovers, all in the hope of finding something resembling justice for a friend.

Master storyteller and crime fiction legend Gary Phillips has filled the pages of One-Shot Harry with fascinating historical cameos, wise-cracks, tenderness, and an edge-of-your-seat thrill ride of a plot with consequences far beyond one dead body.
Praise For One-Shot Harry…
Praise for One-Shot Harry

She Reads Most Anticipated Mystery Novels of 2022

"For thirty years Phillips has been a must-read writer, and One-Shot Harry is probably his best ever—tense and suspenseful, of course, but also deep, resonant and intelligent. It's a story that needed to be told, and therefore a book that needs to be read."
—Lee Child

"Few books are able to capture the essence and vibe of classic hardboiled fiction and still manage to make the prose feel modern and of-the-moment. Gary Phillips does just that with One-Shot Harry and the memorable titular protagonist, Harry Ingram. This book is a swift uppercut of gritty storytelling that will keep you hungrily turning the pages, loaded with moments that will linger in your mind long after you've finished reading."
—Alex Segura, author of Secret Identity, Blackout, and Miami Midnight

"Phillips vividly captures the sights and sounds of the era (jazz and blues on Central Avenue) as well as the ubiquitous racism and police brutality that threatened everyone in the Black community. Ingram emerges as a particularly satisfying, no-nonsense hero."
—Booklist, Starred Review

Praise for Gary Phillips

"Gary Phillips is my kind of crime writer."
—Sara Paretsky, New York Times bestselling author
 
"In the tradition of Dashiell Hammett . . . Makes us feel that the war he's waging is for our own salvation."
—Walter Mosley, author of the Easy Rawlins series
 
"Gary Phillips writes tough and gritty parables about life and death on the mean streets . . . his is a voice that should be heard and celebrated."
—Michael Connelly, author of Void Moon and Angel's Flight

Soho Crime, 9781641292917, 288pp.
Publication Date: April 5, 2022
About the Author
Gary Phillips has published novels, comics, novellas, short stories and edited or co-edited several anthologies, including the Anthony-winning The Obama Inheritance: Fifteen Stories of Conspiracy Noir. Almost 30 years after its publication, his debut, Violent Spring, was named one of the essential crime novels of Los Angeles. He also was a story editor on Snowfall, an FX show about crack and the CIA in 1980s South Central, where he grew up.