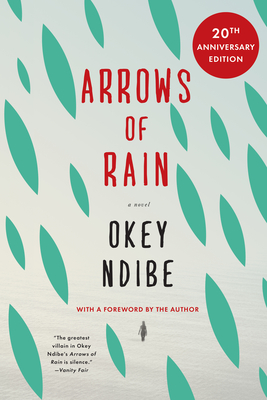 Arrows of Rain
Paperback

* Individual store prices may vary.
Other Editions of This Title:
Digital Audiobook (1/5/2015)
Paperback (1/6/2015)
Description
In Nigerian novelist and journalist Okey Ndibe's powerful debut novel, living to tell the tale is not enough—you must also tell it. Twenty years after its original publication, and now with a new Foreword by the author, Arrows of Rain remains a vital exploration of the importance of story in opposition to corruption and the steep cost of speaking truth to power.
 
"A story that must be told never forgives silence."  

In the country of Madia (based in part on Ndibe's native Nigeria) a young sex worker runs into the sea and drowns. The last man who spoke to her, the "madman" Bukuru, is asked to account for her last moments. When his testimony implicates the Madian armed forces, Bukuru is arrested and charged with her death. At the first day of trial, Bukuru, acting as his own attorney, counters these charges with allegations of his own, speaking not only of government complicity in a series of violent assaults and killings, but telling the court that the president of Madia himself is guilty of rape and murder. The incident is hushed up, and Bukuru is sent back to prison, where he will likely meet his end. But a young journalist manages to visit him, and together they journey through decades of history that illuminate Bukuru's life, and that of the entire nation.

A brave and powerful work of fiction, Arrows of Rain continues to resonate as a necessary morality tale and a brilliant dramatization of the complex factors behind the near-collapse of a nation from one of the most exciting novelists writing today.
Praise For Arrows of Rain…
Praise for Arrows of Rain

"Highly evocative."
—Nobel Prize Laureate Wole Soyinka

"The greatest villain in Okey Ndibe's Arrows of Rain is silence."
—Vanity Fair

"Smart and often deftly written, a parable of power and the humanity it strips away . . . Arrows of Rain remains a novel of resistance—if not political resistance, exactly, then resistance at the level of the soul."
—David L. Ulin, Los Angeles Times

"Ndibe is a gifted writer and an adept storyteller, who clearly exults in the telling."
—Essence Magazine

"A heart-wrenching portrait of Femi Adero, a young journalist who comes face to face with the extremes of political dictatorship and the dangers of pursuing unlikely truths."
—Daily Nation (Kenya)

"This novel does what great novels are supposed to do. It creates a new world that, bigger than ours, closer than ours, more intense than ours, brings us back to where we live with a better understanding of just what our lives mean to those we will never see, touch or know."
—Rick Kleffel, KQED Public Radio

"Arrows of Rain is Greek tragedy . . . It serves as a powerful reminder that the imprint of history—its machinations and cultural usurpations, its elevations and denigrations—is not merely on the subsequent chronicle, but on subsequent individual souls as well."
—The Cleveland Plain-Dealer

"A moving and compelling novel."
—Brooklyn Bugle

"A fascinating and important story—one that truly must be told."
—New York Journal of Books

"This haunting work about the costs of silence shows that Nbide, who was mentored by the towering Chinua Achebe, belongs in the pantheon of contemporary African-born writers such as ­Chimamanda Ngozi Adichie, Nuruddin Farah, Dinaw Mengestu, and Ishmael Beah, whose powerful stories must be told."
—Library Journal

"What do you do, Ndibe asks, when you are faced with injustice and total corruption? When to speak will very likely mean your end? A Kafkaesque, imaginative novel of great necessity and power."
—Kirkus Reviews 

"An ambitious and brave first novel . . . [that] could jump start the moral political mission of serious African literature begun so well by Ousmane, Ngugi, and the immortal Achebe."
—Michael Ekwueme Thelwell, author of The Harder They Come


"Arrows of Rain is a brooding and powerful first novel from Nigerian Okey Ndibe . . . a gritty political thriller with real emotional depth which poses vital questions about our responsibility to bear witness; to be the custodian of 'stories which must be told.'"
—New Internationalist
 
"Alluring, crisp and lucid . . . [Ndibe] is a novelist who portrays his characters, whether poor or rich, weak or powerful, with great complexity."
—Sahara Reporters

"Arrows of Rain is an eloquent, engaging story. The novel makes evil repellingly ugly by taking off its mask . . . Yes, indeed, 'speech is the mouth's debt to the story'; Ndibe has paid that debt with a telling that sparkles with felicity and insight."
—Niyi Osundare, author of Pages from the Book of the Sun

"First rate fiction."
—John Edgar Wideman, author of Philadelphia Fire

"A blueprint for the second generation of African novelists."
—Ernest Emenyonu, author of Tales of Our Motherland


Praise for Foreign Gods, Inc.

"Razor-sharp . . . Mr. Ndibe invests his story with enough dark comedy to make Ngene an odoriferous presence in his own right, and certainly not the kind of polite exotic rarity that art collectors are used to . . . In Mr. Ndibe's agile hands, he's both a source of satire and an embodiment of pure terror." 
—The New York Times Book Review

"Unforgettable . . . Ndibe seems to have a boundless ear for the lyrical turns of phrase of the working people of rural Nigeria . . . The wooden deity 'has character, an audacious personality,' says one non-African who sees it. So does Ndibe's novel, a page-turning allegory about the globalized world." 
—Los Angeles Times

"We clearly have a fresh talent at work here. It is quite a while since I sensed creative promise on this level."
—Wole Soyinka, Winner of the Nobel Prize in Literature

"Dazzling . . . It's already obvious that 2014 is going to be a big year for African novels . . . but Okey Ndibe is bound to set himself apart from the pack. Who doesn't want to read a novel about a good god heist?" 
—The Guardian

"This original [novel] is packed with darkly humorous reflections on Africa's obsession with the West, and the West's obsession with all things exotic." 
—Daily Mail (UK)

"Okey Ndibe's Foreign Gods, Inc is one of the most impressive African novels that I have read in years.  Comic, sad—even tragic—Ndibe is a master craftsman, weaving his narrative with ethnic materials (and surprises) and a profundity that will startle you by the end of the story . . . Ikechukwu Uzondu's journey into his past is as moving and frightful as Brutus Jones' fate in Eugene O'Neill's masterpiece, The Emperor Jones.  Clearly, this is one writer to watch. Moreover, his insights into both America and Nigeria will take your breath away." 
—CounterPunch

"Foreign Gods, Inc. reads like the narrative of a taxi-driving Faust in modern Nigeria and America. With Moliere-like humorous debunking of religious hypocrisy and rancid materialism, it teems with characters and situations that make you laugh in order not to cry." 
—Ngugi wa Thiong'o, author of Wizard of the Crow

"Foreign Gods, Inc. is a blistering exploration of the contemporary African immigrant experience in America. Ndibe tackles tough questions: from the shifting notions of home and identity to the nature of greed. In prose which is fresh and often funny, Ndibe draws the reader into the heartbreaking story of Ike Uzondu's attempt to survive in a world which seems determined to crush him." 
—Chika Unigwe, author of On Black Sisters Street

"Ndibe takes his readers on a transfixing and revelatory journey from bitter bad faith to hard won, deeply moving and adult redemption." 
—Francisco Goldman, Say Her Name

"A challenging romp of gods and styles."
—John Edgar Wideman, author of Philadelphia Fire

"If you've ever sat in the back of a cab silently—or not so silently—wondering where your cab driver is from and what his life is like (and really hasn't everyone?) then you will be captivated by Nigerian writer Okey Ndibe's new novel."
—Metro New York

"The best-laid plans often go awry. But they can certainly make for an entertaining read." 
—The New York Post 

"Ndibe writes of cultural clash in a moving way that makes Ike's march toward disaster inexorable and ineffably sad." 
—Kirkus, STARRED Review

"Neither fable nor melodrama, nor what's crudely niched as 'world literature,' the novel traces the story of a painstakingly-crafted protagonist and his community caught up in the inescapable allure of success defined in Western terms."
—Publishers Weekly, STARRED Review

"Unsuppressible, Okey Ndibe's Foreign Gods, Inc. is a splendid work of art that belongs in every reader's collection. In a masterful manner, Ndibe manages to blend the traditional belief of his Igbo ethnic group in Nigeria with the challenges that face many young and ambitious African immigrants in the USA. The social benefit of the book is immense." 
—Sahara Reporters 

"Ndibe writes with a folksy inclusiveness. The village humor, the greetings and teasing, lend the Utonki sequences a lyrical magic . . . Into this richly stocked brew of characters, Ndibe skillfully introduces suspense in the final stretch, guiding readers through the tension of getting through customs Nigerian-style . . . As an author with a foot in Nigeria and the U.S., he expertly brings both worlds to life.
—Shelf Awareness

"A freshly and heartbreakingly recast tale of American immigration, with all its longings, disappointments, effacements and reclamations."
—The Cleveland Plain Dealer

"Wonderfully colorful . . . There's more than a touch of Poe, or perhaps The Twilight Zone, in the surreal conclusion of this story." 
—Hartford Courant 

"This is a heist story like no other . . . Ndibe unfurls his rich narrative gradually, allowing room for plenty of character interaction while painting a revealing portrait of contemporary Nigeria. With piercing psychological insight and biting commentary on the challenges faced by immigrants, the novel is as full-blooded and fierce as the war deity who drives the story." 
—BookList

"On the surface, Foreign Gods, Inc. is a heist book about a Nigerian cab driver in New York trying to steal an ancient statue from his village in Nigeria. But Okey Ndibe's novel delivers far more than that description suggests, tackling everything from tradition to trying to make it in America, and the way Western countries view the rest of the world." 
—Flavorwire

"A close associate of the late, great Chinua Achebe, Okey Ndibe adds his voice to a new generation of writers . . . Foreign Gods, Inc. features New York-based Nigerian Ike . . . [whose] picaresque journey, gently but incisively told, shows us the vagaries of both American and Africa culture."
—Library Journal

"Ndibe's novel takes on serious themes of cultural exchange, but it does so in a decidedly comic fashion. All the characters Ike encounters, in New York and in Nigeria, inject their own brands of humor into the story." 
—Chapter16, Tennessee
Soho Press, 9781641293013, 312pp.
Publication Date: October 27, 2020
About the Author
Okey Ndibe first came to the US to act as founding editor of African Commentary, a magazine published by Chinua Achebe. He has taught at Brown University, Connecticut College, Simon's Rock College, Trinity College, and the University of Lagos (as a Fulbright scholar). He is the author of two novels, Arrows of Rain and Foreign Gods, Inc., and the memoir Never Look an American in the Eye, and his award-winning journalism has appeared in The New York Times, The Guardian, and The Hartford Courant. Mr. Ndibe lives in West Hartford, Connecticut, with his wife, Sheri, and their three children.