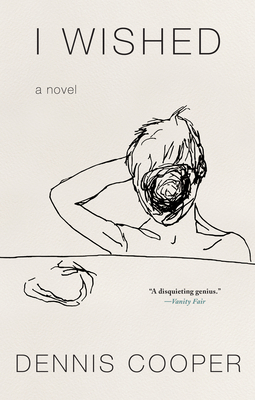 I Wished
Hardcover

* Individual store prices may vary.
Other Editions of This Title:
Digital Audiobook (9/20/2021)
Paperback (8/16/2022)
Description
"I started writing books about and for my friend George Miles because whenever I would speak about him honestly like I am doing now I felt a complicated agony beneath my words that talking openly can't handle."

For most of his life, Dennis Cooper believed the person he had loved the most and would always love above all others was George Miles. In his first novel in ten years, Dennis Cooper writes about George Miles, love, loss, addiction, suicide, and how fiction can capture these things, and how it fails to capture them. Candid and powerful, I Wished is a radical work of shifting forms. It includes appearances by Santa Claus, land artist James Turrell, sentient prairie dogs, John Wayne Gacy, Nick Drake, and George, the muse for Cooper's acclaimed novels Closer, Frisk, Try, Guide, and Period, collectively known as "The George Miles Cycle." In revisiting the inspiration for the Cycle, Dennis has written a masterwork: the most raw, personal, and haunted book of his career.
Praise For I Wished…
Praise for I Wished

The Guardian Best Books of 2021
A Bookforum Best Book of 2021
A Vogue Best Book of Fall
One of Lithub's "22 Novels You Need to Read this Fall"

"Intricate, funny, destabilizing and totally unforeseen."
—Rachel Kushner

"May just be his most surreal, disturbing, vulnerable work yet (which is saying a lot)."
—Vogue

"Whatever Cooper represents in the landscape of contemporary literature, he's without a doubt one of the most vital and important writers to emerge in the past 50 years, and his genius goes far beyond mere taboo-breaking (although it's very difficult to read one of his deadpan, hardcore novels and not walk away a few degrees less innocent than you were on page one). Cooper's books are dissection tables of desire; they take a bone saw to the dreams, sexual fantasies, obsessions, youthful delusions, and myths of fame and individuality that have come to define our private and public selves."
—Interview Magazine

"The George Miles Cycle novels feature a mosaic of broken characters engaging in drug abuse, adolescent sex, and violent exploitation. Fearlessly honest and unconventional, the series is considered a landmark of experimental fiction and has accrued both acclaim and moralistic scorn. Though technically not a new installment, I Wished excavates the cycle's source material while paying tribute to its subversive ethos."
—Los Angeles Review of Books

"I Wished is not an easy book by any means, but is in some way a balm to those who also carry the weight of loss, the acknowledgement of how heavy it can be, and how it is also proof of having lived and loved. It is a book about what to do with that weight, how to carry it, how to honor it."
—Lithub

"His most explicit elegy . . . One of the epic love stories of 20th-century letters."
—The Nation

"[I Wished] reads like a kaleidoscopic fever dream . . . Throughout its splintered storylines, Cooper touches on the concept of the unknowable, mourning, and the innate failure of language."
—them.

"There are few writers like Dennis Cooper."
—AnOther Magazine

"I Wished is a marvel of both economy and excess, a haunted theme park built on the fairgrounds of its author's throbbing heart."
—Justin Taylor, Bookforum

"A literary homage to his friend and lover, Cooper fans and followers will revel in the depth, despair, and cathartic release this elegiac book strives for and unforgettably achieves in spades."
—The Bay Area Reporter

"Revisits the story of the great love of Cooper's life . . . I Wished distinguishes itself for its vulnerability and reflection."
—Alta

"A deep, troubling, yet ultimately beautiful meditation on loss, art, love, and motivation."
—Southwest Review

"To reduce I Wished to a memoir about loss, trauma, and grief would be an unforgivable crime against literature. While the inspiration for the book comes from a place of loss and trauma, it is an astonishing work of art that poses the unsettling but necessary question of whether it is truly possible to write about loss and do it justice."
—queerguru

"A poignant and haunting elegy to a figure that has loomed large in Cooper's imagination since dying by suicide at age 30. The phantasmagorical qualities make every page a thrilling revelation, even for readers unfamiliar with the George Miles cycle of books. It is a beautiful, maddening riddle about love and what is set adrift in its wake . . . A disquieting and magnetic feat of fiction."
—Shelf Awareness

"Surreal and elegiac."
—Publishers Weekly, Starred Review

"An elegy for a friend, lover, and muse that resists conventions of storytelling and expands the possibilities of the novel form with daring and vulnerability . . .  Cooper's urgency to relate his friend's story is felt in every word, image, and narrative move; even the most oddball structural decisions possess tremendous power."
—Kirkus Reviews, Starred Review

Praise for Dennis Cooper

"[A] brilliant, triumphantly lurid writer as well as a supremely talented, elegant stylist whose prose is smart and nervy. He might also be the last literary outlaw in mainstream American fiction."
—Bret Easton Ellis

"In another country or another era, Dennis Cooper's books would be circulated in secret, explosive samizdat editions that friends and fans would pass around and savor like forbidden absinthe . . . This is high-risk literature."
—The New York Times Book Review

"His work belongs with the likes of Poe, the Marquis de Sade, Charles Baudelaire, and Georges Bataille, other writers who argued with mortality."
—San Francisco Chronicle

"Cooper is a profoundly original American visionary, and the most important transgressive literary artist since Burroughs . . . An American master."
—Salon

"Cooper's synaesthetic subliminal metaphors should be outlawed, so quickly and lethally do they sink into your subconscious."
—BookForum
Soho Press, 9781641293044, 144pp.
Publication Date: September 14, 2021
About the Author
Dennis Cooper is the author of the George Miles Cycle, an interconnected sequence of five novels: Closer, Frisk, Try, Guide, and Period. His other works include My Loose Thread; The Sluts, winner of France's Prix Sade and the Lambda Literary Award; God Jr.; Wrong; The Dream Police; Ugly Man; and The Marbled Swarm. He divides his time between Los Angeles and Paris. He is the director (with Zac Farley) of Permanent Green Light and Like Cattle Towards Glow.