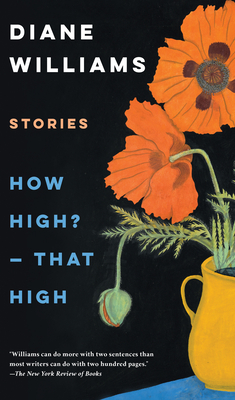 How High? -- That High
Hardcover

* Individual store prices may vary.
Description
Diane Williams, an American master of the short story who will "rewire your brain" (NPR), is back with a collection in which she once again expands the possibilities of fiction.

These stories depict ordinary moments—a visit to the doctor's office or a married couple's hundredth dance together—but within the quotidian, Williams delivers a lifetime of insecurities, lusts, rejections, and revelations, making her work equally discomfiting and amusing. With unmatched wit in every sentence, Williams captures whole universes in a story, delivering visionary insights into what it means to be human.

Williams' devotees will be newly enthralled by her elegantly strange, bewitching stories in How High? — That High. Those who have yet to meet "the godmother of flash fiction" (The Paris Review) will find an extraordinary introduction in these pages.
Praise For How High? -- That High…
Praise for How High? — That High

A Lit Hub Most Anticipated Book of 2021

"The new stories are like the old stories in the pleasures they deliver, starting with Williams's irresistible, inimitable opening sentences . . . How High? – That High is a slyly amusing book; even the darker stories veer into humor."
—BOMB Magazine

"To take How High?—That High onto a subway or beach is to risk missing your stop, or a coming tsunami."
—The Millions

"Diane Williams' writing is like a fine wine; you're enchanted by the first sip, and it only gets better with age . . . [These stories] cover your everyday mundanities, but the magic is in her ability to turn a phrase, to surprise on the sentence-level."
—LitHub

"Williams is a magician of the miniature . . . Brief, elliptical, steeped in longing—or is that lust?—[these stories] offer slices of life that rely on interior more than exterior details, which is to say they are small road maps of the soul . . . [Williams' stories] are rigorous in both language and emotion, using nuance and inference to explore the implications, the contradictions, that people rarely share aloud . . . Williams' small gems are as dense and beautiful as diamonds, compressed from the carbon of daily life."
—Kirkus Reviews, Starred Review

"Some of the pieces in How High?—That High, such as 'A Type of Vertigo' and 'Popping,' are vivid portraits in miniature, and tornado-like in the way that Williams bears down to reveal only a moment or two in a fully imagined life. The effect leaves her characters and readers stunned . . . After 30 years of work, some writers grow lazy; Williams has grown more potent, like the venom of certain snakes."
—Publishers Weekly

"Every word matters in these micro entries, and 'Finished Being' is among the collection's most impressive feats, packing a book's worth of mystery and emotion into a single sentence . . . Despite their small slivers of space, [these stories] have outsized emotional and intellectual impacts."
—Foreword Reviews

Praise for The Collected Stories of Diane Williams

"Erudite, elegant and stubbornly experimental. For any writer, an omnibus collection is a triumph. To see years of Ms. Williams' confounding fictions collected in so hefty a volume is like seeing snowflakes accrue into an avalanche."
—The New York Times

"This book will rewire your brain."
—NPR's Pop Culture Happy Hour

"Diane Williams seeks to stun, in something near the literal sense of the word . . . There are no first sentences full of orienting details, no dramatic dialogue, no neat epiphanies in a story's final lines. A concluding sentence is more likely to open up a story than to resolve it."
—The New Republic

"Full of funny, libidinal and invigorating enigmas . . . Readers who love the arresting phrase, the surprising word, will gravitate to her . . . It's perfect to leave on the bedside table, to be consulted before one's dreamlife begins."
—The London Review of Books

"Williams can do more with two sentences than most writers can do with two hundred pages."
—The New York Review of Books

"Savage, wild, sideways stories flirt with reality and sever you from your roots, only to bring you back changed."
—San Francisco Chronicle

Praise for Diane Williams

"Not a single moment of the prose, here, is what you expect, and even the ordinary is, in the context created by Diane Williams, no longer ordinary: it is fresh, happy and peculiar—or is it we who are refreshed, happy and more peculiar than before after reading her?"
—Lydia Davis

"Flash fictions that are often beautiful but impenetrable, structured like little riddles to unspool. While it is easy to compare Williams' work to that of Lydia Davis, another expert writer of absurdist shorts, this collection stands in its own category as defiantly whimsical and weird . . . Williams creates stories that can be consumed in small bites. But she provides enough material in each to chew over for an entire meal."
—The New York Times

"One of America's most exciting violators of habit."
—Los Angeles Times

"Let's hear it for the magnificent Diane Williams, one of the wittiest and most exacting writers of our time. Her fictions are fervid endorsements of terrible, joyous life. But that's not quite right, because like all great literature, they are life."
—Sam Lipsyte

"Diane Williams is hilarious, brilliant, eccentric, powerful, and, luckily, ours."
—Deb Olin Unferth

"Discomfitingly and devastatingly funny, Williams upends the mundane, the painful, and the unusual, resulting—much in the way an art teacher might ask her class to copy a photograph upside-down—in precision and clarity."
—Elle

Soho Press, 9781641293068, 128pp.
Publication Date: October 12, 2021
About the Author
Diane Williams is the founder and editor of the distinguished literary annual, NOON, the archive of which, as well as Williams' personal literary archive, was acquired in 2014 by the Lilly Library. She is the author of nine previous volumes of short fiction and the recipient of four Pushcart Prizes. She lives in New York City.