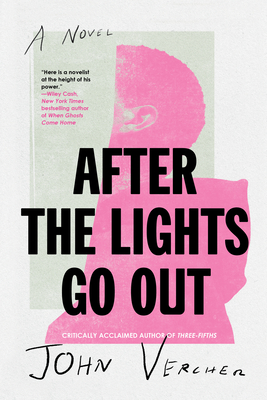 After the Lights Go Out
Hardcover

* Individual store prices may vary.
Description
A harrowing and spellbinding story about family, the complications of mixed-race relationships, misplaced loyalties, and the price athletes pay to entertain—from the critically acclaimed author of Three-Fifths

Xavier "Scarecrow" Wallace, a mixed-race MMA fighter on the wrong side of thirty, is facing the fight of his life. Xavier can no longer deny he is losing his battle with chronic traumatic encephalopathy (CTE), or pugilistic dementia. Through the fog of memory loss, migraines, and paranoia, Xavier does his best to stay in shape by training at the Philadelphia gym owned by his cousin-cum-manager, Shot, a retired champion boxer to whom Xavier owes an unpayable debt.

Xavier makes ends meet while he waits for the call that will reinstate him after a year-long suspension by teaching youth classes at Shot's gym and by living rent-free in the house of his white father, whom Xavier was forced to commit to a nursing home. The progress of Sam Wallace's end-stage Alzheimer's has revealed his latent racism, and Xavier finally gains insight into why his Black mother left the family years ago.

Then Xavier is offered a chance at redemption: a last-minute high-profile comeback fight. If he can get himself back in the game, he'll be able to clear his name and begin to pay off Shot. With his memory in shreds and his life crumbling around him, can Xavier hold on to the focus he needs to survive? John Vercher, author of the Edgar and Anthony Award–nominated Three-Fifths, offers a gripping, psychologically astute, and explosive tour de force about race, entertainment, and healthcare in America, and about one man's battle against himself.
Praise For After the Lights Go Out…
Praise for After the Lights Go Out

"John Vercher's latest is a spellbinding tour de force. It's the gut-wrenching story of Xavier 'Scarecrow' Wallace, an over-the-hill MMA fighter still looking for that last shot at redemption, even as his mind and body succumb to the ravages of his years spent in the cage. Written in deft and visceral prose—Vercher's trademark—After the Lights Go Out is one of the best books I've read this year. I loved every moment of it, even the ones that broke my heart."
—Lauren Wilkinson, author of American Spy

"John Vercher writes like a fighter, a dancer, an athlete. The prose is nimble and nothing on the page is wasted. His writing knows when to throw a punch, and, in a novel that explores the intersection of race, class, celebrity, and healthcare, John Vercher leaves it all in the ring. Here is a novelist at the height of his power. After the Lights Go Out left my heart black and blue, and I loved every moment of the beating it took."
—Wiley Cash, New York Times bestselling author of When Ghosts Come Home

"One person's entertainment is another's extraordinary trauma of the mind, body, and soul in John Vercher's stunning, stone-cold knockout, After the Lights Go Out. Heart-wrenching in its portrayal of anger, betrayal, and the value placed on the bodies of combat athletes, Vercher's novel is as relentless as it is unforgettable. Brutally elegant prose, jet fuel-like proposulsiveness, and Vercher's powerhouse voice force us to confront a profound and tragic question: How do you save yourself when you're the person you trust least? Dear reader, brace yourself."
—P. J. Vernon, author of Bath Haus and When You Find Me

"After the Lights Go Out is a heartbreaking look at Xavier Wallace's fight inside the cage and out. John Vercher gives us an unraveling understanding of Xavier's tumultuous relationship with his white father and Black mother, and the seedy underbelly of fighting. It's a riveting story where the drama propels you from page to page. All these threads kept me reading, but what kept me most engrossed is that although Xavier is involved in many battles, his most formidable opponent might just be himself. Vercher is a master of interior tension. This book grabs you and doesn't let go."
—Crystal Wilkinson, Kentucky's Poet Laureate and author of Perfect Black and The Birds of Opulence

"John Vercher shares this gripping, tragic tale with great compassion, deftly guiding the reader through the MMA world, the nuances of mixed-race identity, and the questionable allegiances that form when the world forces people to prove their own humanity. Never has winning seemed so bittersweet, and never have I felt so much for such a complicated character."
—Chris L. Terry, author of Black Card and Zero Fade

"John Vercher's After the Lights Go Out is a universal story about the grim realities of a savage sport and a savage world. Think Warrior by way of Fat City. It's poetic, evocative, and charged with passion. It's full of hope and heartache. Xavier 'Scarecrow' Wallace is a character I just can't shake."
—William Boyle, author of Shoot the Moonlight Out and City of Margins


Praise for Three-Fifths
Nominated for the Edgar, Anthony, and Strand Awards for Best First Novel
Shortlisted for the CWA New Blood Dagger
A Guardian, Sunday Times, and Financial Times Best Crime Novel of the Year
A Chicago Tribune Best Book of the Year
 
"John Vercher has such love and compassion for his characters . . . I couldn't help but be sucked into their lives from the very first pages. It's so incredibly suspenseful that I was continually surprised by the story and deeply moved by the time I turned the last page."
―Attica Locke  

"Compelling and profoundly moving."
—The Guardian

"Vercher builds strong, multifaceted characters with bold strokes, using the tools of noir to present what is finally a full-blown tragedy."
―Booklist, Starred Review
Soho Press, 9781641293310, 288pp.
Publication Date: June 7, 2022
About the Author
John Vercher lives in the Philadelphia area with his wife and two sons. He has a Bachelor's in English from the University of Pittsburgh and an MFA in Creative Writing from the Mountainview Master of Fine Arts program. He is a contributing writer for WBUR Boston's Cognoscenti, and NPR features his essays on race, identity, and parenting. His debut novel, Three-Fifths, was named one of the best books of the year by the Chicago Tribune, CrimeReads, and Booklist. It was nominated for the Edgar, Anthony, and Strand Magazine Critics' Awards for Best First Novel.