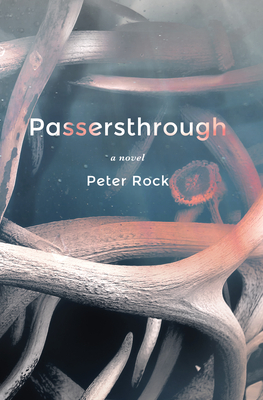 Passersthrough
Hardcover

* Individual store prices may vary.
Description
A father and his estranged daughter reconnect to try to understand a decades-old trauma in this haunting novel, part ghost story, part lyrical exploration of family, aging, and how we remember the past.

At age 11, Helen disappeared in the wilderness of Mount Rainier National Park while camping with her father, Benjamin. She was gone for almost a week before being discovered and returned to her family. It is now 25 years later, and after more than two decades of estrangement, Helen and Benjamin reconnect at his home in Portland, Oregon, to try to understand what happened during the days she was gone. Meanwhile, Benjamin meets an odd pair, a woman and boy who seem driven to help him learn more about Helen's disappearance and send him on a journey that will lead to a murder house, uncanny possession, and a bone-filled body of water known as Sad Clown Lake, a lake "that could only be found by getting lost, that was never in the same place twice."

Passersthrough is a haunted, starkly lyrical exploration of family, memory, and the border between life and death.
Praise For Passersthrough…
10/20/2018 2:34 PM Transcription of Audio Capture

Helen: All you have to do is talk and it records what you say and then when I have time I can listen to it, no matter where I am, listen to what you tell me. Or I can read it—my computer or even my phone can transcribe what you say.
 
Benjamin: All these machines—I don't know. Is it really necessary?
 
H: For me, yes, I think so. It's necessary, for now, to talk to you.
 
B: All I want—
 
H: See how the green light comes on when it's recording? The orange light means it's standing by.
 
B: Waiting.
 
H: Yes.
 
B: Getting ready to listen.
 
H: You just have to be in range, close enough. I can put in our names, and then the software can even learn to recognize, identify our voices, the way we talk. It can even figure out punctuation, if it's working right. It can pause and wait, if there's a break. Be quiet for ten seconds and the light'll go orange, like it was before.
 
+
 
H: We can talk again.
 
B: Can we turn it off for a while? Just talk without
 
it listening.
 
H: Forget about it. Look at me.
 
B: The light is green. It's listening.
 
H: Pretend it's not there. Don't look at it.
 
B: Can it see me?
 
H: Of course not.
 
 
B: This is silly. So far all it's recorded is a conversation about itself. I'm trying, Helen, I want so much to talk with you, to communicate. Can we talk about when you were a girl, and we used to go out in the forest together?
 
H: Let's take it slower; I have to go slow. Let's begin with some kind of introduction—I'd like to hear how you introduce yourself, actually.
 
B: But you know me.
 
H: Not really. Not for a long time.
 
B: Okay, then. Let's see. Typically, I breathe air, am omnivorous, and have eyes on the front of my head. I'm bipedal, often wear clothing and possess several skills. For instance, I'm handy with tools. The use of tools was once thought to differentiate man from animals, or the lower animals, yet scientists have witnessed primates with their straws and sticks, procuring ants from African anthills, and some experts believe that animals can cooperate with one another, even between species, without even being aware of it. There's a word for that relationship.
 
H: Why are you talking like an encyclopedia?
 
B: It's hard to be serious; this isn't exactly a conversation. And that word is "symbiotic."
 
H: Some facts about yourself, I meant. Start with your name.
 
B: My name is Benjamin Hanson. I'm seventy-six years old and my estranged daughter has installed machines in my house to facilitate our relationship. She believes I need a haircut, and is disappointed with many aspects of how I'm living my life. She won't discuss our past, and refuses to stay in my perfectly good guest room. She stays at a hotel, because her therapist has recommended that she not stay with me.
 
H: About yourself, not about me.
 
B: My name is Benjamin and I prefer to be called Benjamin. I wear sandals year-round. I was born in September. This kind of thing? I prefer baths to showers, and suspenders to belts. I once owned a hardware store in Seattle, Washington, and before that I was born on Vancouver Island, yet my parents were Americans. I had many adventures there and later in Seattle had two children and a wife and then I had only one child and no wife and no hardware store. And so I moved to Portland, Oregon, to work for a time at Winks Hardware. I am now retired and continue to reside here in Portland, where I spend my days speaking clearly in the direction of a black plastic box with one piercing green eye.
 
H: I'm going to turn this off, now, to check and see that it's working.
 
+ + +
 
BENJAMIN LEANED BACK in his chair, watching as Helen tapped the switch on the front of the black machine. Its green light dimmed, then blinked out.
      She walked across the room, nervously took her phone from her purse. Slender, she stood taller than he did, now—height was something that had drawn him to her mother, so long ago. Now the light from her phone illuminated her thin face, her sharp chin, her wide-set eyes. Was her hair always so dark? It was cut straight across, not quite touching her shoulders. She wore a black dress, her arms bare. Behind her, on the wall, hung a framed photo from long ago; in it, she had to be only two or three, laughing, wearing a stocking cap with round white buttons sewn on to look like eyes. She sat on Benjamin's shoulders, wore rubber boots (he remembered the feeling of those heels, kicking his chest), and her hands lay flat atop his head, where wispy hair still grew. He was laughing in the picture, his mouth wide open, all his teeth.
      "What are you thinking about?" Helen said.
      "Nothing."
      "You're staring at me."
      "Your mother must have taken that picture."
      "What?" She turned to face the photograph. "Yes. That's a good one." After a moment, she looked back at him. "When was the last time you talked to her?"
      "To your mother?" he said. "I don't know—it's strange. Ten years, almost? At least. More. I can't even remember what we talked about. And now I guess we won't talk again."
      "I wondered if you might come to the funeral." Stepping closer, Helen held out her phone. On its screen he could see lines of words, too small to read.
      "That's the transcription," she said, "the conversation we were just having."
      He reached out his hand, but she'd already put the phone in her pocket. Stepping past him, brushing against his shoulder, she tapped the switch and the orange light blinked on again, turning green as they began to speak.
 
 
10/20/2018 2:57 PM Transcription of Audio Capture

B: What if I have nothing to say? To the machines, I mean. When you're not here, it'll be different.
 
H: That's the thing—I'll ask you questions with this bigger machine here.
 
B: The fax machine.
 
H: Yes, right. Every now and then, a page, a message from me will come out. I'll send you questions and then you can answer them by speaking. And if you have questions for me, you can speak them out loud and I'll receive them and answer. It'll be like a conversation.
 
B: We're having a conversation right now. A kind of conversation.
 
H: But we live in different places, and it's not always so easy to say things. For lots of reasons. I got you the computer, you know. Email—that's one way, but you won't even try—
 
B: Couldn't you just send me a letter?
 
H: I tried that. Twice. You never answered. You probably never opened them. Look at that pile of mail on the table, there. Remember how it was last month, before I put your bills on autopay? No electricity, no gas, no heat.
 
B: That always works itself out, eventually.
 
H: I mean, your driver's license is expired, your car registration—I hope you're not driving.
 
B: I can take care of myself. Couldn't we just talk on the phone?
 
H: We've talked about this, already. It's the same problem—I can't just talk to you without stopping, without having time to process. It's not possible, not healthy.
 
B: We're talking, now. You seem fine to me.
 
H: How I seem to you and how I feel are different. And we are talking, but it's not easy. I'm trying, I'm trying to find a way where it's comfortable, where I can communicate with you. This is what I came up with, for now. Please don't touch my arm.
 
B: You act like you're afraid of me, and I'm just so happy to be with you again, together, and I feel like you're holding something against me that I don't even know what it is. If we can—
 
H: Just stop. You said, you agreed—
 
+
 
HELEN WALKED ACROSS the room, then. She opened the front door and stepped right through it without a word or any warning. The light on the machine blinked from green to orange.
 
Taking hold of his walking stick, Benjamin pulled himself to his feet and stood for a moment, finding his balance.
 
He leaned over the table, the pile of mail—not one envelope from an actual person—and squinted through the window. Helen was walking away, her steps quick and angry. She
didn't get into her rental car, but kept on past it, down the sidewalk. The front door still open, Benjamin stepped out onto the porch. He could see Helen turning the corner at the end of the street, but he didn't follow, knew he couldn't catch her. Next door, the neighbor boy, Javier, was coiling a long, green hose. Javier looked up, waved, then dragged the hose up the driveway, out of sight. Benjamin stepped back inside his house, closed the door. He passed the unopened box, the computer Helen had sent him, then sat back down in his chair, facing the two machines, waiting for his daughter's return.
 
. . .
 
H: It was too much, it started feeling like it was too much.
 
B: I'm sorry if I said something I shouldn't've said. But when you go like that, without saying anything, it feels like you might never come back.
 
H: You're being melodramatic. My flight's not for three hours, and I already told you I'd be back.
 
B: When?
 
H: A few weeks, next month? It depends on a lot of things.
Soho Press, 9781641293433, 240pp.
Publication Date: April 19, 2022
About the Author
Peter Rock is the author of nine previous works of fiction, including My Abandonment, which won the Alex Award and was adapted into the film Leave No Trace. He is the recipient of a Guggenheim Fellowship and a National Endowment for the Arts Fellowship, and is a professor of creative writing at Reed College. He lives in Portland with his wife and two daughters.