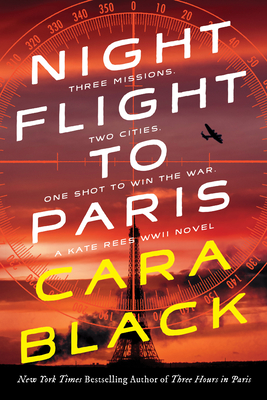 Night Flight to Paris
Hardcover

* Individual store prices may vary.
Description
It is once again up to American markswoman Kate Rees to take the shot that just might win—or lose—World War II, in the followup to national bestseller Three Hours in Paris.

Three missions. Two cities. One shot to win the war.

October 1942: it's been two years since Kate Rees was sent to Paris on a British Secret Service mission to assassinate Hitler. Since then, she has left spycraft behind to take a training job as a sharpshooting instructor in the Scottish Highlands. But her quiet life is violently disrupted when Colonel Stepney, her former handler, drags her back into the fray for a dangerous three-pronged mission in Paris.

Each task is more dangerous than the next: Deliver a package of penicillin to sick children. Assassinate a high-ranking German operative whose knowledge of secret invasion plans could turn the tide of the war against the Allies. Rescue a British agent who once saved Kate's life, and get out.

Kate will encounter sheiks and spies, poets and partisans, as she races to keep up with the constantly shifting nature of her assignment, showing every ounce of her Oregonian grit in the process.

New York Times bestselling author Cara Black has crafted another heart-stopping thrill ride that reveals a portrait of Paris at the height of the Nazi occupation.
Praise For Night Flight to Paris…
Praise for Three Hours in Paris

A National Bestseller
A Wall Street Journal Best Mystery of the Year
A Washington Post Best Thriller and Mystery Book of the Year
A Seattle Times Best Crime Novel of the Year

"Heart-racing . . . Chances that you'll be able to put Black's thriller down once you've picked it up? . . . Slim to none."
—The Washington Post

"Beyond Black's encyclopedic knowledge of Paris, her deft interweaving of WWII history and spycraft with a relatable female protagonist puts Three Hours in Paris on par with other top thrillers about botched missions followed by harrowing escapes." —Paula Woods, Los Angeles Times

"Black . . . excels at setting vivid scenes, creating lively characters and maintaining pulse-elevating suspense. Three Hours in Paris, with its timetable structure and its hunt for a covert operative, recalls such comparable works as Frederick Forsyth's The Day of the Jackal and Ken Follett's Eye of the Needle."
—The Wall Street Journal

"Heart-stopping."
—The Seattle Times
Soho Crime, 9781641293556, 336pp.
Publication Date: March 7, 2023
About the Author
Cara Black is the author of twenty books in the New York Times bestselling Aimée Leduc series and the national bestseller Three Hours in Paris. She has received multiple nominations for the Anthony and Macavity Awards, and her books have been translated into German, Norwegian, Japanese, French, Spanish, Italian, and Hebrew. She lives in San Francisco with her husband and visits Paris frequently.