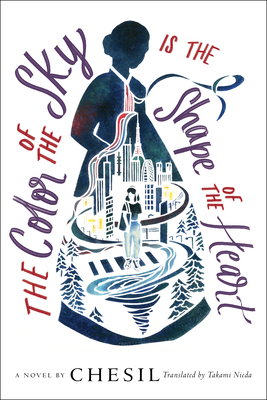 The Color of the Sky Is the Shape of the Heart
Paperback

* Individual store prices may vary.
Other Editions of This Title:
Digital Audiobook (6/13/2022)
Hardcover (4/5/2022)
MP3 CD (6/14/2022)
Description
A Zainichi Korean teen comes of age in Japan in this groundbreaking debut novel about prejudice and diaspora.

Seventeen-year-old Ginny Park is about to get expelled from high school—again. Stephanie, the picture book author who took Ginny into her Oregon home after she was kicked out of school in Hawaii, isn't upset; she only wants to know why. But Ginny has always been in-between. She can't bring herself to open up to anyone about her past, or about what prompted her to flee her native Japan. Then, Ginny finds a mysterious scrawl among Stephanie's scraps of paper and storybook drawings that changes everything: The sky is about to fall. Where do you go?
 
Ginny sets off on the road in search of an answer, with only her journal as a confidante. In witty and brutally honest vignettes, and interspersed with old letters from her expatriated family in North Korea, Ginny recounts her adolescence growing up Zainichi, an ethnic Korean born in Japan, and the incident that forced her to leave years prior. Inspired by her own childhood, author Chesil creates a portrait of a girl who has been fighting alone against barriers of prejudice, nationality, and injustice all her life—all while searching for a place to belong.
Praise For The Color of the Sky Is the Shape of the Heart…
Praise for The Color of the Sky is the Shape of the Heart

Winner of the 2022 Freeman Book Awards for Children's and Young Adult's Literature
A Ms. Magazine Most Anticipated Book of 2022
A Kirkus Reviews Anticipated YA Book of 2022

"The translated version of Chesil's debut novel, which was originally published in Japanese, draws from her own childhood . . . the novel unpacks the complexities around nationalism, prejudice, and identity." 
—Time

"Though it is just over 150 pages, The Color of the Sky is the Shape of the Heart packs a lot of emotion, history and personal growth within its pages. A literary hit in Japan when it was released, this beautiful and thoughtful novel explores the Zainichi Korean experience through a teen girl who seems surrounded by secrets."
—The Lakshmi and Asha Show

"A bracing look inside the mind of a Zainichi teenager to challenge readers with a deeply traumatized consciousness and the pain and liberation that comes in processing that trauma . . . The Color of the Sky is living proof of literature's importance. It can open the mind of readers to the lives of others, and provide the silenced the courage to speak up."
—The Japan Times

"The beauty of Chesil's storytelling and Takami Nieda's stellar translation is its revelation of inner acceptance and belief." 
—Asia Media International

"A literary triumph that's both outstanding storytelling and searing societal commentary . . . Jinhee's attempts to reclaim some semblance of justice and autonomy sets in motion her international odyssey . . . The specific and universal quests to belong echo back to Chesil's original title, Jini no pazuru (Jini's Puzzle), searching for all the ways to fit the pieces together and finally make herself whole."
—Shelf-Awareness, Starred Review

"Using a nonlinear narrative and short chapters interspersed with letters from Ginny's grandfather, who lives in North Korea, Chesil's intimate-feeling novel offers glimpses into Ginny's life leading up to the present, including the incident that compelled her to leave Tokyo. Ginny is an exceptionally complex character, who is both quiet and reserved while brimming with passionate determination to combat injustice. This affecting novel sensitively explores diaspora, prejudice, and the struggle of finding a place to belong."
—Publishers Weekly, Starred Review

"Enigmatic and powerful . . . Compact chapters set a brisk pace, punctuated by family letters from North Korea and a scene in the format of a play that flesh out a collective history and entrenched prejudice against Koreans in Japan . . . This complex, layered story, originally published in Japanese, reaches a cathartic conclusion once Ginny resolves to catch the proverbial sky as it falls, thereby forgiving herself and claiming her agency." 
—Kirkus Reviews

"A vital and vastly under-represented perspective beautifully rendered by writer and translator." 
—Rebekah S., Boogie Down Books (Bronx, NY)

"Spare prose, fragmented voices, and vivid descriptions come together to carry the story of a young woman caught between cultures. She vibrates with anger, sorrow, rebellion, and need. The need to be seen, to be heard, and to find a way to be just in an unjust world. A challenging read well worth reading and pondering and reading again." 
—Jan Blodgett, Main Street Books (Davidson, NC)

Praise for Chesil

Winner of the Gunzo Prize for New Writers
Recipient of the Oda Sakunosuke Award
Shortlisted for the Akutagawa Prize

"Most novels are born from an illusory sense of security that a monolingual and monoethnic Japan exists. This novel is fraught with a tension that only those who live with the threat of violence can know."
—Yoko Tawada, author of The Emissary, Winner of the National Book Award for Translated Literature
Soho Teen, 9781641294263, 168pp.
Publication Date: March 7, 2023
About the Author
Chesil is a third-generation Korean born in Japan. She attended film school to study acting until she discovered a new passion for writing. She decided to mark the end of her twenties by writing a novel inspired by events during her childhood. That novel became her debut book. In 2016, she received the Gunzo New Writer's Prize and was nominated for the Akutagawa Prize. In 2017, she won the Oda Sakunosuke Prize as well as the Ministry of Education's Fine Art Award for a Debut Work.


Takami Nieda has translated more than ten works from Japanese into English and has received numerous grants in support of her translations, including the PEN/Heim Translation Fund for the translation of Kazuki Kaneshiro's Go. She teaches writing and translation at Seattle Central College in Washington State.