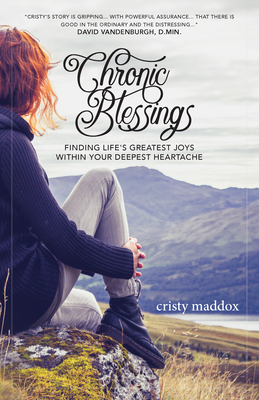 Chronic Blessings (Paperback)
Finding Life's Greatest Joys Within Your Deepest Heartache
Made for Grace Publishing, 9781641463546, 250pp.
Publication Date: April 9, 2019
Other Editions of This Title:
Compact Disc (4/2/2019)
MP3 CD (4/2/2019)
Compact Disc (4/2/2019)
* Individual store prices may vary.
Description
"Chronic Blessings is an inspiring, faith-driven account full of powerful lessons..." -- FOREWORD CLARION REVIEWS
DO YOU WANT TO ENJOY THE LIFE YOU ARE LIVING, EVEN AS YOU FACE SIGNIFICANT LIFE CHALLENGES?
Are you grieving the loss of the life you planned?
Is your body or mind failing you?
Can you ever find joy, peace, or fulfillment in these challenging situations? The answer is a resounding YES.
Cristy Maddox searched for answers that were not coming; answers for a diagnosis to explain her symptoms. For nearly ten years, Cristy and her husband Greg researched an illness they had never heard of, Postural Orthostatic Tachycardia Syndrome or POTS. An illness affecting over 2 million Americans and 1 in every 100 teenagers
POTS, the invisible intruder, not only places Cristy at risk but her children as well. Feeling isolated and misunderstood, Cristy grieves the loss of the life she once knew.
But now, Cristy brings her findings and insights to you in this compelling, honest, and often too-real story, providing answers to the many perplexing questions surrounding chronic illness. She takes you on a journey of learning the purpose of hardship, a better way to view pain and how to allow God to recycle it for good.
Are you ready to discover that your greatest joys in life may be hidden in your deepest heartache?
About the Author
Cristy Maddox is an author and mother of three who loves Jesus. She and her BFF, Greg have been married for 20 years. A true love for God was birthed through her chronic illness. Cristy has a passion for helping others find the hidden gems He has waiting for them in their broken dreams. Cristy loves people, but is a homebody who writes from her kitchen table in the middle of rural Virginia.