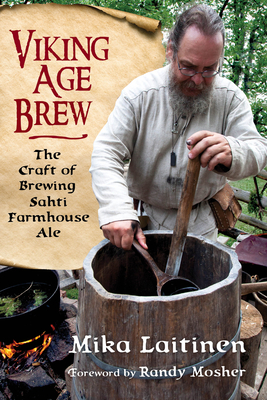 Viking Age Brew
The Craft of Brewing Sahti Farmhouse Ale
Paperback

* Individual store prices may vary.
Description
Bringing beer history to life, Viking Age Brew takes readers on a lavishly illustrated tour of rustic brewhouses fueled by wood and passion. Sahti is a Nordic farmhouse ale that is still crafted in accordance with ancient traditions dating back to the Viking Age. It is often thought of as an oddity among beer styles, but this book demonstrates that a thousand years ago such ales were the norm in northern Europe, before the modern-style hopped beer we drink today reached the masses. Viking Age Brew is the first English-language book to describe the tradition, history, and hands-on brewing of this ale. Whether you are a brewing novice or an experienced brewer, this book will unlock the doors to brewing ancient ales from medieval times and the Viking Age.
 
Praise For Viking Age Brew: The Craft of Brewing Sahti Farmhouse Ale…
"An invaluable resource. . . . Mika Laitinen's exhaustive research and experimentation has resulted in a fascinating, highly readable, and eminently
accessible guidebook for brewing like a Viking." —Jereme Zimmerman, author of Make Mead Like a Viking and Brew Beer Like a Yeti

"Just when you think the canon of beer literature cannot grow any richer, a book like Mika Laitinen's comes along. This is a fascinating and substantive account of a typically overlooked corner of the brewing universe, and is sure to stand as the definitive word on traditional farmhouse ales for quite some time." —Tom Acitelli, author of The Audacity of Hops
Chicago Review Press, 9781641600477, 240pp.
Publication Date: June 4, 2019
About the Author
Mika Laitinen lives, writes, and brews in Finland, just a stone's throw from the traditional sahti heartland, where traditional farmhouse ale culture still thrives. His articles on sahti have appeared in several beer magazines, including Brew Your Own and Zymurgy, and he writes about local Nordic beer culture on his website Brewing Nordic (www.brewingnordic.com). Randy Mosher is the author of Tasting Beer, Radical Brewing, Mastering Homebrew, A Beer for All Seasons, and The Brewer's Companion. He lives in Chicago, Illinois.