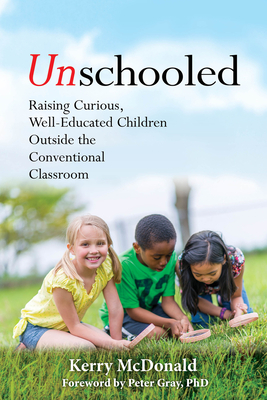 Unschooled
Raising Curious, Well-Educated Children Outside the Conventional Classroom
Paperback

* Individual store prices may vary.
Other Editions of This Title:
Digital Audiobook (6/24/2019)
Digital Audiobook (5/6/2019)
Compact Disc (6/25/2019)
MP3 CD (6/25/2019)
Description
Education has become synonymous with schooling, but it doesn't have to be. As schooling becomes increasingly standardized and test driven, occupying more of childhood than ever before, parents and educators are questioning the role of schooling in society. Many are now exploring and creating alternatives. In a compelling narrative that introduces historical and contemporary research on self-directed education, Unschooled also spotlights how a diverse group of individuals and organizations are evolving an old schooling model of education. These innovators challenge the myth that children need to be taught in order to learn. They are parents who saw firsthand how schooling can dull children's natural curiosity and exuberance and others who decided early on to enable their children to learn without school. Educators who left public school classrooms discuss launching self-directed learning centers to allow young people's innate learning instincts to flourish, and entrepreneurs explore their disillusionment with the teach-and-test approach of traditional schooling.
Praise For Unschooled: Raising Curious, Well-Educated Children Outside the Conventional Classroom…
"Kerry McDonald is leagues ahead of the rest of the education reform community. This book demonstrates why. McDonald's robust evidence of high-quality education without schooling forces us to consider something that makes everyone feel very uncomfortable: our system of compulsory schooling may do more harm than good." —Corey DeAngelis, author of Doing More with Less and The School Choice Voucher

"This book is a reassuring read that not only delves into the history of unschooling, but also practical advice on how it can be implemented." —Book Riot

"Kerry McDonald's Unschooled is a remarkable overview of the growing grassroots movement away from institutionalized education and toward self-directed learning in our homes and communities." —Patrick Farenga, author of Teach Your Own and publisher of Growing Without Schooling magazine and www.HoltGWS.com
 

"Whether you're currently unschooling, curious about unschooling, or simply know that something's not right with the institutionalized educational model, Kerry McDonald's Unschooled is an invaluable resource. To read it is to realize just how rich education can be." —Ben Hewitt, author of Home Grown
 

"This well-researched, inspiring book clearly demonstrates that self-directed education supports each person's innate curiosity and drive to learn. While the form it takes is unique to the individual, experience shows it typically fosters confidence, community engagement, and an abiding love of learning. Hope is right here in these pages." —Laura Grace Weldon, author of Free Range Learning
 

"Unschooled manages to offer everything: a coherent history lesson, fascinating profiles, an explanation of how self-directed learning works, and an overview of innovative programs, all delivered in a lively, encouraging voice." —Grace Llewellyn, author of The Teenage Liberation Handbook and Guerrilla Learning
 

"This book makes a compelling case for giving kids back their brains, time, curiosity, drive—and joy!" —Lenore Skenazy, president of Let Grow and founder of Free-Range Kids 
 

"Unschooled is a wonderful book, enviably balanced between rock-solid data and warm-hearted stories about real families and real young people who have flourished outside our country's factory-inspired school systems. It's not the first book to see how bright and interesting the world can be outside the soiled—and, these days, often barred—windows of America's schools, but it's fresh, convincing, and clearly written." —Robert Epstein, PhD, senior research psychologist, American Institute for Behavioral Research and Technology, and author of Teen 2.0: Saving Our Children and Families from the Torment of Adolescence

"There's benefit for almost anyone in America reading this…Unschooled is easily one of the best books I've read this decade." --Titus 2 Homemaker

"An impressively informative, thoughtful and thought-provoking study." --Midwest Book Review

"A fascinating read, filled with insights." --Reason Podcast on Reason Online
Chicago Review Press, 9781641600637, 288pp.
Publication Date: May 7, 2019
About the Author
Kerry McDonald is an education policy writer whose articles have appeared in Forbes, Newsweek, NPR, Reason, Education Next, City Journal, and Natural Mother and Green Child magazines, among others. She has a BA in economics from Bowdoin College, a master's degree in education from Harvard University and is a board member at the Alliance for Self-Directed Education. The mother of four never-been-schooled children, McDonald lives in Cambridge, Massachusetts and blogs at WholeFamilyLearning.com. Peter Gray, PhD, is a research professor in Boston College's Department of Psychology.