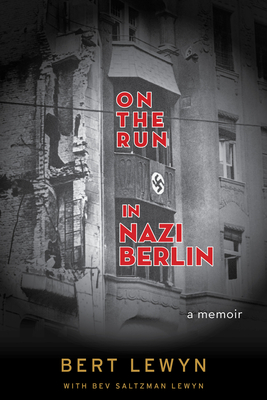 On the Run in Nazi Berlin
A Memoir
Paperback

* Individual store prices may vary.
Other Editions of This Title:
MP3 CD (6/11/2019)
Description
BERLIN, 1942. The Gestapo arrest eighteen-year-old Bert Lewyn and his parents, sending the latter to their deaths and Bert to work in a factory making guns for the Nazi war effort. Miraculously tipped off the morning the Gestapo round up all the Jews who work in the factories, Bert goes underground. He finds shelter sometimes with compassionate civilians, sometimes with people who find his skills useful and sometimes in the cellars of bombed-out buildings. Without proper identity papers, he survives as a hunted Jew in the flames and terror of Nazi Berlin in part by successfully mimicking non-Jews, even masquerading as an SS officer. But the Gestapo are hot on his trail…

Before World War II, 160,000 Jews lived in Berlin. By 1945, only 3,000 remained alive. Bert was one of the few, and his thrilling memoir—from witnessing the famous 1933 book burning to the aftermath of the war in a displaced persons camp—offers an unparalleled depiction of the life of a runaway Jew caught in the heart of the Nazi empire.
 
Praise For On the Run in Nazi Berlin: A Memoir…
"On the Run in Nazi Berlin should be mandatory reading: a memoir that reads like a thriller, full of suspense, horror, humor, and the unquenchable determination to survive. An important contribution to the literature that reminds us: never forget." — Jenna Blum, Bestselling author of Those Who Save Us and The Lost Family

"[Offers] extraordinary insight... Well-written, readable, and honest, the eyewitness story is enhanced throughout by photographs and documents. This story of this Jewish family touched my heart, and I highly recommend this memoir."— Denise George, Coauthor of The Lost Eleven and Behind Nazi Lines

"a grim and gripping story of survival in a most egregious time." --Kirkus Reviews
Chicago Review Press, 9781641601108, 400pp.
Publication Date: March 5, 2019
About the Author
Bert Lewyn (1923–2016) was born Dagobert Lewin in Berlin. He emigrated to the United States in 1949 and settled in Atlanta, Georgia. He Americanized his name and started a family. His daughter-in-law, Bev Saltzman Lewyn, who worked as a researcher for CNN, persuaded him to tell his story; together they made shocking discoveries about his history through assiduous investigation.
1. The Gestapo arrested Bert and his family, sending the latter to their deaths but Bert to work in a factory. Why do you think Bert's life was spared?
2. What was the Kusitzky family risking by letting Bert hide in their home?
3. At one-point Bert calls himself a "Flying Dutchman." What implications does that term have?
4. Bert mentions luck and fortune playing a big role in survival. In Chapter 22, Bert says, "Once again, fortune has favored us to an almost miraculous degree." In what ways was fortune favoring Bert throughout the book?
5. Why do you think Bert stayed in Berlin during WWII instead of hiding elsewhere? Was it riskier to stay in or leave Germany?
6. To survive the war, Bert did several crazy things: held onto the top of a moving train, posed as an SS officer, stole cars from the gestapo, fashioned a key out of a piece of lead pipe, etc. How is this different or like other books you've read about the Holocaust?
7. Unlike other Holocaust narratives, Bert was never in a concentration camp, nor was he hidden in one place. Does his story change your perceptions about what life was like living in the capitol of Berlin?
8. While researching for his memoir, Bert was stunned to find that he was legally married to Ilse, and only remembered posing as husband and wife. Why and how do you think he forgot such an important event?
9. After arriving in the United States after the war, Bert changes his name from Dagobert to Bert. Why did he do this? Do you think this change was necessary? Why or why not?
10. Did the images and photographs in the book enhance your understanding of the war? Why or why not?