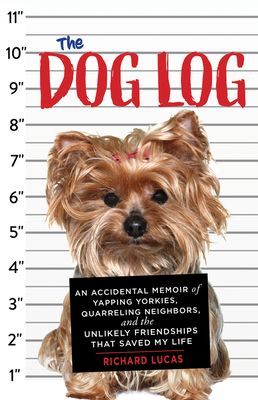 The Dog Log
An Accidental Memoir of Yapping Yorkies, Quarreling Neighbors, and the Unlikely Friendships That Saved My Life
Paperback

* Individual store prices may vary.
Description
The Dog Log, written as a daily notation to the sheriff's department, begins as a simple complaint about a barking dog, but it soon becomes a powerful self-exploration and confessional. It's a touching, hilarious, and cleverly sneaky memoir of a man in Los Angeles who rediscovers himself when his elderly neighbor falls and he must reluctantly tend to her two badly behaved Yorkshire terriers. What he discovers in her apartment shocks him into a surprising decision, and by addressing her problems, he inadvertently resolves his own. With humor and honesty, The Dog Log looks into big-city loneliness, heartbreak, and old age, but then climbs into the light. When one man knocks on his neighbor's door, and his life changes forever. 
Praise For The Dog Log: An Accidental Memoir of Yapping Yorkies, Quarreling Neighbors, and the Unlikely Friendships That Saved My Life…
"Compelling and original . . . A strange, sideways journey into human contact." —Madeleine Smithberg, cocreator/executive producer of The Daily Show

 

"Unpretentious and real, this soulful confessional is a welcome departure from the tired cynicism of hipster culture....as nourishing as it is entertaining." —David Robertson, cinematographer, writer and director

"If Dostoyevsky lived in Los Angeles—and had a sense of humor—Notes from the Underground might have turned out a lot like The Dog Log. Deep, funny and beautifully written, this semi-fictionalized memoir is an antidote to modern urban alienation." —Greg Miller, cocreator and founding producer of Un-Cabaret, author of How to Be a Writer Who Writes and Miller's Compendium of Timeless Tools for the Modern Writer
 

"A quick read with a happy-for-now ending." --Booklist

"'Mirth is the mail of anguish,' said Emily Dickinson, and many classic American humorists have agreed. In The Dog Log, Richard Lucas spins a yarn that's both funny and sad, yet happily engaging. After piloting steamboats, Mark Twain did stand-up comedy and became an author. He might be smiling benignly as in today's Tinseltown this modern storyteller cleverly navigates the shoals of friendship and romance, bureaucracy and metaphysics, showbiz and sanitation—all with a cargo of kibble." —Michael West, PhD, author of Transcendental Wordplay: America's Romantic Punsters and the Search for the Language of Nature

"Richard is a master storyteller. . . The Dog Log is such a clever conceit, and, beyond funny, it's an awakening – humbling, personal and profound. Watching him tell his story to audiences and read from The Dog Log has been both exciting and inspiring. And even better, now it can be a proper book for everyone to enjoy." —Michael Patrick Duggan, executive director of LA Story Works and the Los Angeles Storytelling Festival

"The first book to have brought a tear to my eye in years. . . Funny, poignant and clever—a veritable reinvention of the modern love story which reveals unexpected corners to find love in a modern age." —Rusty Lemorande, Producer and Golden Globe winner, Yentl; supervising producer, Caddyshack

"As both a psychotherapist and a reader, I was enthralled by The Dog Log. . . It is exceedingly rare to find a book that expresses such depth of feeling from the male point of view. I hope that everyone in the counseling and other helping professions takes the opportunity to benefit from the window of insight that Lucas's wonderful book provides into the complexity of relationships, both with other humans and with our four-legged friends." —Dr. Ilene Krems, DPM, MFT, licensed marriage and family therapist
Chicago Review Press, 9781641601184, 240pp.
Publication Date: September 3, 2019
About the Author
Richard Lucas is an award-winning writer and comedian whose latest play, Bono and The Edge Waiting for Godomino's, was included in a Best of Los Angeles Theatre 2017 list. Richard has many years in stand-up, storytelling, stage, and screen. Visit him at www.RichardLucasComedy.com.
or
Not Currently Available for Direct Purchase