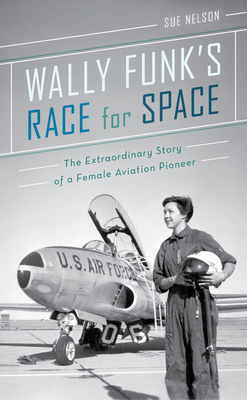 Wally Funk's Race for Space
The Extraordinary Story of a Female Aviation Pioneer
Hardcover

* Individual store prices may vary.
Other Editions of This Title:
MP3 CD (2/12/2019)
Description
Wally Funk was among the Mercury 13, the first group of American pilots to complete NASA's 1961 Women in Space program. Funk breezed through the rigorous physical and mental tests, her scores beating those of many of the male candidates—even John Glenn. Just one week before Funk was to enter the final phase of training, the entire program was abruptly cancelled. Politics and prejudice meant that none of the more-than-qualified women ever went to space. Undeterred, Funk went on to become one of America's first female aviation inspectors and civilian flight instructors, though her dream of being an astronaut never dimmed.
            In this offbeat odyssey, journalist and fellow space buff Sue Nelson travels with Wally Funk, approaching her 80th birthday, as she races to make her giant leap. Covering their travels across the United States and Europe—taking in NASA's mission control in Houston and Spaceport America in New Mexico, where Funk's ride to space awaits—this is a uniquely intimate and entertaining portrait of a true aviation trailblazer.
Praise For Wally Funk's Race for Space: The Extraordinary Story of a Female Aviation Pioneer…
"Wally Funk's Story is a textbook study in indefatigable, american, can-do spirit."— Guardian

"An extraordinary, quirky book... A global Thelma and Louise–style adventure... It's a great story, and it throws fascinating light on the story of female space travel." — Daily Mail Book of the Week

"Inspiring... I am in great admiration of Wally Funk who showed tremendous courage and determination at a time when the world of space flight was dominated by men." —Jan Wörner, Director General of the European Space Agency

"An absolute joy... Beautifully told by one of the world's foremost space journalists, this fascinating portrait puts the story of women in space front and center." —Dallas Campbell, author of Ad Astra

"A wonderful, vivid portrait of Wally Funk that explores the crucial part women have played in space exploration." —Libby Jackson, author of A Galaxy of Her Own

"Wally Funk's character leaps off the page... fantastic and so inspirational." —Naga Munchetty, BBC Breakfast

"Funk is accomplished, charismatic, and energetic, and readers will be glad they got to spend time with her and Nelson via this well-written, entertaining book." --Publishers Weekly

"utterly charming...Funk is undeniably an American original, and Nelson's wry style suits her subject perfectly."
--Booklist

"a very entertaining new book." --Space Facts Wax

"This book leaves readers hopeful that Funk will at long last have a chance to slip the surly bonds of Earth" --Pasatiempo
Chicago Review Press, 9781641601306, 256pp.
Publication Date: March 5, 2019
About the Author
Sue Nelson is an award-winning science journalist and broadcaster. A former BBC TV science and environment correspondent, Nelson also was editor of The Biologist and currently makes short films on space missions for the European Space Agency. She received a New York Festivals International Radio Program award (2017) for her documentary about the history of women in space, called Women with the Right Stuff, that was made with Wally Funk.
1. The women in the Mercury 13 women in space program sacrificed a lot to join the program. Many of them lost jobs, husbands, and even received hate mail just for attempting to literally reach the same heights as men. What do you think encouraged them to continue despite all obstacles, and what helped them, particularly Wally, cope with the devastating end of their dreams of becoming astronauts?
2. When Wally first read about Geraldyn 'Jerrie' Cobb, her "achievement ignited a flame within Wally that remains alight today" (14). Describe the unique importance of role models for women, both in this story, and in general?
3. Wally is described by a lot of people in a lot of ways: overbearing, talkative, determined, etc. Her strong personality is one that feels both unique and familiar. What aspect of Wally's personality were you most drawn to, or not? How do you think that impacted your opinions on Wally's race for space, and you opinion on the fight for gender equality everywhere?
4. One particularly endearing aspect of the book is the development of Sue and Wally's professional relationship into a supportive friendship. How did the particular qualities (British/American cultures, ages, experiences, etc.) of each woman help or hinder their friendship throughout the years?
5. Many famous astronauts and influential figures are depicted in this story, including John Glenn and Valentina Tereshkova, in ways that are not often shared in the media. What stories and facts surprised you about these important figures? How did they change your perception about them and about the space age in general?
6. Dr. Robert Richards describes his Space Age generation as "orphans of Apollo" (86). How did the thrilling Apollo mission years followed by its disappointing end affect both Robert and Wally's generations? How did it specifically affect women? How did it consequently affect the generations that came after?