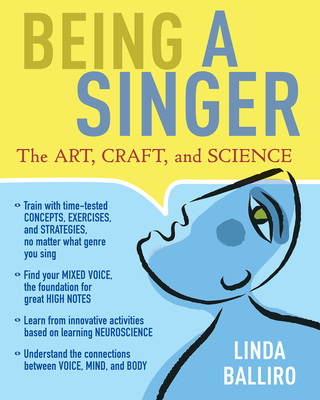 Being a Singer (Paperback)
The Art, Craft, and Science
Chicago Review Press, 9781641602044, 208pp.
Publication Date: November 5, 2019
* Individual store prices may vary.
Description
Being a Singer: The Art, Craft, and Science provides the solutions you need to make practical, consistent changes in your singing. This book pulls back the curtain on how singing actually works, from cognition to anatomy to your amazing hearing system and even your instincts and emotions. Based on the training approach of Seth Riggs, supported by vocal science, neuroscience and motor learning, Being a Singer offers clear tools and strategies that train your voice, empower you to find solutions, build your awareness, and develop confidence. Stories and interviews will inspire you. Exercises with clear how-to's, evaluations, and troubleshooting will train your voice, mind, and body. Exercises are available online.
 
About the Author
Linda Balliro has been nominated for a Grammy as Music Educator of the Year and is highly regarded at the Berklee College of Music. Her clients include nationally touring musicians, local artists, young opera singers, children, and teens. A graduate of the New England Conservatory of Music in vocal performance, she performed as a classical singer and studied for ten years with Seth Riggs, who worked with Prince, Michael Jackson, Stevie Wonder, Madonna, and Barbra Streisand.
Praise For Being a Singer: The Art, Craft, and Science…
"Balliro has created a training manual that is a page turner—I couldn't put it down! I would love to learn how to sing and Linda's book made it seem plausible even for me. I'm thrilled to recommend Being a Singer for anyone who wants to understand singing, how it works, and why we do it. This vocal training is the best in the industry." —Marilyn R. Atlas, Talent and Literary Manager and Producer, and coauthor of Dating Your Character
"Being a Singer provides a refreshing insight into the importance of a singer's ability to find their own voice. The book provides a logical approach that guides singers in the direction of optimal vocal performance. When talking to patients with voice disorders, I will utilize examples from the 'chart your experience' exercises." —James Burns, MD FACS, Associate Professor of Laryngeal Surgery, Massachusetts General Hospital, Harvard Medical School