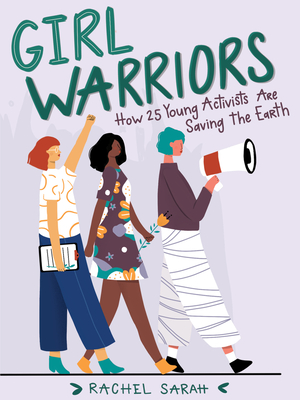 Girl Warriors
How 25 Young Activists Are Saving the Earth
Paperback

* Individual store prices may vary.
Description
"It gives me true hope to read about the phenomenal young women of Girl Warriors. Their fierce commitment to the future of our precious planet is as inspiring as it is vital." —Kate Schatz, New York Times bestselling author of Rad American Women A-Z and Rad Women Worldwide 
2021 Skipping Stones Honors Book in Nature and Ecology

Girl Warriors: How 25 Young Activists Are Saving the Earth tells the stories of 25 climate leaders under age 25. They've led hundreds of thousands of people in climate strikes, founded non-profits, given TED talks, and sued their governments. These young eco-activists present a hopeful picture of the future of environmentalism   
These fearless girls and young women from all over the world are standing up to demand change when no one else is. 
Praise For Girl Warriors: How 25 Young Activists Are Saving the Earth…
"A powerful collection of hopeful, diverse, and fearless voices that ignites readers to dream loud, think big, take action, and make change." —Mae Respicio, award-winning author of The House That Lou Built 
"This collection spotlighting the fierce and fearless leadership of 25 junior climate activists will inspire humans of all ages to rise up for a better world." 
—Rebecca Woolf, author of 
Rockabye: From Wild to Child 
"Girl Warriors is a wonderful introduction to fierce, creative, and compassionate activists from all over the world. If you're already on the eco-justice path, get ready to be energized. If you've wondered how to start advocating for a thriving future, get ready to be inspired and empowered." —Mary DeMocker, author of The Parents' Guide to Climate Revolution 
"With courage, struggle, and triumph, these 25 fearless girls and women aren't just telling their own stories. They're telling the story of a world that was always possible and is now bursting into being. The message in Rachel Sarah's book is clear: You, yes you, have a story worth telling and it is revolutionary."
—​Eric Holthaus, author of
The Future Earth
"This book would make a fantastic addition to any library, especially a middle school one."
—Sandra,
Goodreads
"A highly relevant and timely look at young women fighting to make a difference around the world. This compilation of short bios of environmental activists makes for a quick and inspiring read. And as a dad, I just love books like this that show how ordinary kids can have a voice and truly impact their communities and beyond."
 —Sam,
Goodreads
"This is the perfect read for any young girl who wants to learn about other fearless young women who are trying to make a change in the world."
 —Ashley,
Goodreads
"Engaging, brilliant, and intersectional: a must for shelves everywhere." —
Kirkus Reviews
, starred review
"This collective biography will resonate with and empower readers passionate about climate action." —
Booklist
Chicago Review Press, 9781641603713, 128pp.
Publication Date: April 6, 2021
About the Author
Rachel Sarah is a writer and journalist in the San Francisco Bay Area. Her writing has been published in places like the Washington Post, New York Times, Parents, and Common Sense Media. She has appeared on The Today Show, CNN, ABC, and CBS news. She has spoken to audiences at the JCC, UC Berkeley, and the Commonwealth Club. Rachel is one of the founding editors of Literary Mama and has worked to support other women writers. She shifted the focus of her writing to the climate during the devastating California wildfires of 2018. She's also the mother of two incredible daughters who are twelve years apart. Visit her online at RachelSarah.com.