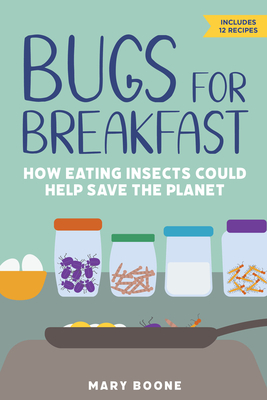 Bugs for Breakfast
How Eating Insects Could Help Save the Planet
Paperback

* Individual store prices may vary.
Description
Most North Americans would rather squish a bug than eat it.

But mopane worms are a tasty snack in Zimbabwe, baby bees are eaten right out of the can in Japan, and grasshopper tacos are popular in Mexico. More than one-fourth of the world's population eats insects—a practice called entomophagy. Bugs for Breakfast helps middle-grade readers understand the role insects fill in feeding people around the world.
 
Readers will be introduced to the insect specialties and traditions around the globe. They'll discover how nutritious bugs can be and why dining on insects is more environmentally friendly than eating traditional protein sources. Kids will see how making small changes in their own diets could help ensure no one goes hungry. It even includes 13 insect recipes!
 
No doubt about it: teachers, librarians, and parents are hungry for books that entice young readers to be active participants in science.

Bugs for Breakfast may not completely remove the yuck-factor from the notion of eating bugs, but it will open young readers' minds to what is happening in the world around them.
Praise For Bugs for Breakfast: How Eating Insects Could Help Save the Planet…
"An excellent bug-ginner's guide to the world of entomophagy. Young readers will learn something new on every page." —Daniella Martin, author of Edible: An Adventure into the World of Eating Insects and the Last Great Hope to Save the Planet

"Mary Boone's Bugs for Breakfast offers a fun and fascinating history of entomophagy, including the current global thought evolution happening around ways—and reasons why—to increase humans' use of insects as a food source. Young readers will gleefully cringe at the cavalcade of 'icky' facts and be inspired to not only spread the word about the benefits of eating bugs but also to experiment with doing so at home. This book will appeal to kids interested in world history, animals, fun facts, food and cooking, sustainability, climate change, and activism." —Lisa L. Owens, author of The Life Cycle of a Ladybug 
 

"Bugs for Breakfast is a f-ANT-astic blend of fun and facts that will inspire readers to not only #EatBugs but also think about how humans live on the planet and what improvements we can make for ourselves and others around the world. This is a comprehensive yet accessible resource that includes recipes, a guide to raising crickets at home, and even science fair project ideas. Bugs for Breakfast is a tasty treat that goes well with everything from French flies to maggot-aroni and cheese to bee-ritoes. Bug appetit!" —Rebecca Petruck, author of Boy Bites Bug

"Bugtastic! This delectably comprehensive book is perfect for curious kids and adults. Full of history, environmental facts, recipes and even projects for kids, the reader will dive into the world of entomophagy and come away with a new outlook on what we see as food." —Ginny Mitchell, education program coordinator, Insect Zoo, Iowa State University 
 

"Bugs for Breakfast is the book I wish I had when I first started working with edible insects—it's incredibly informative, entertaining, and quite simply delicious! While targeting a younger audience, this will still be the book that I recommend anyone interested in entomophagy read immediately." —Chef Joseph Yoon, Brooklyn Bugs 
 

"Mary Boone weaves a smart and convincing case for trying something a little different in our daily lives. From her very first words right to the end, I was both captivated and entertained, and with each chapter I couldn't wait to find out what I would learn. I highly recommend Bugs for Breakfast." —Dana L. Church, author of The Beekeepers 
 

 "Mary Boone's Bugs for Breakfast sparks curiosity and delights bug lovers of all ages in this well-researched and engaging book about edible insects. Readers will rethink squashing bugs and consider the ways insects as a food source can change our world." —Annette Whipple, author of Scurry! The Truth About Spiders 

"Young readers will gobble up this fascinating and informative book on entomophagy, the practice of eating insects. With thorough research and friendly prose, Boone makes the case for living lighter on the planet and feeding a growing world by including insects in the modern diet. Then she provides recipes and a DIY cricket-growing manual. Short, accessible, fact-filled chapters provide examples of dining on bugs in much of the world throughout human history as well as detail the benefits and challenges of farming insects over other livestock. Want to conserve water, reduce carbon emissions, and feed an ever-growing human population? Then go for, Bugs for Breakfast." —Mary Kay Carson, author of Wildlife Ranger Action Guide 
 

"Bugs for Breakfast is at once a cookbook, a world tour of cultures, and an environmental exposé. Farts, feces, the Earth's future—Boone isn't afraid to go there. Middle-grade readers with a passion for saving the planet will gladly follow her through the ew and awesome of an eco-trend coming to a plate near you!" —Heather L. Montgomery, author of Bugs Don't Hug
Chicago Review Press, 9781641605380, 208pp.
Publication Date: October 19, 2021
About the Author
Mary Boone has ridden an elephant, jumped out of an airplane, and baked dozens of cricket cookies—all in the interest of research for her books and magazine articles. She's written more than 50 nonfiction books for young readers, ranging from inventor biographers to how-to craft guides. Mary grew up on a farm in Iowa and spent many years writing and editing for daily newspapers. She now lives in Tacoma, Washington.