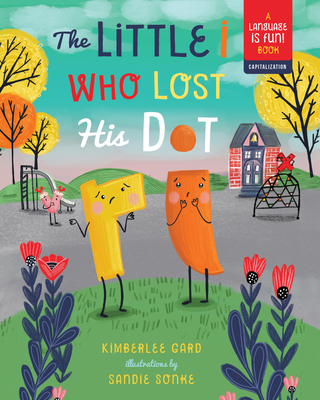 The Little i Who Lost His Dot (Language is Fun! #1)
Hardcover

* Individual store prices may vary.
Description
Little i can't wait to meet his friends at school, but there's just one problem: he can't find his dot anywhere? Each letter offers a replacement—an acorn from Little a, a balloon from Little b, a clock from Little c—but nothing seems quite right. Adorable illustrations teach alphabet letters and sounds with a surprising and satisfying ending to Little i's search.
Praise For The Little i Who Lost His Dot (Language is Fun! #1)…
"With many alphabet books in circulation, it takes originality and creativity to make another A,B,C book stand out; finding a book like The Little i Who Lost His Dot is like finding the sweet blueberry in the mix of the bland"
—Tulsa Book Review
"As the title indicates, a missing dot becomes the device for a whimsical alphabetic romp. It's the last day of Alphabet School, and Little i hops out of bed to join his friends. But something is amiss. 'Little g gasped, Little p pointed, and Little s stared.' They ask, 'Where is your dot?' Little i hadn't noticed it was missing! All of the letters offer to help find it, bringing him vaguely dotlike objects and using verbs that correspond with their names. 'Little b burst forward with a balloon,' and 'Little d dashed over with a donut.' Little i is offered variously an egg, a gumball, a kiwi, an oyster shell, and more. Cartoonish illustrations present simple letter shapes with pipestem arms and legs, dots for eyes, and small lines for eyebrows and mouths to lend them character; they are a colorful bunch, popping against the mostly white background. While the conceit allows for fairly graceful treatment of Q ("Little q questioned, 'How about this quarter?'") and Z ('Little z, always last, zoomed over with a zero'), all Little x has to offer is a 'xylophone mallet.' The ending is a clever solution with a twist: Little i left his dot on his pillow—but Capital I, his father, thinks maybe he's big enough to do without anyway. Kids will giggle in delight as they make their own suggestions for dot replacements. (Picture book. 4-8)"
—Kirkus Reviews
Familius, 9781641700160, 32pp.
Publication Date: September 1, 2018
About the Author
Kimberlee is an award-winning and best-selling children's author of multiple picture books. She lives on a small farm in Colorado with her husband, sons, and a gaggle of barnyard friends. You can visit her at www.kimberleegard.com.
Sandie is an illustrator living in Rancho Cucamonga, California. She graduated with a BA in Studio Art from Cal State University—Fullerton in 2010. Wearer of many hats, Sandie is a freelance illustrator, wife, and mom to two inspirational souls. When she is not drawing, you can find her playing Legos with her kids or sipping coffee with her husband.