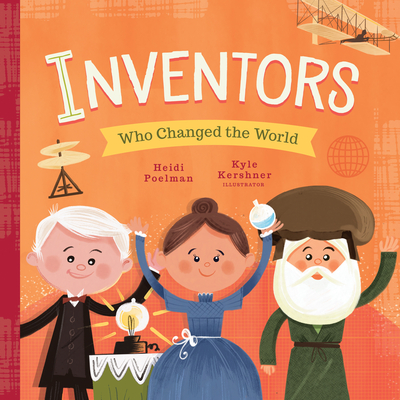 Inventors Who Changed the World (Little Heroes #2) (Board book)
Familius, 9781641700351, 20pp.
Publication Date: October 1, 2018
* Individual store prices may vary.
Description
From the ranging curiosity of Leonardo da Vinci to the dedication and sacrifice of Marie Curie, Inventors Who Changed the World is a young child's first introduction to the brilliant people who taught us the meaning of perseverance and innovation. Simple text and adorable illustrations tell the contributions of nine renowned inventors from around the world: Cai Lun, Leonardo da Vinci, Marie Curie, Thomas Edison, Orville and Wilbur Wright, Grace Hopper, Johannes Gutenberg, and Louis Pasteur. Inspire your own little inventor with the words of these inventive heroes who changed the world.
About the Author
Heidi Poelman received her degrees in communication from Brigham Young University (BA) and Wake Forest University (MA). Heidi is the author of the Little Heroes series, Jesus Worked Miracles, A is for Abinadi, A is for Adam, I Can Love Like Jesus, The Two-Minute Secret to Staying in Love, and A Mother's Greatest Gift. She particularly enjoys wirting about inspiring people and ways to strengthen families. She seeks inspiration by seeing new places, playing outdoors, and getting lost in a good book. Heidi and her husband, Scott, live in Utah with their four bright-eyed children. Learn more at www.heidipoelman.com
Kyle Kershner has loved drawing since he was a tot. He graduated from the Savannah College of Art and Design with a BFA in sequential art. He spends his days doing what he loves most: illustrating children's books and making kid-friendly art. Kyle resides in Northeast Ohio with his wife and son.