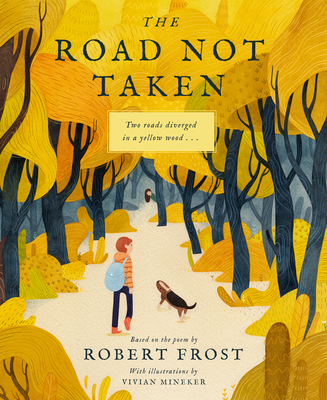 The Road Not Taken (Hardcover)
Familius, 9781641701075, 32pp.
Publication Date: March 1, 2019
Other Editions of This Title:
Hardcover (10/22/2019)
Paperback (6/4/2010)
Paperback (4/1/2002)
Prebound (4/1/2002)
Paperback (7/1/1985)
Hardcover (8/1/1957)
* Individual store prices may vary.
Description
For all of life's adventures comes The Road Not Taken, which The New York Times Book Review calls "a book that begs rereading'".
This beautifully illustrated companion is inspired by Robert Frost's perennial poem. Heartwarming illustrations of a young boy journeying through a yellow wood accompany the original text of the poem. When a fork in the road arises for the boy, so too does the first of life's many choices. And as the poem progresses, so does the boy's life: college, career, marriage, family, loss, and, by journey's end, the sweet satisfaction of a life fully lived. The first children's book ever made of Frost's famous poem, this moving presentation makes an inspiring gift for graduation, marriage, career moves, and all of life's exciting roads. 
About the Author
Robert Frost is one of America's most beloved poets. Born in 1874 in San Francisco, California, he spent most of his life in rural New England. His poems frequently drew on his rural surroundings to teach deeper principles on life. Some of his most famous poems include "Mending Wall," "Birches," "Stopping by Woods on a Snowy Evening," and "The Road Not Taken" featured in this book. By his passing in 1963, Frost had been awarded four Pulitzer Prizes for poetry, received the Congressional Gold Medal, and been nominated thirty-one times for the Nobel Prize in Literature.
Vivian Mineker is a Taiwanese American from Taipei and Portland, OR, currently living in Slovenia. She works as a freelance illustrator. Her style is a bit quirky, fun, and sweet, with a modern feel. Her process usually starts with watercolor and colored pencils and finishes on the computer for fine details and adjustments. She's always loved to draw and make up stories and characters, so it's been a wonderful journey getting to the place where she is now!
Praise For The Road Not Taken…
"An impressive treetop view shows boy and beagle confronting the diverging path, emphasizing the magnitude of choice... A favorite Frost poem reveals how serendipitous choice affects a lifetime. (Picture book. 4-8)" 
- Kirkus Reviews
"THE ROAD NOT TAKEN... with illustrations by Vivian Mineker, does a wonderful job of reintroducing a well-known poem without altering a single word...This is a book that begs rereading."
- Laurel Snyder, The New York Times 
Golden, autumnal shades by Mineker mark Frost's archetypal "wood," as a red-haired child with a canine companion walks toward two roads that diverge. Seen from high above, the child resembles an abstract shape faced with the choice between two distinct paths. The boy's choice leads to pivotal life moments: in one series of images, he grows older as he plays with tinker toys, then holds a book of architecture, then graduates from school. On another spread, chasing his still-spry dog leads him to meet his life partner, which lead to children, grandchildren, and old age. Mineker captures the poignancy and weight of Frost's most well-known poem while delivering an accessible story of choices and personal journeys to young readers. Ages 5–8. (Mar.)
Publishers Weekly