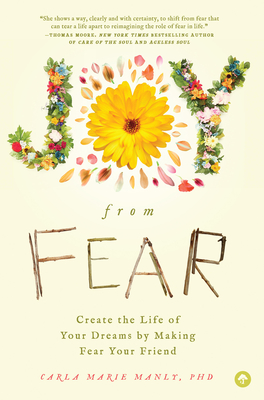 Joy from Fear (Paperback)
Create the Life of Your Dreams by Making Fear Your Friend
Familius, 9781641701211, 350pp.
Publication Date: April 1, 2019
* Individual store prices may vary.
Description
If you find yourself running away from fear, you're running in the wrong direction. Fear demands that we move toward it, face it, and hear its messages. When we fail to do this, the price is high—chronic anxiety, sleeplessness, damaged relationships, skyrocketing pharmaceutical use, and more. In her enlightening book Joy from Fear, clinical psychologist Dr. Carla Marie Manly explains that fear is not the enemy we thought it was; fear, when faced with awareness, is the powerful ally and best friend we all need.
Dr. Manly's work is firmly based in science but goes far beyond presenting the dry facts. Joy from Fear offers page after page of real-life examples, insights, easy-to-use tools, and life-changing exercises. Coining the term transformational fear, Dr. Manly illuminates the importance of embracing fear's messages for a transformed life filled with freedom and lasting happiness.  
About the Author
Dr. Carla Marie Manly is a practicing clinical psychologist, author, and advocate who makes her home in Santa Rosa, California. Utilizing a mindfulness-based, holistic approach, Dr. Manly focuses on helping others achieve joy and balance from the inside out.
Praise For Joy from Fear: Create the Life of Your Dreams by Making Fear Your Friend…
"Joy from Fear is a tremendously empowering book of reflection and discovery. Dr. Manly's warm, genuine style invites the reader to engage in practices that nurture the joy and fulfillment of living. Joy from Fear shows you how to get more of what you want out of life."
- Michael White, PhD

"Dr. Carla Marie Manly is a unique, genuine, and compassionate writer who reveals her sacred truth to guide the reader into self-discovery, understanding, and self-love. During the journey, she provides sage, thoughtful insights to promote acceptance in honoring all parts of self. Joy from Fear is an incomparable guidebook for those who wish to achieve lasting mental and emotional transformation." 
- Dr. Orchid D. Johnson, PhD, LMFT, LPCC, and Board Certified PTSD Clinician​

"Prior to reading Joy from Fear, I had never thought of fear as a rich invitation to self-discovery and life enrichment. Of course, as a psychologist and psychotherapist, I have helped many clients heal from and conquer their fears. But the concept of "transformational fear" offers a depth of understanding that has been missing. Joy from Fear is such an intriguing and welcome book. Thank you, Dr. Manly, for bringing fear out of the darkness, to its place in the light where it belongs."
- Denise L. Wagner, PsyD, LCSW​