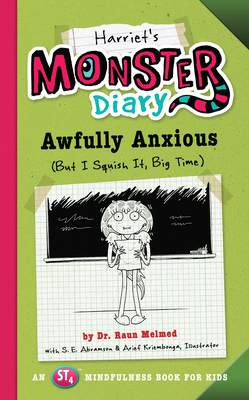 Harriet's Monster Diary
Awfully Anxious (But I Squish It, Big Time) (Monster Diaries #3)
Paperback

* Individual store prices may vary.
Description
Meet Harriet, a lovable monster who is just sick at the thought of giving a report in front of her class! Her heart pounds, her chest gets tight, and her stomach twists in painful knots. She can't even bear to get started on it! What is she going to do?
In the same humorous spirit of Diary of a Wimpy Kid comes Harriet's Monster Diary: Awful Anxiety (But I Squish It, Big Time). Using the "furmometer" and ST4 techniques developed by Dr. Raun Melmed of the Melmed Center in Arizona, Harriet's Monster Diary teaches kids how to monitor how they feel and respond to stressful situations. Harriet's hilarious doodles and diary entries chronicle her delightful adventures, misadventures, and eventual triumph in a funny, relatable way. It's the one book that stressed kids will want to calm down to read!
Harriet's Monster Diary also includes a resource section to help parents and teachers implement Dr. Melmed's methods, plus ST4 reminders that kids can remove, color, and place around the house.
Praise For Harriet's Monster Diary: Awfully Anxious (But I Squish It, Big Time) (Monster Diaries #3)…
"Ari is plagued by catastrophic thinking and nightmares until her friends Marvin and Timmy, each of whom tackled their own troubles in previous Monster Diaries (ADHD and screen addiction, respectively), offer to help her with ST4 strategies, or STOP: Take Time To Think. The book emulates a Diary of a Wimpy Kid design, with lined pages, faux hand-printed typeface, and kidlike line drawings. Helpful backmatter includes a parents' guide with activities for alleviating stress and anxiety in children and instructions on how to use co-author Melmed's ST4 program. A wide array of monster types populates Ari's world. There are clues that Ari's loving family is Jewish: Bobbe (her grandmother) is similar to the Yiddish Bubbe, and Harriet's nickname, "Ari," means lion in Hebrew; immigrant Bobbe is possibly Polish (she makes a lot of borscht, or in their case, roarscht, and pierogis). Readers who experience anxiety will undoubtedly identify with—and hopefully find comfort in—Ari's story. (Fantasy. 7-11)"
-Kirkus Reviews
Familius, 9781641701273, 116pp.
Publication Date: May 1, 2019
About the Author
Raun D. Melmed, MD, FAAP, a developmental and behavioral pediatrician, is the director of the Melmed Center in Scottsdale, Arizona, and co-founder and medical director of the Southwest Autism Research and Resource Center. He is the author of Autism: Early Intervention; Autism and the Extended Family; and a series of books on mindfulness for children: Marvin's Monster Diary: ADHD Attacks, Timmy's Monster Diary: Screen Time Stress, Harriet's Monster Diary: Awfully Anxious, Marvin's Monster Diary 2 (+Lyssa): ADHD Emotion Explosion, Marvin's Monster Diary 3: Trouble with Friends (But I Get By, Big Time!), and the next in the series, and Marvin's Monster Diary 4: Bullying.
S.E. Abramson graduated from Brigham Young University in 2016 with a BA in English. She lives in south-central Pennsylvania with her family. Harriet's Monster Diary is her literary debut. She enjoys writing, video games, and anthroponomastics.
Arief Kriembonga is a children's and comic book illustrator,  a UI/UX and graphic designer, and a single-origin coffee connoisseur who lives with his wife and one beloved daughter in Jakarta, Indonesia.