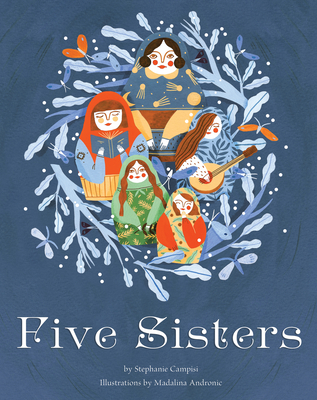 Five Sisters (Hardcover)
Familius, 9781641701570, 32pp.
Publication Date: April 28, 2020
* Individual store prices may vary.
Description
When a great white oak gifts an old man a branch imbued with magic, he carves five wooden matryoshka dolls, "each smaller than the last." The wooden dolls take on a life of their own as they frolic from one season to the next, bringing the old man and his wife a joy they had always longed for. Beautiful verse and stunning, traditional illustrations full of woodland creatures and playfully painted matryoshka dolls explore a tale of heartache, hope, and love.
About the Author
Stephanie Campisi is an Australian author currently living in the US. When not writing picture books, she can be found reading or exploring the woods around her home. Five Sisters is her fourth book. You can visit her at stephaniecampisi.com
Madalina Andronic is a Romanian illustrator currently based in Puglia, Italy, drawing inspiration from traditional fairy tales, folklore, travels, and love stories, never forgetting the magic of where she come from. Passionate about details and rich colors, Madalina's art radiates energy and joy. With an MA in illustration from Camberwell College of Arts in London, she developed a strong and distinctive style and has worked for clients all around the world in publishing, editorial, advertising, commissions, and porcelain, as well as having nine published books in Romania, the UK, and the United States.