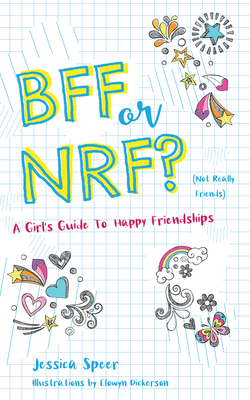 BFF or NRF (Not Really Friends) (Paperback)
A Girl's Guide to True Friendships
Familius, 9781641701952, 144pp.
Publication Date: September 29, 2020
* Individual store prices may vary.
Description
Friendships are tough to navigate, even for adults. The preteen years can be particularly sticky, but we've got your back! Packed with fun quizzes, colorful illustrations, and stories about girls just like you, BFF or NRF (Not Really Friends) is the ultimate interactive guidebook to help you learn the ins and outs of friendship. Explore the topics of gossip, bullying, and feeling left out, along with ways to strengthen the friendships that mean the most to you.
About the Author
Jessica Speer's books and passion focus on two central questions: "How can I help kids and families thrive?" and "What do I wish I'd known when I was a kid?" Her book, BFF or NRF (Not Really Friends), grew out of an innovative program she developed that empowers children with the awareness and skills to develop healthy relationships. When she's not typing away at her computer, Jessica loves visiting schools, libraries and bookstores. She has a master's degree in social sciences and lives in the mountains of Colorado with her husband and two daughters. To learn more about her books, visit www.jessicaspeer.com or search Jessica Speer, Author on Facebook, Pinterest or Instagram.
Elowyn is a Fresno, CA-based illustrator and artist. While she uses any and all media, her specialties are watercolor, gouache, and ink. Her maindrive behind creating is wanting her art to spark joy in people's lives. She tends to create work that focuses on women, nature, and the simple joys in life! She believes life is too short to be serious all the time and believes people should be silly and create things that make the world a better place.
Praise For BFF or NRF (Not Really Friends): A Girl's Guide to True Friendships…
"This book offers an interactive way for girls to understand the confusing world of friendship. Real-life scenarios make the content relatable, and activities encourage self-reflection. Readers gain self and social awareness as well as skills that will help them build healthy relationships."
—Ann-Marie Champion, M.Ed, and Sara Lewis, M.Ed, school counselors

"Many girls struggle with friendship issues in elementary and middle school. This book provides a clear roadmap for girls to successfully navigate difficult friendships while helping them gain social awareness, skills, and confidence in the process."
—Dr. Cherylee E. Hirsch, PsyD, school psychologist

"As a classroom teacher for the past 12 years, I have supported girls with establishing and figuring out how to foster healthy friendships. BFF or NRF (Not Really Friends) touches on all aspects and themes of positive friendships. I recommend this book for ALL girls."
—Aurora Sidell, teacher