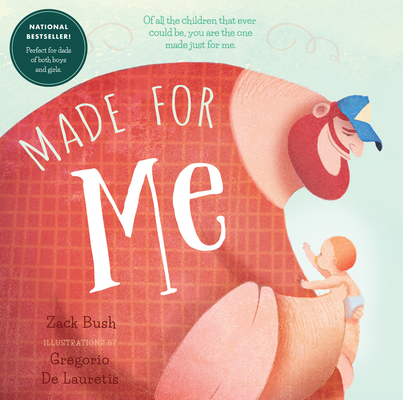 Made for Me
Board book

* Individual store prices may vary.
Other Editions of This Title:
Hardcover (3/1/2018)
Paperback (4/13/2021)
Description
Of all the children that ever could be,
You are the one made just for me.
From a child's first uttered "Dada" to his or her first unsteady steps, nothing can adequately convey the joy and awe of watching the birth and growth of a new child. Now releasing as a board book filled with adorable illustrations and the refrain, "You are the one made just for me," Made for Me is a winning presentation of tender moments that tie a father and his new child together—forever.
Praise For Made for Me…
"This tremendously sweet book will fill every empty space it finds. Love and a sense of belonging flow on every rhythmic word like a cool brook satisfies on a warm summer day. Illustrations by De Lauretis bring this loving father's heart into full vivid view. It's simply delightful. The stamp on the inside cover is a very special touch. (Ages 3-5)"
- Darleen Wohlfeil, Midwest Book Review
"An engaging testament to the joys of new parenthood, the journey from the day baby arrives through the formative first year into toddlerhood is related in sweet rhymes with lots of love and emotion. In refreshing perspective, illustrations show the wee ginger-headed bundle interacting with a bearded, trucker-hat-and-plaid-shirt-wearing giant of a father who carefully prepares bottles, reads stories, and plays on the floor, clearly in awe of his beloved little one."
- Foreword Reviews

"The memorable new father in this endearing rhyming story may be brawny, but he melts at the sight of his baby boy: "Your mouth, your ears, and even your nose,/ your chubby cheeks and your wiggly toes," he coos. In Italian artist De Lauretis's grainy compositions, the father's balloon-shaped bulk lies in comical contrast to the tininess of the infant (a ginger like his dad). The father bottle-feeds the boy, tickles his feet and tummy, and bathes him. As the boy gets a little older, the dad swaps out his baseball cap for a polka-dotted handkerchief: "A trip to the beach set the wheels in motion./ You built a sandcastle, took a dip in the ocean." Bush's easy-reading verse captures the wonder of becoming a parent and the joy to be found in the quiet moments of child care. Ages 1–3. (Mar.)"
- Publishers Weekly​

"A giant hulk of a man describes his emotions as his child captures his heart. "On the day you were born, I beamed with pride. / My eyes filled with tears. I joyfully cried. / From the moment I saw you and called out your name, / the world as I knew it was never the same." The rest of the book proceeds to demonstrate just how thoroughly this tot has their father wrapped around their finger and shows the dad lovingly caring for his growing child's every need: bottles, diapers, soothing, tickling, feeding, bathing, playing, reading, and exploring the world. While the rhyme and rhythm aren't always spot-on and one illustration depicts a crib instead of the cradle referred to in the text, there is no denying the appeal of this father-child pair, as their bond is more than apparent. The dichotomy between the tiny redheaded tot and the giant lumberjack-look-alike dad—red plaid shirt, blue jeans, full red beard and mustache, and tiny head perched atop a round body with tree-trunk forearms—both white, adds to the sweet sentimentality (sometimes slipping into saccharine) of this book. While young children may relish the opportunity to use this as a springboard for hearing about their own babyhoods with their dads, new fathers are just as likely an audience, the sweet refrain—"Of all the children that ever could be, / you are the one made just for me"—tugging at heartstrings. New dads will eat this up. (Picture book. 3-7)" 
- Kirkus Reviews​
Familius, 9781641702003, 20pp.
Publication Date: March 8, 2019
About the Author
When Zack Bush was growing up, he spent his free time listening to jazz. Instead of imagining a career in law or medicine like so many of his classmates, the Miami native knew he would take a different path. Zack learned to play the piano and would speak with family and friends about one day owning a venue that would bring the music he loved to others. Zack is now the owner of Ball & Chain, a historic live-music venue on Miami's famed Calle Ocho, in the heart of Little Havana. Zack and his partners renovated and restored the nearly forgotten gem, famous for hosting 20th-century jazz greats like Chet Baker, Count Basie, and Billie Holiday. Today, musicians from around the world perform live on the Ball & Chain stage.
Zack's other passion is books. A devoted reader and writer, Zack's lifetime desire to become an author has found a refreshed source of inspiration as the father of two-year-old son Ace and baby daughter Ava.
Gregorio De Lauretis studied at the Academy of Art in Florence and graduated in Teramo. Since then he has studied graphic design and web design at Nemo NT Academy of Digital Arts where he awarded a scholarship from the famous character designer Stephen Silver. Gregory works digitally but begins with drawing with ink on paper. He then scans the work on his computer where he exalts the piece with his colors and finishing touches. He currently works as freelance illustrator based in Florence, where he lives. "Imagination is my world. Illustration is my language"