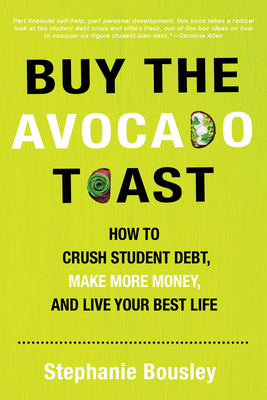 Buy the Avocado Toast
How to Crush Student Debt, Make More Money, and Live Your Best Life
Paperback

* Individual store prices may vary.
Description
What if the solution to student debt was reinvesting in yourself?

Are you a smart, hard-working person who always seems to struggle financially? Do you ever second-guess decisions to pursue higher education because of your student loans? Has extreme budgeting eliminated joy and comfort from life, yet you're still several years away from being debt-free?

Conventional wisdom tells us the formula for success is simple: go to school, get a job, work hard, repeat as needed until you retire. It tells us that debt is the result of poor choices and irresponsible spending. Unfortunately, such advice fails to take into account the recent (and not-so-recent) graduates for whom predatory student lending rates have set them back tens or even hundreds of thousands of dollars before they even enter the job market. 

In Buy the Avocado Toast, Stephanie Bousley shares lessons learned through years of working hard and perpetually undervaluing herself while coming to terms with owing almost $300,000 in student debt. Through a holistic approach to both net worth and self-worth, Bousley offers readers hope for their own financial situations by providing step-by-step instructions on reducing debt, living better, and rooting out the self-defeating beliefs that keep us broke. 
Praise For Buy the Avocado Toast: How to Crush Student Debt, Make More Money, and Live Your Best Life…
"Stephanie's book lies at the heart of a central problem in America—and it's not just financial. Millenials are mired in student debt and can't find well-paid jobs that allow them to pay rent and interest on the loans. This has bred mental health problems and an opioid epidemic among those stuck at home who are 21-29. It suppresses the housing market and taxes our mental health system. Something needs to be done. Steph's book is a great start."
-Paul Schulte, founder of Schulte Research and author of AI & Quantum Computing in Finance & Insurance
"Part financial self-help, part personal development, this book takes a radical look at the student debt crisis and offers fresh, out-of-the box ideas on how to conquer six-figure student loan debt."
- Caroline Allen, author of the award-winning Elemental Journey series: Earth, Air, and Fire


"
This book provides a pathway and great practical approach for many people faced with painful student debt. A true testimonial from someone who has personally lived through this experience."
- Dana Robertson, senior director of pharmaceutical operations (retired), Medtronic


"
Love it. A real book by a real person addressing a real problem in real life. Useful insights on how to have a different perspective on one's real (and perceived) problems. "
- Clint Spurgeon, former CFO of Apple Japan
 "Bousley discusses many aspects of your financial life to make it the best and easiest guide possible. She has lived on both sides of the coin and knows how to lead you in the right direction.
I enjoyed reading Bousley's advice for becoming debt-free quicker, or at least quicker than I would have before learning some new tricks. She includes many tips for making more money, buying a home, finding legitimate side-jobs, and realizing that your debt should not define you. I like that she made this not just about making more money, but also about learning to love yourself through anything and increasing your self-worth. Her advice is realistic and easy to execute."
-Rachel Dehning, Tulsa Book Review
Familius, 9781641702386, 240pp.
Publication Date: March 31, 2020
About the Author
Stephanie Bousley is a millennial who once found herself in over $250,000 of student loan debt. In her new financial self-help book, Buy the Avocado Toast: How to Crush Student Debt, Make More Money, and Live Your Best Life she helps readers find inventive, out-of-the-box ways to improve their finances and self-worth while addressing the real issues causing them to self-sabotage financially.