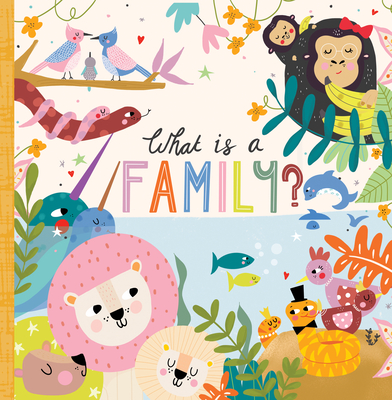 What Is a Family?
Board book

* Individual store prices may vary.
Description
Ants have a colony.
Bats have a cloud.
Chickens have peeps,
where they can get loud.
All the way from A to Z, this colorful alphabet primer celebrates all kinds of diverse families, giving each animal family a name. With dolphins and their pods, iguanas and their messes, and kitties and their litters, it's easy to learn about what makes a family . . . well, a family! Packaged as a well-crafted, sturdy, padded board book, it will stand up to years of exploration. Whether you are teaching the alphabet, animals, different types of families, or celebrating your own unique family, What is a Family is a colorful and fun introduction to the families all around us. 
Families are groups that take care of their own.
They all stick together to help make a home.
Praise For What Is a Family?…

"This sweet and interesting early reader board book echoes of the famed Shakespeare's query. What is in a name? Whether geese are found in gaggles or dolphins in pods, a family by any other name is still as warm and loving! From A to Z, children will learn the many ways family is called to be. (Ages 2-5)"
-Darleen Wohlfeil, Reviewer,Midwest Book Review
Familius, 9781641702447, 20pp.
Publication Date: July 7, 2020
About the Author
Annette Marie Griffin is an award-winning writer who has managed and directed programs for children and youth for more than twenty years. She has written curriculum for character growth and development of elementary-age children, developed parent training seminars to benefit the community, and counseled at-risk youth. Her passion is to help children find home.
She and her husband have five children—three who have already flown the coop and two adopted tweens still roosting at home—two adorable grands who add immeasurable joy and laughter to the whole flock.
Nichola Cowdery is a professional illustrator living in London with her lovely family. Her children's books illustrations and greeting cards are inspired by laughter and cuteness—the quirkier, the better.