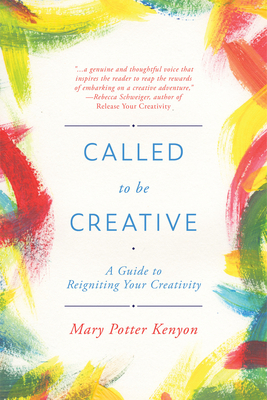 Called to Be Creative
A Guide to Reigniting Your Creativity
Paperback

* Individual store prices may vary.
Description
"I'm not creative. I could never do something like that. I don't have time to be creative."
Does any of this sound familiar? Do you find yourself wishing that you had pursued your creative talents before it was too late? In a world full of creativity, there is no such thing as "too late."
Called to Be Creative is for anyone looking to reignite that tiny spark inside of them and invite creativity into their lives through simple, everyday practices. A certified grief counselor and a Program Coordinator for Shalom Spirituality Center, Mary Potter Kenyon walks you step by step through the process of exploring your true potential in this inspirational guide to embracing your innate creativity. With in-depth research from the most notable creative authorities, insight from creative pioneers, her personal experiences, and small activities to kick-start your own creative revolution, Kenyon offers you everything you need to live a more creative life.
Praise For Called to Be Creative: A Guide to Reigniting Your Creativity…
"Over the past thirty years, I've read dozens of books on creativity and enjoyed most of them. Many of the books defined and illustrated creativity. Some offered excellent tips on how to open our creative veins. A few focused on creative experiences but contained little content.
Called to Be Creative uniquely combines vast research and practical applications while avoiding the pitfall of intellectualism. The richest flavor of the book comes from Mary Potter Kenyon's shared experiences. Through reading them, we readily absorb practical ways to harness our God-given talents."
—Cecil Murphey, New York Times bestselling author

"Called to Be Creative is a treasure and a joy to read. Mary Potter Kenyon skillfully braids together stories about her personal life, stories about the lives of people she knows, philosophical ideas, practical advice, current research, and interesting and motivating activities for the reader, creating something that makes you want to put the book down and start creating something wonderful. My own creative life is never going to be the same having read this book, and it is also positively affecting my teaching, parenting, and the way I relate to the world."
—Doug Shaw, author of Social Nonsense: Creative Diversions for Two or More Players and professor of mathematics at the University of Northern Iowa

"I devoured this book. Each chapter is filled with encouragement and inspiration. If you're looking for something to feed your creative soul, this is it."
—Debbie Macomber, #1 New York Times bestselling author

"Called to Be Creative takes the reader on a personal journey through the merry and often meandering world of creativity. As an art museum educator, I delight in the untethered creativity of the young and dismay when their older counterparts murmur the fateful words during art class, 'Is this done right?' Mary Potter Kenyon's book reminds us that creativity is a gift that is ours to access, one is never too old or too disinclined. She provides life-affirming stories and thoughtful suggestions to ignite creativity in even the most linear thinker. I invite you to use this book as a road map as you discover for yourself the joy-filled world of self-expression."
—Margaret Buhr, Director of Education, Dubuque Museum of Art

 
Familius, 9781641702720, 192pp.
Publication Date: August 18, 2020
About the Author
Mary Potter Kenyon works as Program Coordinator for Shalom Spirituality Center and is a public speaker, a workshop presenter, and a writing instructor. Mary is the author of five previous Familius titles, including the award-winning Refined by Fire: A Journey of Grief and Grace, and is widely published in newspapers, magazines, and anthologies, including ten Chicken Soup for the Soul books.
or
Not Currently Available for Direct Purchase