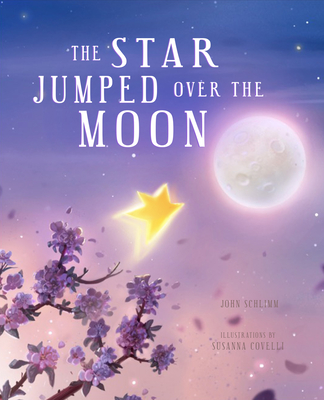 The Star Jumped Over the Moon
Hardcover

* Individual store prices may vary.
Description
On a cool spring day 
in a nest on a branch,
a tiny star found himself all alone
on a pink and white blossoming apple tree, 
rooted upon an old field of green.

In a lilting, poetic style paired with brilliant illustrations, The Star Jumped Over the Moon tells the story of a star who lives in an apple tree but desperately wishes to shine in the night sky. But how? Through the seasons, the star and the apple tree grow, facing the inevitability of change, until the star finds the courage to jump.
 
Praise For The Star Jumped Over the Moon…
"A little star isn't sure how he ended up alone in an apple tree. Season after season, he longs after the sky; a leap of faith will be required to get him there. Rhythmic, repeating lines make this a perfect option for bedtime.The illustrations are a lush treat, with backgrounds made up of dreamy, smudged blossoms in washes of pink and purple, natural touches like bright-eyed squirrels, and the soothing blue glow of the moon. Against these wonders, the bright yellow star glitters." - MICHELLE ANNE SCHINGLER for Forward Reviews

"Full of wonder, hope, and the power of transformation, The Star Jumped Over the Moon is a book to treasure with your child again and again." - Lara Prescott, New York Times Best-Selling Author of The Secrets We Kept

"The Star Jumped Over the Moon is a beautiful rendering of growth through transformation and change. A timely message that will instill hope in the hearts of the young and old alike."  - Megan Murphy, Founder of The KindnessRocks Project

"In The Star Jumped Over the Moon, John brings magic and fantasy to life in this beautiful story about love, loss, and the necessary leaps we're often forced to take. Similar to The Little Engine That Could, this heartwarming tale will connect to readers of all ages, for years to come." - Larissa Wohl, Host of Hallmark Channel's "Adoption Ever After" for Home Family

"In a world that can often seem uncertain, The Star Jumped Over the Moon rekindles hope and allows us to dream again. John has uniquely captured the heartwarming tale of the tiny star that still shines brightly in each and every one of us." - Ken Fay, Emmy Award-Winning Writer and Director

"As the father of two-year-old twins, I have read aloud hundreds of children's books. John's enchantingly relatable book The Star Jumped Over the Moon serves a universal message of hope to both my boys AND their daddy, reminding me of something my own dad always told me: 'Don't ever forget who you are or where you came from.' Now, I get to teach my children that important life lesson!"  - Tamlin Hall, Founder CEO of Hope Givers and Host Producer of PBS LearningMedia's Hope Givers with Tamlin Hall

Familius, 9781641705769, 32pp.
Publication Date: February 2, 2022
About the Author
John Schlimm is a Harvard-trained educator, artist, and advocate, the international award-winning author of 20 books, and the visionary behind several participatory art projects. For more information about John or to connect with him on social media, please visit www.JohnSchlimm.com.